Lying With Statistics
Are people fleeing blue states to avoid repressive taxes? It depends who you're asking.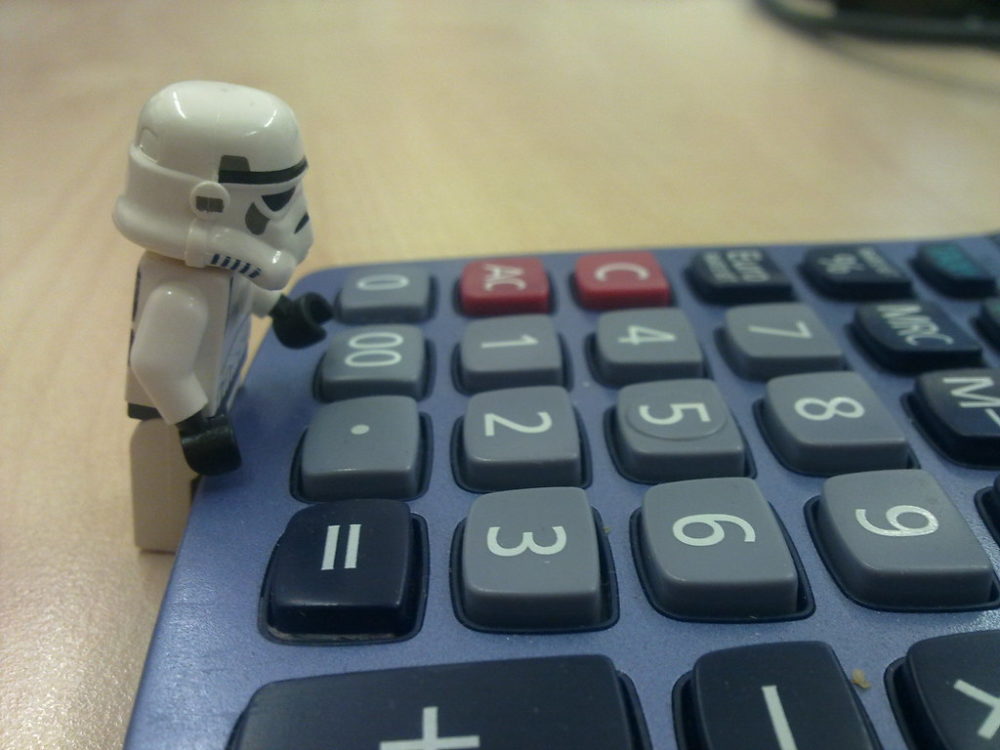 In our discussion about the challenges of collecting taxes from the ultra-wealthy, a conservative commenter remarked, "People aren't leaving CA, NY, NJ, IL – blue states all – for no reason." The point being that we should be careful about too-high tax rates.
I'm amenable to the larger argument but the specific factoid adduced there simply isn't right. First, while the populations of New York and Illinois are indeed declining, it's growing in California and New Jersey. Second, there's no large trend of people leaving blue states.
But, doing a quick Google search to gather evidence, one could see why one could believe otherwise. This January 2018 report from Fox Business was typical:
"US populations growing faster in lower-tax states"

The states where populations have grown the fastest over the past year include a handful with either low, or no, state income taxes.
According to data from the U.S. Census Bureau., in the year ending in July, states with no income taxes – like Florida, Nevada and Washington – saw among the largest jumps in population growth.
The two states that saw the fastest rates of population growth were Nevada and Idaho – at 2.1 percent apiece. Nevada charges no statewide income tax.


Utah, which has a flat-rate 4.95 percent income tax., saw the third-largest population growth during the same time period – at 1.9 percent – followed by Arizona, where rates range from 2.59 percent to 4.54 percent. Utah was also listed by the Tax Foundation as one of the states where middle-class Americans will see the biggest savings. from the new tax law.

For reference, the top income tax rate in California is more than 13 percent.


In Florida and Washington – where residents don't pay any income taxes. – populations grew by 1.5 percent each.
Florida also gained the most residents out of any state from net domestic migration. Since 2010, more than 1.16 million people have relocated to the state.


Additionally, Nevada, Arizona, Texas, Washington, Utah, Florida and Colorado were among the states with the fastest job growth over the past year, as reported by The Wall Street Journal. Half of those states do not charge residents any income taxes.
That's a strong argument, based on information from the most credible source possible on this issue, Census Bureau.
And yet.
Following "U.S. Census Bureau" link from the article, we see a December 19, 2018 press release with the headline "Nevada and Idaho Are the Nation's Fastest-Growing States."
The U.S. population grew by 0.6 percent and Nevada and Idaho were the nation's fastest-growing states between July 1, 2017, and July 1, 2018. Both states' populations increased by about 2.1 percent in the last year alone. Following Nevada and Idaho for the largest percentage increases in population were Utah (1.9 percent), Arizona (1.7 percent), and Florida and Washington (1.5 percent each).
So far, so good for Fox Business. The very first paragraph confirms that some of the fastest-growing states are low- and no-state income tax states.
Washington, D.C., reached a population of 702,455 in July 2018, surpassing 700,000 for the first time since 1975, according to the U.S. Census Bureau's national and state population estimates released today. The change is due primarily to an influx of people from other parts of the country that began early in the decade. While the increase has begun to slow, the District of Columbia still grew by almost 1 percent last year.
Hey, now. Wait just a cotton pickin' minute. How can DC—the bluest state-like entity in the country and with high taxes—be growing?
Population declines were also common, with losses occurring in nine states and Puerto Rico. The nine states that lost population last year were New York (down 48,510), Illinois (45,116), West Virginia (11,216), Louisiana (10,840), Hawaii (3,712), Mississippi (3,133), Alaska (2,348), Connecticut (1,215) and Wyoming (1,197).
So, only nine states lost population and, sure enough, high-tax New York and Illinois are leading the pack. And Hawaii is known as a high cost-of-living state, too. But what are West Virginia, Louisiana, Mississippi, Alaska, and Wyoming doing there? They're among the reddest of the red states. Why, Alaska actually pays you to live there; they're the opposite of high-tax.
Nosing around the site, I oddly couldn't find summary tables that had the precise data for each state. But I did find this chart: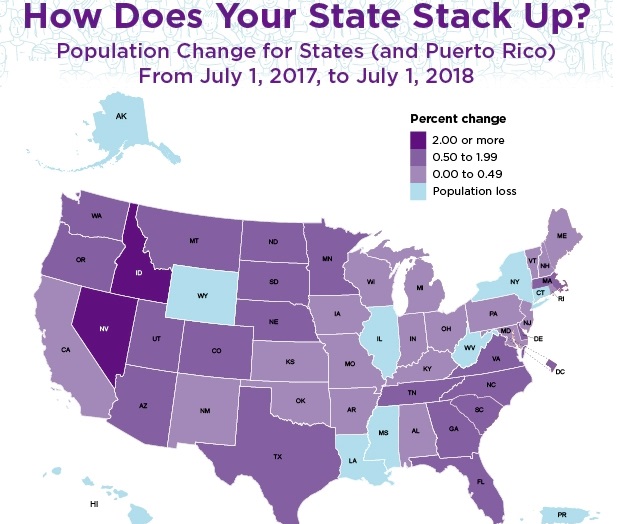 I'm seeing no obvious patterns here. Some blue states are gaining population rapidly; others are losing it rapidly or staying about the same. Ditto with the red states. (Our standard "red" and "blue" terminology is odd when referring to a chart that's mostly shades of purple but ¯_(ツ)_/¯ )
Now, a related argument being bandied around is that, while the overall population of California is growing, that's a function of immigration and birth rates. The real evidence that taxes and regulatory burdens is driving people away is seen in domestic migration outflows. And, indeed, the state itself acknowledges that there's a problem in that regard.
A February 2018 report from the nonpartisan Legislative Analyst's Office found,
For many years, more people have been leaving California for other states than have been moving here. According to data from the American Community Survey, from 2007 to 2016, about 5 million people moved to California from other states, while about 6 million left California. On net, the state lost 1 million residents to domestic migration—about 2.5 percent of its total population. These population losses are low in historical terms. The graph below shows data from the Internal Revenue Service on the movement of income tax filers in and out of California since 1990. (Data on tax filers does not cover the entire population because some people do not earn enough income to necessitate filing taxes.) As the graph shows, net out-migration from 1990 to 2006 was, on average, more than double what is was in the most recent ten years.

Although California generally has been losing residents to the rest of the country, movement between California and some states deviates from this pattern. The figure below shows net migration between California and individual states between 2007 and 2016. California gained, on net, residents from about one-third of states, led by New York, Illinois, and New Jersey. On the flip side, top destinations for those leaving California were Texas, Arizona, Nevada, and Oregon.
While hardly dispositive, it's certainly interesting that people moving to California are doing it from other high-tax states, including two from the list that started our discussion, and that people are leaving California for a couple of low-tax states (although also a couple of high-tax states).
But there's a kicker!
Although California has had net out-migration among most demographic groups, it has gained among those with higher incomes ($110,000 per year or more) and higher levels of education (graduate degrees).

Brian Uhler and Justin Garosi, "California Losing Residents Via Domestic Migration"
One would think those would be precisely the sort of people who would be fleeing California to avoid paying high taxes.
The bottom line is that there's no evidence of an overall trend of people leaving high-tax blue states for low-tax red ones. Which makes sense: high taxes mostly impact high earners and most high-earners have to live in a handful of pricey urban centers because that's where the jobs are. There simply isn't a Wall Street or Silicon Valley equivalent in Texas or Florida.
UPDATE: There's a lot of discussion about state income tax rates in the comments below. This map from Wikipedia is current as of 2016 is a rough guide.