America Getting Less White
The long demographic trend continues.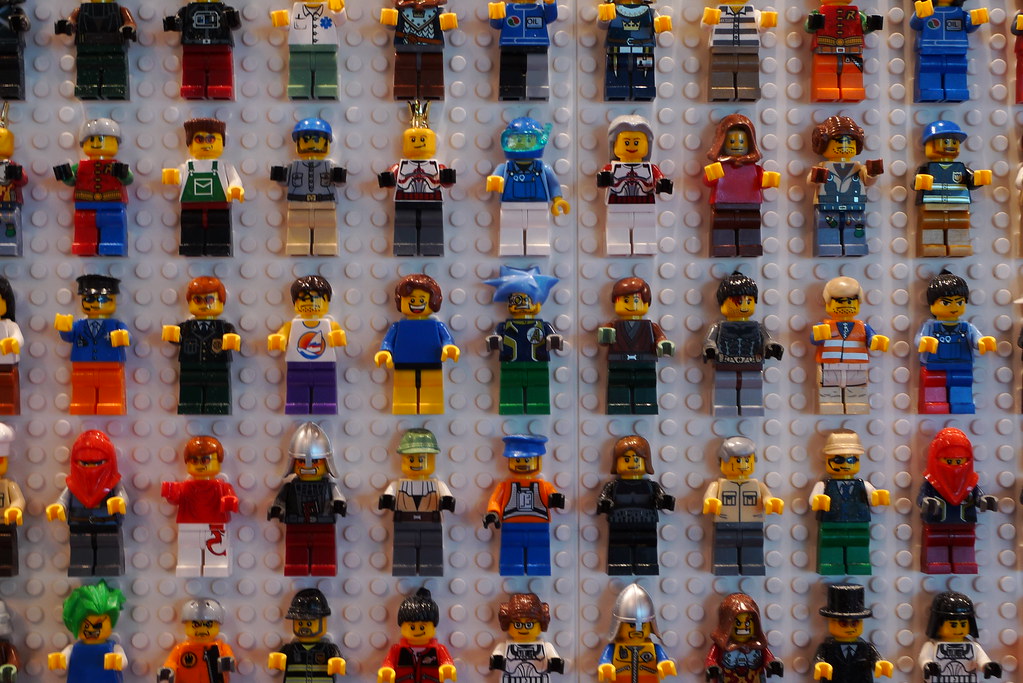 The latest Census dump has generated a new round of discussion about the changing racial demographics of America. We've known for a couple of decades now that the percentage of Americans who are "white" has been in steady decline and that we will soon reach the point where whites are a mere plurality rather than a majority of the country. But, for the first time ever, the number of whites has actually declined.
WaPo ("Census data shows the number of White people in the U.S. fell for first time since 1790"): [Which is a bad headline, by the way. The number of whites didn't decline in 1790; it was simply the first Census]
The first race and ethnicity breakdowns from the 2020 Census, released Thursday, show a more diverse population than ever in the nation's history.

The report marks the first time the absolute number of people who identify as White alone has shrunk since a census started being taken in 1790. The number of people identifying as non-Hispanic White and no other race dropped by 5.1 million people, to 191.7 million, a decrease of 2.6 percent.

The country also passed two more milestones on its way to becoming a majority-minority society in the coming decades: For the first time, the portion of White people dipped below 60 percent, slipping from 63.7 percent in 2010 to 57.8 percent in 2020. And the under-18 population is now majority people of color, at 52.7 percent.

The new data shows how the ethnic, racial and voting-age makeup of neighborhoods shifted over the past decade, based on the national house-to-house canvass last year. It is the data most state legislatures and local governments use to redraw political districts for the next 10 years.

It indicates that the country is "much more multiracial and much more racially and ethnically diverse than what we measured in the past," said Nicholas Jones, director and senior adviser of race and ethnic research and outreach at the Census Bureau's population division.

The opioid epidemic and lower-than-anticipated birthrates among millennials after the Great Recession accelerated the White population's decline, said William Frey, a demographer at the Brookings Institution.

"Twenty years ago if you told people this was going to be the case, they wouldn't have believed you," he said of the White decline. "The country is changing dramatically."
I'm not sure that it's true that nobody would have believed this in 2001. I've found several posts at OTB on this phenomenon that are more than a decade old and the story's own graphic shows this trend to be linear: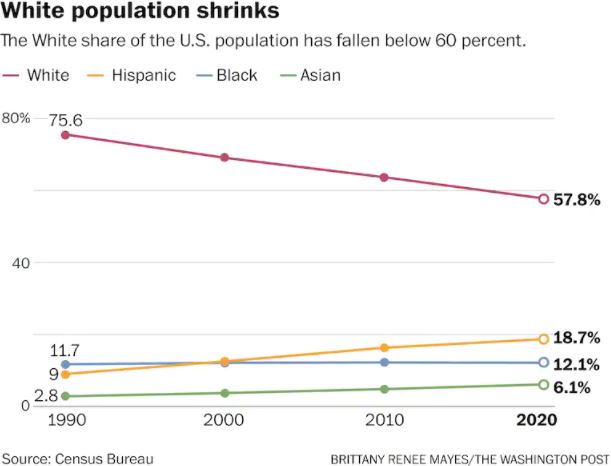 Certainly, a twenty-point decline in three decades is noteworthy. But it's mostly a function of intentional changes to immigration policy decades ago that stopped prioritizing European ancestry, an increase in illegal immigration from Latin America, and differential birth rates. All of these have been known for more than twenty years. Hell, John Judis and Ruy Texeira pointed to it as the basis for The Emerging Democratic Majority way back in 2004.
Of course, the diversification is not happening equally across the country:
Six states and the District of Columbia now have majorities of people of color, including Nevada and Maryland, which passed that milestone in the past decade. Maryland is now 47.2 percent White, and Nevada is 45.9 percent White. White population fell in three-quarters of counties, and in 35 states.

The diversification of the nation is projected to continue, with Whites falling below 50 percent nationally around 2045, Frey said, adding that, at that point, there will be no racial majority in the country. Between 2015 and 2060, the Hispanic and Asian populations are expected to approximately double in size, and the multiracial population could triple due to immigration and births.
This, too, is worth highlighting:
The number of people who identify as multiracial has changed considerably since 2010. It was measured at 9 million people in 2010 and was 33.8 million in 2020, a 276 percent increase.
So, in addition to actual demographic changes, we're seeing measurement/identity changes. Indeed, WaPo also has an op-ed from Austin-based writer Dalia Azim titled "I am Middle Eastern. Not White."
Filling out the 2020 Census launched me into a bit of an identity crisis. Under the "race or origin" question, I saw myself, a person of Egyptian descent, defined as "White" for the first time. The Census Bureau just released detailed reports on its race and ethnicity data. While this census showed a drop in the White population, those numbers might have been lower still if the census had been conducted more fairly.

I've never considered myself White or been viewed as White by anyone else, to my knowledge, so it felt misleading and dishonest to check that box. When it comes to surveys such as these, it's rare to find an option for "Middle Eastern or North African," or MENA, though it kind of delights me whenever I do. At least on most forms I have the option to choose "other."

The United States conducted the first census of its population in 1790. Since the start, the government has used the data to allocate congressional seats and funds for federal programs. Historical census forms reflect the country's troubling and ever-evolving relationship with race and how to define, and count, people of color.

The question of a person's "color" first appeared on the 1850 Census, with three options given: white, black or mulatto. Other minority groups were added through the decades. Between the 2010 and 2020 Censuses, the Office of Management and Budget under President Barack Obama convened a working group to improve the quality of federal data on race and ethnicity. One of the group's key recommendations resulting from their research was to add MENA to the standards for collecting data.

Not only was this advice discarded in the creation of the 2020 Census in the Trump administration, but Middle Easterners also were explicitly absorbed into the White category. "White" had never been defined in any previous census, but this time the form read, "White — Print [origin(s)], for example, German, Irish, English, Italian, Lebanese, Egyptian, etc."
A NYT report ("Where the Racial Makeup of the U.S. Shifted in the Last Decade") highlights the disparity of the redistribution.
Nearly every county in the United States became more diverse in the last decade as the nation recorded its first drop in the white population in 2020, according to detailed data on race and ethnicity released by the Census Bureau on Thursday. More than a third of the nation now lives in counties where people of color are a majority.

[…]

The white population decreased by more than five million from 2010 to 2020. Still, the share of white residents has gone up in some parts of the country.

City center neighborhoods historically populated by people of color have become increasingly white as residents are priced out by wealthier white newcomers seeking convenient and less expensive housing. About a third of all census tracts in which people of color were a majority in 2010 became more white by 2020. About 2 percent of those tracts turned majority white.

White residents became a minority in six major metro areas in 2020: Dallas-Fort Worth, Orlando, Atlanta, Sacramento, New Orleans and Austin.
The piece breaks down the changes in each of these metro areas. Aside from gentrification of downtown areas, there's no obvious common thread.
WaPo highlights this in "Census data shows Maryland is now the East Coast's most diverse state, while D.C. is Whiter."
Maryland, one of the two states in the country to flip from majority White to majority non-White over the last decade, is now the most diverse state on the East Coast,according to new data from the 2020 Census. Meanwhile, the District continued to lose Black residents — an exodus that has accelerated over the last 10 years.

[…]

According to the U.S. Census Bureau's diversity index — which measures the likelihood that two people chosen at random would be from different racial and ethnic groups — Maryland is now one of the most diverse states in the nation, surpassed only by Nevada, California and Hawaii.

Nevada also was the only other state in the country to become majority non-White over the last decade.
We're seeing this diversification quite obviously where I live:
In Northern Virginia, which helped drive population growth for the state overall, Alexandria grew 14 percent to 160,000 and Arlington grew 14.9 percent to 239,000. Fairfax grew 6.3 percent to 1.2 million and Prince William grew 20 percent to 482,000.

Amid this decade of growth,Fairfax, Prince William and Loudoun saw significant declines in their White population over the last 10 years. Loudoun, in particular, went from 62.4 percent White in 2010 to 51.5 percent in 2020.

Fairfax is the latest D.C. suburb to become majority non-White, joining Prince William in Virginia and Howard, Montgomery and Prince George's in Maryland.
I have lived in Fairfax County since 2005, lived in neighboring Loudoun County from 2002-2004, and have worked in Prince William County since 2013. It's rather interesting that DC (where I worked from 2006-2013) is the only jurisdiction in the metro area that has become whiter. It is "Chocolate City" no more.
Indeed, a Hill report notes, "DC [is the] only place where share of white population increased last year."
Washington, D.C., was the only location in the U.S. where the white share of the population increased in the last decade, according to newly released data from the Census Bureau.

Thirty-eight percent of the D.C. population was white in 2020, according to the Census Bureau, up from the 34.8 percent recorded in 2010. That change represents a 3.2 percent increase over the past 10 years.

All 50 states in the U.S. saw the white share of their populations decrease. Washington state tracked the largest drop, moving from 72.5 percent in 2010 to 63.8 percent in 2020, an 8.7 percent change.

Massachusetts saw the second largest drop in white population, moving from 76.1 percent in 2010 to 67.6 percent in 2020, an 8.5 percent decrease.
The politics of this, at least in the short term, pretty obviously more of a freak-out from conservatives fearing that they are being "replaced" as the face of "Real America." It's a large part of what's fueling the nonsense about stolen elections and the various attempts at voter suppression. At the end of the day, a large number of people implicitly believe that only white votes should count.
The longer-term implication is less obvious. While whiteness is on the one hand a visible thing—a British or French colonialist in the 19th Century was rather obviously something different than a Black African—it is also a social construction. There was a time, not all that long ago, when the Irish and Eastern Europeans weren't considered "white." Now, that seems silly. Most of us see Ashkenazi Jews as white but many do not. As Azim notes above, we don't really have a racial category for Arabs and, while many or most can pass as white, it doesn't quite fit. This gets even more complicated as people naturally intermarry.
It's quite possible that "whiteness" simply ceases to be a dominant way that we divide people into "us" and "them." We're already blurring race and ethnicity with the Hispanic population, artificially dividing them into racial subcategories.