Mad Magazine Basically Coming To An End
After 67 years, Mad magazine is ceasing publication of new material.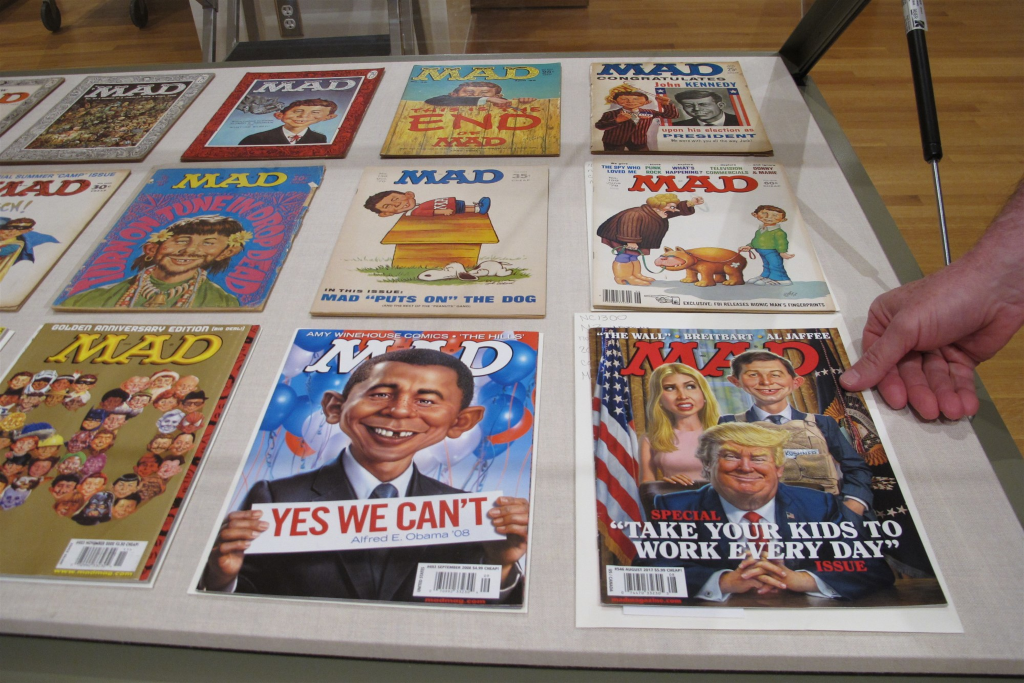 Marking the end of a history that stretches back nearly seven decades, Mad magazine, once the premier satirical magazine in the country, will largely cease publication and will no longer appear on newsstands:
Mad magazine, the satirical publication famous for asking, "What, me worry?" and its gap-toothed, big-eared mascot Alfred E. Neuman, is coming off newsstands and will largely stop publishing new content, its owner DC said an email Wednesday night.

DC said that after Issue 10, there will be no new content, except for end-of-year specials, which will be all new. Issue 8 of Mad magazine, which had been published every other month, went on sale June 12.

Starting with Issue 11, the magazine will feature best-of and other nostalgic content from its 67 years of publication, DC said. The magazine will still be sold in comic shops and mailed to subscribers.

DC did not explain the decision.

The magazine was founded in 1952 by editor Harvey Kurtzman and publisher William Gaines. It debuted as a comic book in 1952, then switched to magazine format three years later, the Associated Press has reported. Long-running comics and features include "Spy vs. Spy" and a back page that folded to reveal a hidden image.

Parody songwriter "Weird Al" Yankovic was among those lamenting the news on Twitter Wednesday night, saying he was "profoundly sad" to hear about the developments.

"I can't begin to describe the impact it had on me as a young kid — it's pretty much the reason I turned out weird. Goodbye to one of the all-time greatest American institutions," Yankovic wrote, ending the message with the tribute #ThanksMAD.

DC said it will continue to publish Mad books and special collections.

The magazine has been called an influential force in satire and parody and has been referenced "The Simpsons" and other television shows and movies.
More from The Hollywood Reporter:
MAD Magazine, the irreverent and highly influential satirical magazine that gave the world Alfred E. Neuman, will effectively cease publication some time later this year after 67 years, The Hollywood Reporter has confirmed.

Sources tell THR that after issue 9, MAD will no longer be sold on newsstands and will only be available through comic book shops as well as mailed to subscribers. After issue 10, there will no longer be new content in subsequent issues save for the end-of-year specials (those will be all-new). Beginning with issue 11, the magazine will only feature previously published content — classic and best-of nostalgic fare — from its massive vault of the past 67 years. DC, however, will also continue to publish MAD books and special collections.

On Wednesday night, MAD cartoonists David DeGrand and Evan Dorkin took to social media to confirm and lament the closure of the magazine. The news follows writer Dan Telfer's tweet earlier this week about being laid off as a senior editor at the magazine.

DC Entertainment, the publishers of MAD, declined to comment.

"Today won't end. Goodbye, MAD Magazine. As a youngster I was a huge fan of the 70's era, as a young adult I rediscovered the 50's comics, as an old nerd I somehow became a contributor (often working w/@colorkitten) for the last decade +. Getting the e-mail today was crushing," Dorkin said in a tweet thread, confirming his own departure and a staff-wide email about the closure. Dorkin ended his thread with "for all intents and purposes, MAD is folding."

Responding to social media speculation that MAD was shuttering, DeGrand tweeted "can confirm."

The venerable humor magazine was founded in 1952 by a group of editors led by Harvey Kurtzman. Although it began as a comic book, bimonthly issues were published and became the norm for the satirical content. MAD, with it's always memorable covers featuring the gap-toothed Alfred E. Neuman, has been highly influential on successive generations of comedians, artists, writers and performers.
To be honest, I haven't read Mad since I was a teenager and, indeed, had largely stopped reading it on a regular basis when I was still in High School in the mid-1980s. If you had asked me prior to this news, I would have been surprised that it was still in publication up until now. Part of the reason for that is because I had largely outgrown the stage of life where I thought the magazine's content was really all that funny, many times it simply wasn't unless you were, in fact, a teenager and most likely male (I may be wrong about this but I would guess that very few women or teenage girls read Mad on a regular basis.) The other reason was that, especially with the rise of the Internet and outlets such as The Onion, the standard for satire has become much higher than it was in the past. Combine that with the fact that newsstand sales and subscriptions had, according to other reports, slipped significantly over the years to the point where it no longer made fiscal sense to continue publishing a magazine that had obviously peaked years ago.
In any case, I'd say I will miss Mad magazine, but the honest truth is I haven't really given it much thought since I was 13 or 14 years old. So, it appears, have many others.