Maine Voters Head To The Polls To Give Ranked-Choice Voting A Try
Maine voters head to the polls today to pick nominees for Governor and several other offices, but the most interesting thing is way they'll be voting.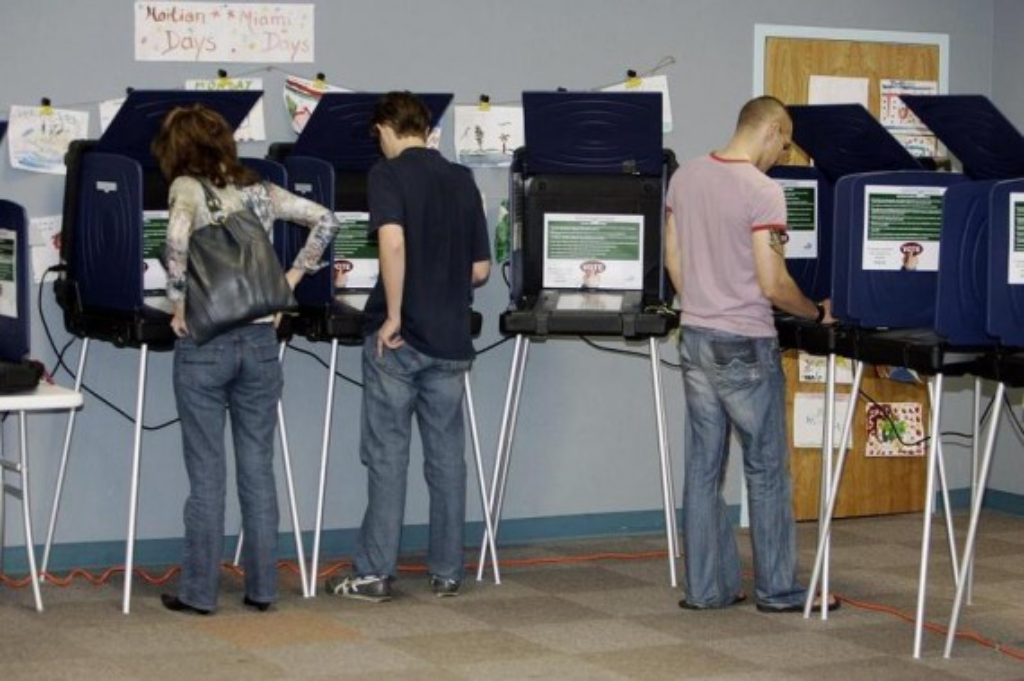 There are primaries in several states today, including races in Virginia and North Dakota in which Republicans will decide who will be taking on the incumbent Democratic Senator in their respective states, but perhaps the most interesting race to watch is in Maine, not because of who's running but because of how it's being conducted:
On Tuesday, voters here are trying something never done before in the country on this scale: Instead of voting for one candidate in the race for governor, they're ranking their choices from first to last.

It's a totally new way of electing politicians in America, one pitched by advocates as the single most transformative way to inject collegiality into today's hyperpartisan political climate. And if it works, Maine could be a guide for other states considering doing the same.

But it's not clear whether voters will like it, or whether they will vote on the very same ballot to keep ranked-choice voting after years of legal challenges from Republicans trying to get rid of the system voters approved in 2016.

"I didn't particularly like it," said Betty Smart of Gorham after testing out the system in the Democratic primary for governor. "I just didn't feel like I wanted my third and fourth candidates to become governor."

"It was very easy," said Virgnia Wilder Cross. "I think it makes sense."

(…)

Republican candidate for governor Shawn Moody, a front-runner in that primary, was at his hometown polling location urging voters not to use the new system and just mark him as No. 1. None of the Republican candidates for governor support it.

"It becomes more about gamesmanship rather than leadership," he said of the system, which forces candidates to try to reach out to another candidates' voters.

Underdog Democratic candidates for governor Betsy Sweet and Mark Eves have embraced ranked choice.

They recently ran an ad explaining that they'll mark each other down as their No. 2 choice and offered their voters to do the same: "You can vote for me first or Betsy second," Eves says in a campaign ad standing side-by-side with Sweet, "or me first and Mark second," Sweet interjects

Both are calculating that forming an alliance can vault one of them to the top of the seven Democratic candidates. It's the opposite of what campaign consultants would advise, Eves said. They would say to attack the front-runners if you're behind.

Sweet thinks there's a populist appeal in ranked-choice voting that speaks specifically to Maine voters, who have a strong independent streak: "It opens the process up to more people and then we don't have the issue of an appointed heir apparent."

The state Republican Party,  which controls the state Senate and is trying to hold on to the governor's mansion, has called it confusing and therefore likely to lower turnout, and pointed out that Maine's constitution prevents ranked choice from being used in statewide general election races. (It says candidates can win with just a plurality of the vote).

"If you're going to reallocate votes to different candidates, there's no simple way to explain that," said Jason Savage, head of Maine's Republican Party. "It's going to create a situation where fewer people participate."

Most of voters trying it out for the first time in Gorham who spoke to The Fix seemed to like it.

"You feel like your vote is going to count more," said Mederick Black, though he did say the new process took more effort than just choosing one candidate: "It's a little bit more difficult because you have to make sure everyone is marked in the right column and you don't mark a guy twice."
Maine voters approved the new voting method in a 2016 referendum, but it has faced several legal and political hurdles before it could be put into place. Despite that, the state's legislature, which consists of a House controlled by Democrats and a Senate controlled by Republicans purported to pass legislation that effectively nullified the referendum and the measure has been opposed by many of the state's top political leaders. It's also been the subject of several lawsuits, including one that made it all the way to the state's Supreme Court. In that case, the court ruled that the referendum was unconstitutional to the extent it applied to General Elections due to provisions in the Maine Constitution that specifically state that General Elections are to be decided by who wins the most votes, not by who wins a majority of the votes, and makes specific references to a candidate winning with a mere plurality rather than a majority. Because of this, the system can only be used in primary elections for now and, in this case, is only being used in the Republican and Democratic Gubernatorial primaries and in primaries for the state's Second Congressional District and one state legislative district. Additionally, voters statewide are being asked again to vote on whether to keep the ranked-choice system. The results of today's vote are therefore being watched by reform advocates around the nation.
Ranked-choice voting, which OTB's own Steven Taylor has written several times in the past, is, in the end, a fairly simple system to understand notwithstanding the claims of Maine Republicans that it is complicated and confusing. At the ballot box, voters are given a list of the candidates who have qualified for the ballot and is asked to rank them from first to last in terms of who they prefer. In order to win a race under the system as Maine has adopted it, which is largely similar to what has been proposed by political scientists who have written on the subject, a candidate needs to get a majority of the vote rather than just a plurality of the vote that makes it possible to win in most states. What happens next is essentially similar to a runoff election, except it gets conducted instantly rather than requiring another election weeks later. The candidate with the fewest top-ranked votes is eliminated and the votes that candidate received are given to whichever candidate the voter ranked as second. The process continues until one candidate has a majority of the vote, a process that could take one round or could take several rounds. In Maine, the process is done manually, meaning it could take time to determine a winner in the primaries taking place today. However, in theory, there's no reason why this process could not or should not be done electronically.
Advocates for ranked-choice voting, sometimes also called "instant-runoff voting," say that this form of voting forces candidates to reach out to a broader group of voters than they might have under a system where a candidate can win with a plurality of votes and that it also gives voters the opportunity to give support to candidates beyond the "mainstream" choices or the candidates that happen to have the loudest voices and the most money. Additionally, advocates contend that running for office in a ranked-choice system makes it more difficult for candidates who focus mostly on appealing to their hardcore base and on attacking their opponents. This is because they argue, it is far riskier to run negative campaigns against your opponents when you potentially may have to appeal to at least some of their supporters to rank you second or third in order to get you to the 50-percent-plus-one needed to win the election. Finally, it is hoped that such a system will lead to candidates more willing to compromise to get legislation passed and to govern in general. Whether all of this works out the way advocates hope remains to be seen, but it seems clear that it's worth giving it a try at the state-level in even the limited fashion it is today in Maine. If it works out well, then perhaps it will lead other states to give it a try as well.
Update: This post was updated to clarify that the voting is tabulated by hand in Maine rather than via computer, and to clarify the fact that, at present, only the State Senate is controlled by Republicans.