Marco Rubio Wins Puerto Rico Primary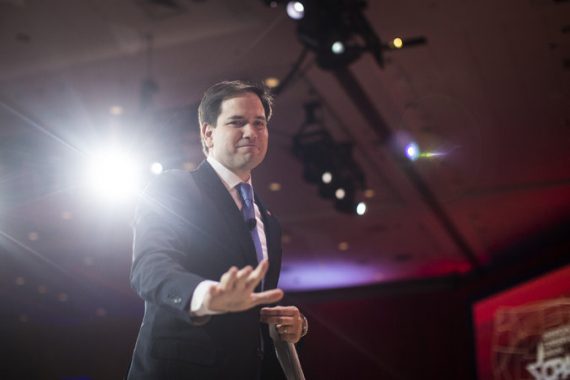 Marco Rubio has won the Puerto Rico primary, capturing all 23 of the delegates up for grabs:
Marco Rubio easily won Puerto Rico's Republican primary on Sunday and is on pace to capture a majority of the vote and all of the island's 23 delegates.

With 44 percent of precincts reporting, Rubio was at 71 percent, well ahead of Donald Trump, who was a distant second with just 12 percent.

Rubio was the only candidate to visit the U.S. territory, holding a rally in a San Juan suburb on Saturday. The Florida senator also secured endorsements from the territory's three RNC committee members, Republican chairwoman Jenniffer González Colón, committeewoman Zori Fonalledas, and former Gov. Luis Fortuño.

The territory is ineligible to vote in the November general election, but both parties allow the island's residents to participate in their respective nominating processes.
The win is only Rubio's second since voting started on February 1st and, as noted, is hardly a surprise given the fact that Rubio was the only candidate who visited the island or appears to have paid much attention to it, so this outcome is hardly a surprise and certainly doesn't mean that Rubio is poised for some kind of comeback. As I noted this morning, Rubio's real test comes in the next ten days and depends on him performing much, much better than he has been, and much better than he is currently polling, in states such as Michigan, Mississippi, and, most especially, Florida. Indeed, Florida is essentially a win-or-die state for Rubio at this point and both Donald Trump and Ted Cruz are taking aim at the Florida Senator now, hoping to knock him out of the race after March 15th.