Marine Steven Rhodes Eligible for NCAA Football
The NCAA has come to its senses regarding a Marine sergeant who wants to play college football.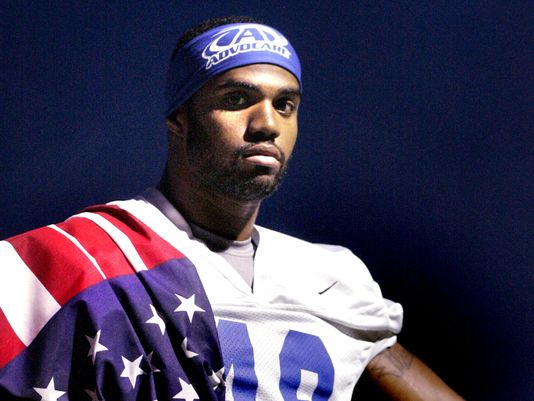 The NCAA has come to its senses regarding a Marine sergeant who wants to play college football.
ESPN ("NCAA: Marine can play immediately"):
The NCAA ruled Monday that freshman Steven Rhodes can "play immediately" after serving five years in the Marines.

"Additionally," NCAA vice president of academic and membership affairs Kevin Lennon said in a release, "he will maintain all four years of his eligibility."

It's a reversal from the NCAA's earlier decision to rule Rhodes ineligible because he played in a recreational league during his military service. School officials had said earlier Monday that they were working with NCAA officials to come up with a solution.

"It's nothing but a blessing," Rhodes said after Monday's practice.

An NCAA rule states that student-athletes who don't enroll in college within a year of graduating high school will be charged one year of eligibility for every academic year they participate in organized competition.

"We were informed this afternoon that the NCAA has granted full approval to Steven Rhodes' waiver," MTSU president Dr. Sidney McPhee said in a statement. "This is exciting news for Steven and Middle Tennessee State University. We express our gratitude to the NCAA for reviewing this situation and granting Steven the ability to play this fall. We are hopeful that the NCAA will look at the bylaws regarding all individuals who serve in the military before becoming a student-athlete."
The decision isn't a slam dunk. The rule exists for good reason: it's unfair for 18-year-old kids right out of high school to have to compete with grown men who have bulked up and  honed their skills playing organized football. But Rhodes was essentially playing intramural football in the Marines. By his own description, "There were guys out there anywhere from 18 to 40-something years old. The games were spread out. We once went six weeks between games."
According to the report, the rule previously had exceptions for military and church recreational leagues but the military exception fell out over time as the rules evolved. My guess is that this is just a function of rarity: since the end of the draft four decades ago, relatively few served in the military before going to college and playing sports.