Mary Cheney, Liz Cheney, And When Family And Politics Collide
When worlds collide.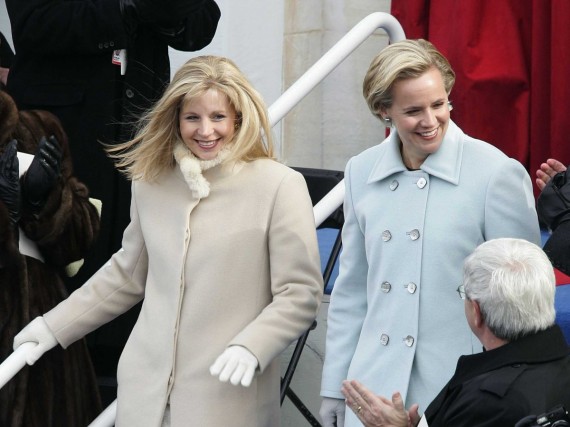 As I noted on Sunday, Liz Cheney's efforts to unseat Mike Enzi as Wyoming's Senator ran headlong into a dispute with her older sister Mary on Sunday when she once again made clear her position on same-sex marriage. Given the public nature of the whole dispute, and the fact that their father is the former Vice-President of the United States, Dick and Lynne Cheney ended up releasing a statement the next day that attempted to paper over the dispute between their daughters, but did so in a way that many people interpreted as favoring Liz Cheney and her political efforts. Since then, the whole Cheney family dispute, which on some level probably ought to have remained private, has become a national political issue involving the wider issue of acceptable of homosexuality in general and same-sex marriage in particular. It's also led to something of an interesting debate on the conservative side of the political aisle over the issues of family, politics, and when it's appropriate for personal disagreements over political issues between family members to become public.
On one side, Matt Lewis seems to place a lot of blame on Mary Cheney:
Let's begin with loyalty to one's blood relatives — and the fact that Mary Cheney apparently has none. Let's all let Mary in on a little secret here: YOUR SISTER IS PANDERING. That's right, once safely ensconced in the U.S. Senate, Liz Cheney will probably "evolve" on the issue.

But Liz is also attempting to actually win a U.S. Senate seat in Wyoming. And to make that happen, Mary, Liz may have to say some things you won't like. This is a short-term inconvenience. (When you run, Mary, maybe Liz will similarly bite her tongue?) But she needs you now. And you, Mary, are messing that up.

When people talk about the breakdown of the traditional family unit, I suppose this what they mean. It has nothing to do with gay marriage — but everything to do about putting selfishness and individualism ahead of the collective good of the family name.

Putting personal political views ahead of blood relatives (I get that Mary is now married — and this constitutes her new family) seems like a relatively new phenomenon. This is partly because of social media (all Mary Cheney had to do was get angry and sign on to Facebook), but, my guess is this has something to do with our new individualistic world — and the fact that expectations of familial loyalty are diminished.

Can you imagine RFK speaking out publicly against JFK during his Senate campaign? What would Joe Kennedy have done?
Obviously, no I can't imagine Bobby Kennedy speaking out publicly against Jack Kennedy.
But then again, Jack Kennedy never made a public statement questioning the validity of Bobby's marriage to Ethel, or the integrity of his family, which is essentially what Liz Cheney did in her response to Chris Wallace's question on Fox News Sunday. To put the issue in it's proper context, let's imagine that Bobby Kennedy had fallen in love with and married an African-American woman. In the America of 1960 when Jack was running for President, seven years before the Supreme Court's landmark decision inLoving v. Virginia, that would have been headline making news to say the very least, and perhaps something that would've made some members of the Kennedy family not very happy. This was in the era when the South was still part of the Democratic Party's Electoral College bloc. Is it at all inconceivable that some journalist would have asked Senator Kennedy about his views on interracial marriage given the fact that his brother was married to an African-American woman? How would he have answered that question, and how would have Bobby reacted to that answer? We'll never know, obviously, but if we're going to make an analogy between JFK and RFK, that's the only appropriate analogy we can make.
Liz Mair has a different perspective on the issue:
I don't think your family or friends have to uniformly support you, agree with you, or at least stay silent about important issues to them just because you disagree, or even because one believes the other is entirely wrong. Obviously, it's best to avoid surprises where policy stances are going to become evident that perhaps might not have been before– this avoids hurt feelings to the maximum degree and also optimally ensures that any ensuing back-and-forth falls more into the category of legitimate airing of differences on an issue rather than public sniping. But frankly, on any important policy issue, emotionally-charged debate is something that a) a prospective public official had better be prepared for, because a lot more of it will happen if elected to serve and b) can be enlightening, and is rather at the core of democracy and a free society (whereas "loyalty" is not).

Would it be nicer if the debate that now exists between Liz Cheney and her sister had been more sanitized and less personal, like the debates we typically see about same-sex marriage in presidential debates? Perhaps. But I'm not sure that's really possible, nor is it necessarily desirable. On both sides of this issue, people have strong feelings and deeply personal reasons for feeling the way they do that no matter how much they may be cloaked in philosophical argumentation I think in some way, to some degree, always come down to personal experiences, gut instincts and the like.

The rest of the country is involved in this particular debate, and it will probably come up at thousands of dinner tables this Thanksgiving (not least due to Liz and Mary's own comments). The only real reason I think the Cheneys should be different is that it seems implausible that Liz's views on this matter are what she said they were this weekend– which, if I'm right on that, means there isn't really a debate or a disagreement, just some conjured-up political theater.
I tend to agree with Liz here.
For one thing, I've never expected either family or friends to agree with me when it comes to my political beliefs. Indeed, I know that there are several cases where there are strong disagreements, which is why I've always generally adhered to an old rule that one of my late Uncle's set for family gatherings that there should be no discussions about politics or religion. In my particular case, the extended family is large enough that there are plenty of potential disagreements on these issues and it simply isn't worth needlessly offending anyone during what are supposed to be happy occasions and, moreover, I've always thought that family and friendship is something that can and should extend beyond political or religious disagreements. For another, as I noted above, Liz Cheney's comments can't just stand on their own. In the end, she was questioning the validity of her sister's relationship with her wife Heather Poe and the family that the two of them have created. Did she really think that this would not elicit some anger from one or both of them? I'd suggest you'd be naive if you think otherwise.
The interesting thing about the comments from both Lewis and Mair, though, is that they both seem to assume that Liz Cheney is being completely disingenuous  in her comments about same-sex marriage for political purposes. As I've noted before, she's running for political office in one of the most conservative states in the country and the presumption (although I'm not sure how true it is) is that you have to be strongly against marriage equality in order to succeed with Wyoming Republicans. She's also been the target of attacks that she is both an opportunistic carpetbagger and someone who is tailoring her publicly stated views on marriage equality in her efforts to unseat what seems like an incredibly popular Senator. This entire dispute with her sister plays into that attack. If they are right in their hypothesis, then it strikes me that calling her out for her hypocrisy is entirely appropriate.
Not being a Betazoid, I cannot read Liz Cheney's mind so I do not know what her real opinion on same-sex marriage is, but I can't help but think that she's throwing her sister under the bus in her seemingly Quixotic effort to win a Senate seat. In the end, that's kind of sad.