McCain and North Korea
McCain brings up "regime change" in re: the DKRP and China apparently isn't doing enough.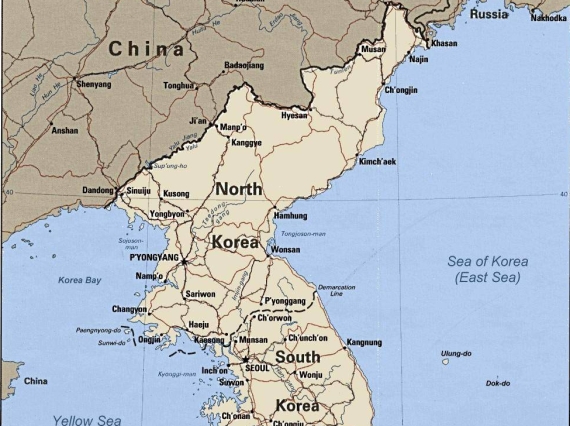 Via Politico:  McCain wants 'regime change' in North Korea
"It's time we talked about regime change in North Korea – and I do not mean military action – but I do believe that this is a very unstable regime," McCain told Candy Crowley Sunday on CNN's "State of the Union.".
First, I will state that for the sake of the residents of North Korea, I agree that as an abstract principle, a change in regime would be desirable.  However, two key questions remain:  how such a change could take place (and that is, as they say, the kicker) and what the short-to-medium term costs would be for the North Korean population.  It is possible for things to get worse for a whole lot of people before they would get better.
Second, I am not sure why it is "time we talked about regime change"—to what end?  How will talking about it produce any different outcome than not talking about it?
Moreover, McCain's views of Chinese actions either demonstrate a lack of understanding about basic state behavior in the international system or are utterly disingenuous:
"The key to this, obviously, is China and, unfortunately,China is not behaving as a responsible world power," McCain said. "It cannot be in China's interest in seeing a renewed conflict on the Korean peninsula.. We've got to understand that China is not what we want it to be, but is not playing a responsible role on the world stage, much less on the Korean peninsula. They could bring the North Korean economy to its knees if they wanted to and I cannot believe that the Chinese should, in a mature fashion, not find it in their interest to restrain North Korean – and so far hey have not."
It is unclear to me how China is behaving irresponsibly as it does not appear that the Chinese are encouraging a new Korean conflict (which would, indeed, be irresponsible).  As I noted the other day, China's behavior is not that difficult to understand:  they prefer the status quo.  Put another way:  they do not want a collapsed state on their border.  What state would?  As such, what motive would the Chinese have to "bring the North Korean economy to its knees"?  Why would it want to create a crisis in a border state?
Whether one is interested solely in proper analysis or in foreign policy formulation, one of the fundamental things one must do is determine what motivates a given state's actions.  Just because they don't have the same goals as another state does not make them irrational or, for that matter, irresponsible.  It makes them self-interested actors with their own unique interests.
Beyond that, I am not sure that either the South Koreans or the US (or Japanese, for that matter) actually wants a collapsed regime in the North.
I would say that the South and the US would be more than happy for a spontaneous and easy transition from the current regime in the North to a benign protodemocracy that could be effortlessly integrated into the South.  The problem is that such a process will not be easy and pretending like something like this can be easy is what has lead to two near decade-long wars that have yet to resolve into the neat and tidy packages that were promised.
Back to the Chinese, they have called for more multilateral talks (via the NYT:  China Seeks New Talks to Ease Korean Tensions), which seems reasonable from their point of view:  they want to try to de-escalate the current situation whilst maintaining the basic status quo.
Indeed, apart from the aforementioned knee-bringing, I am not sure what it is that the Chinese are supposed to do.  From the NYT piece:
"It's hard to know why China doesn't push harder," Admiral Mullen said. "They clearly are interested in the region not spinning out of control."

Interviewed on the CNN program "Fareed Zakaria GPS," Admiral Mullen said that China, perhaps among all nations of the world, has more sway over Kim Jong-Il, the North Korean leader, than any other — but that may not be enough. "My sense is they try to control this guy," he said, according to a transcript of the broadcast released by CNN. "And I'm not sure he is controllable."
OK, so on the one hand Mullen wants the Chinese to push harder, yet on the other he admits that the Chinese don't control the North Koreans.  So, which is it:  are the Chinese puppetmasters or are they, too, playing a delicate balancing act with the North Koreans?  If it is the latter (which I think it is) then they are not that different than the other states involved in this situation.  That they have more sway over the North than the US, Japan or the South is clear, but it doesn't mean that they are in control of the situation either.