McCain Regrets Picking Sarah Palin As His Running Mate
Regrets, he's had a few.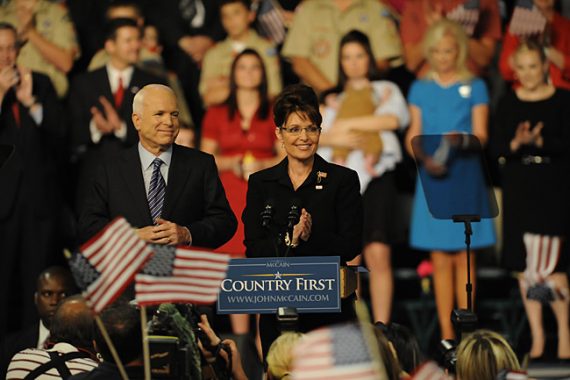 John McCain is saying in his upcoming book that he regrets picking Sarah Palin as his running mate in 2008:4
Sen. John McCain (R-Ariz.) said he regrets choosing former Alaska Gov. Sarah Palin (R) to be his running mate during the 2008 presidential campaign.

The New York Times reported on Saturday that McCain, while still defending Palin's performance, said in his upcoming book, "The Restless Wave: Good Times, Just Causes, Great Fights, and other Appreciations," that he wishes he had instead selected former Sen. Joseph Lieberman (I-Conn.)

His advisers reportedly had warned against choosing Lieberman, who was once a Democrat, stating that Lieberman's support of abortion rights could divide Republicans.

"It was sound advice that I could reason for myself," he writes. "But my gut told me to ignore it and I wish I had."

In a new HBO documentary, McCain goes on to say that not choosing Lieberman was "another mistake" that he made in his political career.

Lieberman told the Times that he didn't know McCain felt that way.

"It touched me greatly," he said of the film.

The Times reported that Lieberman recently visited McCain, 81, at his ranch in Arizona where the senator is recovering from his brain cancer treatment and surgery for an infection
Those who followed the 2008 election closely will remember that, as the Republican National Convention neared that year, there were several rumors about who McCain would choose as his running mate. One of the most persistent, albeit the oddest, was the idea that he would effectively reach across the aisle and select former Connecticut Senator Joe Lieberman, who had been the Democratic nominee for Vice-President in 2000 before running for re-election as an independent in 2006 after he lost the Democratic nomination for his seat to Ned Lamont. Lieberman went on to win the General Election that year, garnering nearly 50% of the vote even though he was running a three-way race against Lamont and the Republican nominee Alan Schlesinger. McCain was warned, though, that trying to tag Lieberman as his running mate would face resistance from the delegates and could even have resulted in the convention rejecting the nominee's choice of a running mate, something that would have been disastrous for a campaign that was already facing headwinds.
Once the idea of picking Lieberman was finally taken off the table, McCain's choice came down to Minnesota Governor Tim Pawlenty, who was at the beginning of his second term in office as Governor of Minnesota at the time, and Sarah Palin, who was just at the beginning of her first and only term as Governor of Alaska and was a relative unknown in American politics at the time. For a brief period, selecting Palin appeared to significantly shake the 2008 election to the point where the McCain/Palin ticket was leading the Democratic ticket of Barack Obama and Joe Biden by the time the Republican National Convention ended. Very quickly, though, it became apparent that Palin was plainly not ready for her time on the national stage, was largely ignorant about important public policy issues, and someone more concerned with her own public image than the national campaign or what was good for the Republican Party.
While I understand the sentiment that McCain may still have for the idea of picking Liberman, it clearly was a bad idea on his part and an early indication that his judgment was faulty when it came to deciding who his potential replacement should be in the event he actually was elected President. While Lieberman may have been qualified for his position, picking him would have been a politically dumb move because it would have likely split the Republican Party, caused many conservatives to stay home or not vote for President on Election Day and resulted in an even bigger Democratic win on Election Day 2008.
As I've said many times, the problem with McCain picking Palin in 2008 was the fact that, as is usually the case with Presidential candidates, it was his first opportunity, to demonstrate the type of judgment he would use were he elected to the President. In a Vice-Presidential selection, a candidate for President is basically telling the nation that this is the person who would be best suited to take over leadership of the nation in the event they were unable to serve or died in office, even if it happened on their first day in office. Palin did not meet the criteria for that position in any respect of the word based on her resume alone, and it quickly became clear based on her performance on the national stage that she was not prepared to be Vice-President, and most certainly not prepared to be President should the need arise. By selecting her, McCain caused many people to call his judgment into question for the first time since he became a national politician.
The other problem with McCain selecting Palin, of course, is the fact that his decision led to her rise to media stardom on the right and pushed the Republican Party in general and its hardcore conservative wing in particular even further down the road that eventually led us to Donald Trump winning the Republican Party's nomination eight years later. Many of the same people who rallied around Sarah Palin during the 2008 campaign turned into what became the Tea Party movement in 2009 and beyond, and Palin herself became a frequent speaker at Tea Party events, backing candidates who were far off the mainstream of the GOP and who appealed to the right-wing populism that both Palinism and the Tea Party represented. That right-wing populism, combined with a healthy dose of anti-immigrant hysteria, is what fed the monster that became Donald Trump and, to a large degree, gave us what we have today. McCain isn't solely responsible for this, of course. Much of it probably would have happened even if he had not chosen Palin as his running mate, but he did play a role in it and he does bear some responsibility for the consequences of that decision.