McChrystal Summoned to Washington
General Stanley McChrystal has not only likely ended his career but seriously damaged the already dimming chances of success in Afghanistan.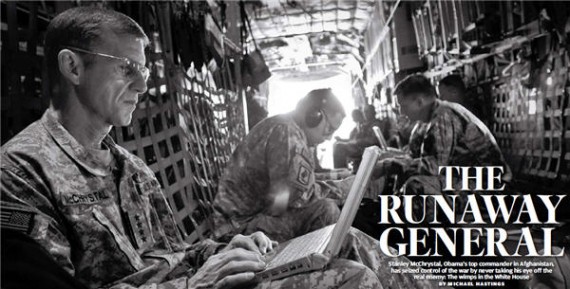 General Stanley McChrystal, commander of NATO forces in Afghanistan, has been ordered home by an angry president after several intemperate remarks made in a Rolling Stone interview.
In "General McChrystal Crosses the Line," Doug Mataconis has already outlined the basics of the case and why McChrystal's insubordination will likely lead to his being fired.
In my New Atlanticist piece, "McChrystal's Loose Lips May Sink Afghan Ship," I outline why he's not only put his career but the mission he's been assigned in serious jeopardy.
Key excerpts:
Even professionals occasionally say things in private about their bosses and peers that they wouldn't want repeated in public.  When they are, smart bosses weigh the totality of the circumstances in deciding the appropriate action.

McChrystal's allowing his representatives to go off half-cocked in an interview with a hostile publication was incredibly foolish.  And so is belittling the president's hand-picked national security team.    Say what you will about Joe Biden and Jim Jones but they're no amateurs; indeed, both have far more high level experience than McChrystal.

As I noted in this space last October, McChrystal has a habit of pushing the envelope on insubordination.  And it seems to stem from an arrogant belief that he's not only the smartest guy in any room but that everyone else is an idiot.  Which was likely MacArthur's downfall, too.
And:
As Harold MacMillan famously noted, "Events dear boy, events" are what tend to blow governments off course.   With the mission already unraveling, this is the last thing Obama needed.

Thirteen months ago, when General David McKiernan was fired to bring in McChrystal and his "A team"  — largely, ironically, because McKiernan was considered much less skilled at the Washington politics game — I observed that "it simply doesn't make sense to change horses at this juncture. While McChrystal is by all accounts a rising star and likely to be superb at this assignment, another change in command is another period of adjustment at a critical time. "   Now, it seems we're about to change horses yet again at an even more dire time for the mission.
Much more at the link.