Pentagon Report "Doubts" Some Comments Attributed To McChrystal By Rolling Stone
A Pentagon investigation was unable to verify some of the comments attributed to General Stanley McChrystal in Rolling Stone last year. That doesn't mean he's been cleared, though.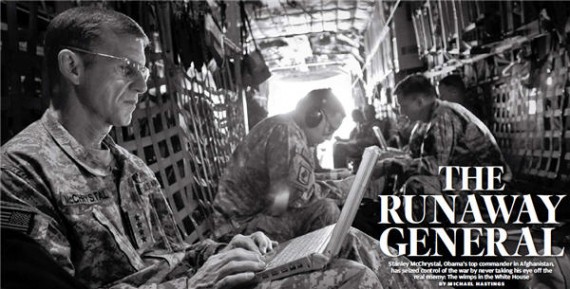 It's been nearly a year since Rolling Stone came out with a blockbuster story about General Stanley McChrystal that included a number of controversial remarks attributed to the General and his staff regarding superior offices, as well as the President and Vice-President of the United States. Within hours after the report first became pubic, McChrystal was summoned to Washington and, after a thirty minute meeting in the Oval Office, it was announced that he was out as Commander of U.S. forces in Afghanistan. Now, ten months after those events unfolded, the Pentagon is out with a report that expresses doubts about some of the comments attributed to McChrystal and his staff:
A report by the Department of Defense Inspector General casts doubt on the accuracy of the article in Rolling Stone magazine which cost Gen. Stanley McChrystal his job as the top commander in Afghanistan.

"Not all the events at issue occurred as reported in the article," the report says. "In some instances, we found no witness who acknowledged making or hearing the comments as reported."

Specifically, the investigation could not confirm quotes attributed to "sources familiar" with a meeting between the president and the Pentagon brass at which McChrystal thought the then newly elected president looked "uncomfortable and intimidated," and it could not confirm quotes attributed to "an adviser" stating that McChrystal was "pretty disappointed" with the president after a one-on-one meeting with the commander-in-chief.

The investigation did confirm an exchange in which McChrystal was conducting a mock press conference, practicing answers to questions about Vice President Biden, with whom the General disagreed on Afghanistan policy. McChrystal was reported to have said, "Are you asking about Vice President Biden? Who's that?" to which a "top advisor" responded, "Biden? Did you say Bite me?"

But another exchange in which an "aide" to McChrystal reportedly called the then national security adviser James Jones a "clown" could not be confirmed. The article also described a drunken dinner party in Paris involving McChrystal, his aides and their wives, but the inspector general concluded it was "celebratory" – it was McChrystal's wedding anniversary – but not drunken or disorderly.
According to the report, neither McChrystal nor Michael Hastings, who wrote the article agreed to be interviewed for the DoD investigation. However, Rolling Stone has already issued a response:
The report by the Pentagon's inspector general offers no credible source – or indeed, any named source – contradicting the facts as reported in our story, "The Runaway General." Much of the report, in fact, confirms our reporting, noting only that the Pentagon was unable to find witnesses "who acknowledged making or hearing the comments as reported." This is not surprising, given that the civilian and military advisors questioned by the Pentagon knew that their careers were on the line if they admitted to making such comments. Asking unnamed sources to reveal their identities strikes us as an exercise in futility. Rolling Stone stands by our story, which is accurate in every detail. We also note that Gen. Stanley McChrystal's own response to the story was to issue an apology, saying that what was reflected in the article fell "far short" of his personal standard.
This is a point worth noting. The Pentagon report apparently does not say that any of the allegations in the June 2010 story were untrue. In fact, it seems to acknowledge that it was able to verify many of the controversial comments that were attributed to McChrystal or his staff. The only thing the report says is that the Inspector General was unable to verify some of the reports. The could mean the quotes in question are incorrect, or it could mean, as the Rolling Stone response points out, mean that the people involved didn't want to put their careers on the line by providing further confirmation that already cost a four-star General his command.
It's also worth noting that there was no indication when this entire debacle unfolded that McChrystal ever disputed the factual basis of the article. In fact, he offered his resignation on the same day that the article became public. Of course, one could argue that military protocol required McChrystal to do that, but if there was anything seriously in doubt about the comments attributed to him, one would have assumed he would have brought that to the attention of his superiors. Finally, as James Joyner noted when this story first broke, the comments were bad enough, but McChrystal's lapse in judgment was arguably even worse:
I could live with any of this were it not made knowing that a reporter — and not one they could trust to ignore their locker room talk — was right there recording every bit of it.  It's simply unprofessional.

That's just in the first three pages of an eight-pager I haven't had time to complete.

Hastings makes things seem worse by interspersing his own editorial commentary and including lots of damning quotes from people outside McChrystal's team.  But make no mistake:  McChrystal didn't cover himself in glory here.
Indeed. McChrystal's goose was cooked the minute the story broke, and the way events unfolded would seem to make it clear that he was far from an innocent actor here.