McChrystal vs. Shinseki
Is there a double standard in play when generals criticize Democratic versus Republican presidents?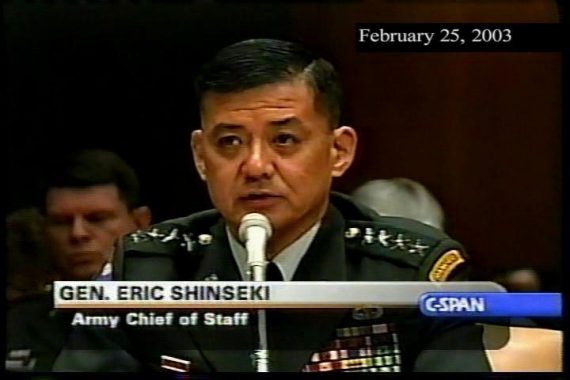 NewsBusters' Lachlan Markay sees a double standard at work.
No general should criticize his or her commander, and Gen. Stanley McChrystal is no exception. But the mainstream media is primarily concerned with the political fallout of McChrystal's apparent insubordination as revealed by a piece in Rolling Stone. They are not concerned with whether his critiques are accurate, in stark contrast to other military officers' critiques of war policy under the Bush administration.

During Bush's tenure, active duty generals that spoke out against administration policy were portrayed as courageous whistleblowers. Retired generals were treated as ever-wise sages of military policy. None were scrutinized as McChrystal, pictured right, has been in the hours since Rolling Stone released its article.

The most prominent active duty general to earn the media's affection was Gen. Eric Shinseki, current Secretary of Veterans Affairs (to the media's delight). He insisted in 2003 that, contrary to Defense Department policy as iterated by Defense Secretary Donald Rumsfeld, the United States would need to send "hundreds of thousands" of troops to Iraq during the initial invasion. The media ate it up.

Granted, Shinseki made his comments before the Senate Armed Services Committee, a more appropriate setting than in the pages of a magazine. But the fact remains that Shinseki was expressing an opinion–one that undermined administration policy–and the media seized on his statement not as a commentary on the chain of command, but rather as criticism of the administration's war effort.
But that's a pretty big distinction! Shinseki had no choice but to give his honest opinions to Congress.  They have Constitutional oversight and his job as Army Chief of Staff was to render his "best military advice."
Further, Shinseki wasn't being disrespectful in the slightest to his superiors in the chain of command or to civilian officials of any stripe. He was simply stating his judgment that more troops were needed to get the job done.
McChystal, by contrast, was spouting off in profane, personal, disrespectful, and possibly contemptuous language about civilian officials to a reporter from a music magazine.  These are not only not in the same ballpark, it's not even the same sport.
As to retired generals, they're a different animal, entitled to much more leeway in expressing their thoughts.  Because they're not on active duty!  They're veritable civilians!  And yet I recall more than one article questioning whether it was proper for them to criticize the president and undermine troop morale during ongoing combat operations.
As to various reports of anonymous soldiers expressing disgruntlement, that's been pretty standard color commentary in reporting for so long as I can remember.  Certainly, there was plenty of it during the Carter and Clinton administrations, with troops expressing their open (but not named!) contempt of the president.
Now, did liberal commentators use the words of these various military men against Bush and his war strategy when they could?   Sure.  But some conservatives are going to do the same with McChrystal's remarks.   They're out there in the public domain now and fair game for that purpose.
That doesn't mean it's not unprofessional — and possibly illegal — for a sitting general to make these statements.