McConnell Freezes During Press Conference
The 81-year-old Republican leader seems to still suffering from his fall.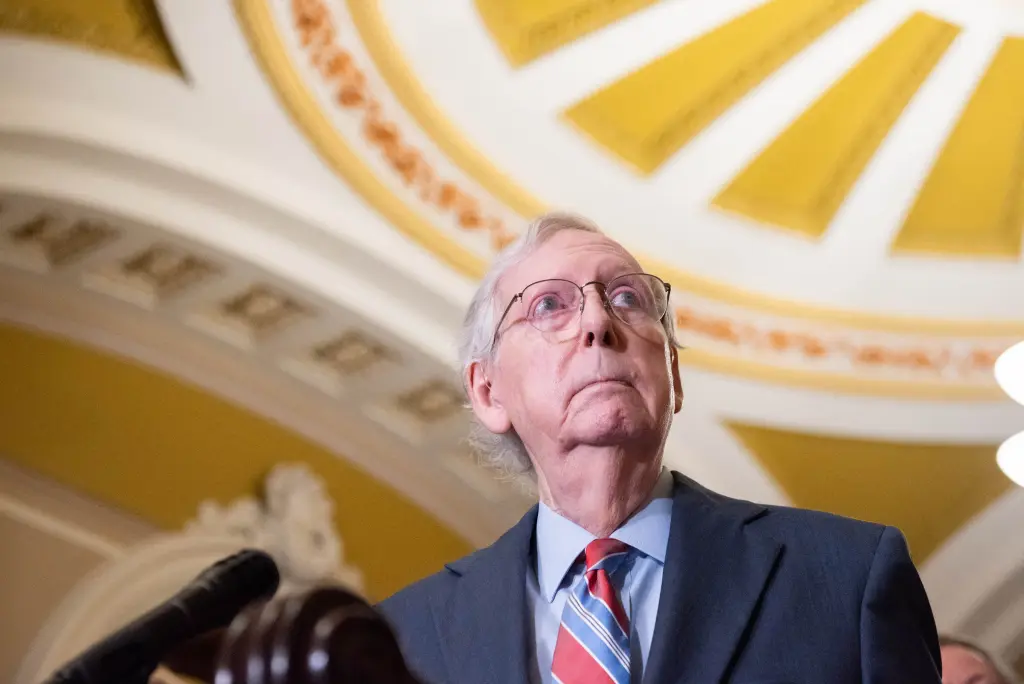 WaPo ("Mitch McConnell freezes mid-sentence, escorted away at news conference"):
Senate Minority Leader Mitch McConnell (R-Ky.) on Wednesday abruptly left a news conference after he froze midway through his opening remarks and appeared to be unable to resume speaking immediately.

McConnell began the GOP's leadership weekly news conference by saying lawmakers were on a path to finishing a major defense budget bill this week.

"We've had good bipartisan cooperation and a string of —" McConnell said.

He then froze and remained silent for about 20 seconds, staring straight ahead, before other members of GOP leadership intervened. Sens. John Barrasso (R-Wyo.) and Joni Ernst (R-Iowa), standing at McConnell's side, asked whether he was okay, but McConnell did not respond verbally.

"Do you want to say anything else to the press?" Barrasso asked McConnell, before suggesting that McConnell take a break.

"I'll take him back," Barrasso said to the other members of the leadership team, guiding McConnell away from the dais.

McConnell, 81, returned after several minutes, and after the news conference was over, was asked by reporters to address what had taken place.

"I'm fine," McConnell said simply.

An aide to McConnell who spoke on the condition of anonymity because they weren't authorized to discuss the matter publicly said the minority leader felt "lightheaded."

"He felt lightheaded and stepped away for a moment. He came back to handle Q and A," the aide said.

Later Wednesday evening, McConnell said President Biden had checked in on him following the incident.

"Well, the president called to check on me. I told him I got sandbagged," McConnell said, smiling.

McConnell did not answer questions from reporters who asked whether he has seen a doctor since the incident, nor did he offer any details on what exactly happened to him during the episode earlier in the day.

"I'm fine. That's the important part," McConnell responded.

Senate Majority Leader Charles E. Schumer (D-N.Y.), who spoke at the Democrats' news conference immediately after the Republican one, was asked about what had happened. "I always wish Leader McConnell well," he responded.

The incident took place about four months after McConnell fell and suffered a concussion and a broken rib at a private dinner at a Washington hotel in early March. The Kentucky Republican was absent from the Senate for nearly six weeks as he recovered from his injuries. He returned to the Senate in April.

In the past two months, McConnell has struggled at times. Having overcome polio as a child, his gait has always been a bit stilted, but it has been visibly more cautious. On multiple occasions, he has not been able to hear questions that reporters have asked him. At one point during a news conference in early June, Sen. John Thune (R-S.D.) had to lean in and explain to McConnell what the question was.

Barrasso, who was an orthopedic surgeon and previously served as president of the Wyoming Medical Society, said Wednesday that he pulled the GOP leader aside and walked down the hall with him to check on him.

"I just wanted to make sure everything was fine with him, and it was," Barrasso, the No. 3 GOP leader, told reporters afterward. "I've been concerned since the first time — since he was injured a number of months ago," he added. "I continue to be concerned."

But after McConnell returned and engaged with reporters, Barrasso said, he seemed to be as good or better than he's been in recent weeks.

"I think he's made a remarkable recovery, he's doing a great job leading our conference, and he was able to answer every question that the press asked him today," Barrasso said. "And you may note that he answered more questions today than he usually does."
That President Biden and Majority Leader Schumer are responding as human beings rather than political partisans to the health problems of a longtime colleague is encouraging and I certainly wish McConnell a full recovery. But it's noteworthy that 83-year-old Nancy Pelosi voluntarily stepped down as the leader of House Democrats, despite still being arguably the most effective American parliamentarian in generations, because of pressure to step aside for a younger team. And, of course, there is a widespread sense that Biden—who's nine months younger than McConnell and seems far healthier—should not serve a second term.
I somehow either didn't know or had forgotten that McConnell had polio as a child. As with Biden, who had to work hard to overcome a stutter, age has made it harder to mask symptoms. McConnell has reportedly fallen other times since the March incident that hospitalized him.