Medal Of Honor Awarded To First Living Recipient Since Vietnam War
Sergeant Salvatore A. Giunta is the first living recipient of the Congressional Medal of Honor since the Vietnam War.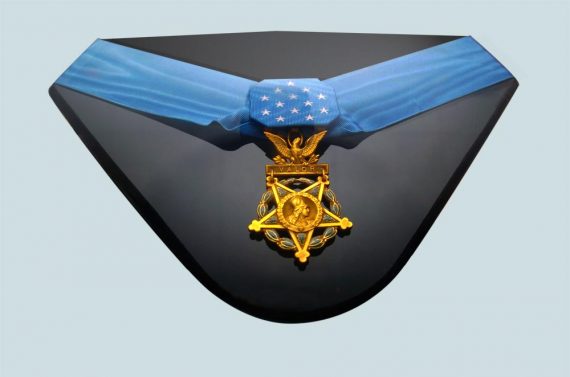 Given what it takes to be awarded the Congressional Medal of Honor, this is definitely a rarity:
WASHINGTON — In the most dangerous valley of the most rugged corner of eastern Afghanistan, a small rifle team of airborne soldiers fell into a vicious insurgent ambush, a coordinated attack from three sides.

A young Army specialist, Salvatore A. Giunta, took a bullet to the chest but was saved by the heavy plates of his body armor. Shaking off the punch from the insurgent round, he jumped up and pulled two wounded soldiers to safety before grabbing hand grenades and running up the trail to where his squad mates had been on foot patrol.

There, he saw a chilling image: Two insurgents hauling one of his American comrades into the forest. Specialist Giunta hurled his grenades and emptied the clip in his automatic rifle, forcing the insurgents to drop the wounded soldier. Still taking fire, he provided cover and comfort to his badly wounded teammate until help arrived.

True stories of combat defy retelling, and he leaves the recounting of the details of that mission on Oct. 25, 2007, to others. "It was one of the worst days of my life, and when I revisit it, it kind of guts me a little bit more every time," he said on Friday.

But the White House wants to honor his heroism, and announced that for his valor during that mission, Salvatore Giunta of Hiawatha, Iowa, who is now 25 and a staff sergeant, will become the first living service member to receive the Medal of Honor, the military's most prestigious award, for action during the wars since September 11, 2001.

President Obama spoke with Sergeant Giunta on Thursday, to discuss the "acts of gallantry at the risk of his life that went above and beyond the call of duty," according to a White House statement. The date of the medal ceremony has not been set.

"President Obama said 'thank you' for what I did," Sergeant Giunta said in an interview from his current post in Vicenza, Italy. "My heart was pounding out of my chest, so much that my ears almost stopped hearing. I had my wife by my side. She was holding my hand. When she heard me say, 'Mr. President,' she gave me a squeeze."

The soldiers of Company B, Second Battalion, 503rd Infantry, were part of Operation Rock Avalanche, a classic hearts-and-minds campaign to provide food, winter clothing and medical care to remote Afghan villagers — and to assure them that the American and Afghan troops were a stronger force for security than the insurgents.

The mission was described by Elizabeth Rubin, who wrote of the military's travails in the Korangal Valley for The New York Times Sunday Magazine on Feb. 24, 2008. It is also the subject of a section of a recently published book, "War," by Sebastian Junger. After months of patrols that cost the American military dearly, the outposts in the Korangal were eventually disbanded, and the forces in them relocated to provide security to larger population centers.

Sergeant Giunta does not discuss strategy or policy when he reflects on that night, when two paratroopers died and most of the patrol received serious injuries.

"I entered the Army when I was 18, and I'm 25 now — I became a man in the Army," he said. "That night I learned a lot, and after that night I learned even more. This respect that people are giving to me? This was one moment. In my battalion, I am mediocre at best. This shows how great the rest of them are."

The official White House statement does not share in Sergeant Giunta's modesty. "His courage and leadership while under extreme enemy fire were integral to his platoon's ability to defeat an enemy ambush and recover a fellow American paratrooper from enemy hands," the statement said.

Sergeant Giunta has also received the Bronze Star and the Purple Heart. He has served two tours of duty in Afghanistan.
There have been six other Medals of Honor awarded to servicemen who served in Iraq and Afghanistan, all of which were awarded posthoumously. In addition, the Medal was only awarded twice in the years between the end of the Vietnam War and 9/11, to two Army Rangers for actions during the Battle of Mogadishu, memorialized in the film Blackhawk Down. Outside of Vietnam, the Medal of Honor was also awarded in 1967 to the Commander of the USS Liberty.