Media Coverage for Minor Candidates
CBS accidentally admits that they are giving less attention to some of the Republican contenders.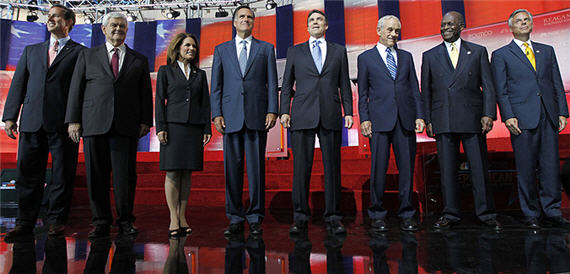 Michele Bachmann has caught a news outlet admitting what we all know: that they give more coverage to candidates they consider "major." She thinks this is unfair. She's of course right.
NYT ("A Finger Slips, and the Bachmann Camp Pounces"):
It is not exactly a state secret that the news media tend to lavish more coverage on perceived front-runners in presidential campaigns.

But CBS News's political director, John Dickerson, made the mistake of saying basically that in an e-mail and accidentally sending it to the campaign of Representative Michele Bachmann. In a slip of the finger that quickly ignited a furor among Mrs. Bachmann's supporters, Mr. Dickerson e-mailed his colleagues that he would prefer to "get someone else" other than the Minnesota congresswoman for an online show after the CBS News/National Journal debate on Saturday night. The e-mail said that Mrs. Bachmann was "not going to get many questions" in the debate and that "she's nearly off the charts" — an apparent reference to her low standing in many polls.

The problem was that Mrs. Bachmann's communications director was copied in on the e-mail, and Mr. Dickerson hit "reply to all." Oops.

The incident highlighted the tricky calculus media organizations must engage in when deciding which candidates to pay attention to, and which not, as they factor in criteria like standing in the polls, fund-raising and more nebulous things like momentum.

Aides to Mrs. Bachmann, who is polling in the single digits, seized on the e-mail as evidence of liberal bias by CBS News and used the episode to rally its supporters against a favorite Republican foe: the mainstream media.

[…]

Even when Mrs. Bachmann was riding high in the polls, her relationship with the press was strained, in particular over coverage of the Christian counseling practice of her husband, Marcus. Mrs. Bachmann has gone from being a media fascination after winning the Ames, Iowa, straw poll this summer — she was featured in cover stories in The New Yorker and Newsweek, and frequently appeared on Sunday morning talk shows — to being largely an afterthought. A review of hundreds of election news stories from Oct. 3 to Nov. 6 by the Project for Excellence in Journalism found that Mrs. Bachmann figured prominently in just 13 items.

The review found that Mr. Cain received the most press attention, with at least 297 stories in which he was a dominant subject; Gov. Rick Perry of Texas was second with 150 stories; Mitt Romney was third with 148. Representative Ron Paul of Texas and Mr. Gingrich trailed Mrs. Bachmann with eight and five stories.
Here's the Dickerson email, with only the addresses redacted:
This is rather awkward. But it's hard to fault Dickerson's news judgment. Bachmann was an interesting story earlier in the campaign as she was being introduced to a national audience and making an unexpected surge into co-frontrunner status. But the nominating electorate has long since come to the judgment—entirely correct in my view—that Bachmann is not cut from presidential timber.
On November 12, then, the best guests would likely have been Perry (the "oops!" gaffe was still hot news), Cain (the sexual assault scandal), Gingrich (the suddenly resurgent star/flavor of the week), and Romney (the frontrunner who's everyone's second choice). Failing to get one of the big stories, Huntsman would likely be the best alternative in the wake of the first foreign policy debate (So, how frustrated are you that you're behind these bozos?)
In terms of the larger question of media coverage, the fact of the matter is that there is only so much time on the nightly newscasts, so many column inches on the front pages of newspapers, so many magazine covers, and so much time for reporters and readers alike. So, choices have to be made.
This can result in a self-fulfilling prophecy, of course. I don't think Gary Johnson was likely to appeal to this year's Republican nominating electorate. But we'll never know since he has been all but ignored by the press and excluded from the debates, so he never got a chance to make his case.
Even with somewhat arbitrary cut-offs based on poll numbers, though, too many people are in the debates. It's just silly to give air time to Rick Santorum, Ron Paul, Michele Bachmann, and Jon Huntsman at this point. Then again, I'd have said that of Herman Cain, too, and he managed to become the frontrunner for a short time before the sexual harrassment/assault charges started to deflate his support.
Given that early frontrunners often crash and burn–see Tim Pawlenty and Rick Perry this cycle and Rudy Giuliani and Fred Thompson last cycle–and early nobodies–think Herman Cain this cycle and Mike Huckabee last cycle–often surprise us, it's probably best to err on the side of cacophony until the debates, fundraising race, and early primaries sort things out.
Most will agree that we ought to exclude random yahoos who are running for president for the sheer novelty value while including legitimate candidates, even if they're long shots to win the nomination.
My instinct would be to invite anyone who is a declared candidate and is either at 10 percent in the polls (I'd go with the RealClearPolitics average or some other index rather than the "any national poll" standard) or who has held in the past six years one of the following offices: President, Vice President, governor, or US Senator.
If applied at the outset of this race, that formula would have included Johnson and Santorum while excluding Bachmann, Cain, Paul, and Gingrich. Adding US Representative to the list–which goes against modern precedent but one could argue still satisfies the "serious candidate" requirement–would include all the national candidates except Cain, who was nowhere in the polls until getting exposure in the debates.
There's really no perfect system here. There's no modern precedent* for Cain–a minor business executive who failed in his sole previous attempt at getting elected to political office–winning a major party nomination, much less the presidency. Yet, he managed to make himself a serious candidate–at least for a while–when given the opportunity.
The answer may be a sliding scale, allowing almost everyone into the debates at the outset (requiring perhaps 1 percent standing in the polls) and then gradually raising the bar as we get deeper into the season. Once the race gets down to two or three contenders, we should focus all our attention on them despite whatever novelty having the minor candidates share their thoughts might provide. At some point, it should be a debate among people who can win the nomination rather than a vanity exercise for people looking for a platform to raise their profile.
_________________
*Abraham Lincoln comes pretty close but I'd date the modern era from 1960 (when television became a major factor and party primaries were beginning to matter). Whatever the comparative merits of the systems, precedents from the days when party bosses chose the nominees aren't meaningful in an era when ordinary voters choose the party nominees.