Meditations on a Broken Window, Part 1
Bastiat vs. the Second Law of Thermodynamics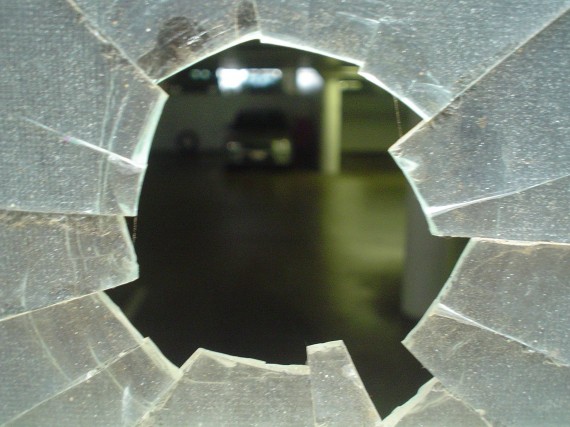 With all this talk about Bastiat's "Broken Window Fallacy" in the context of the emerging disaster of Japan, I think it might be interesting to pull it back a bit. Because as I've been thinking about the "Fallacy" over the past few days, it doesn't seem to bear up to a lot of rational or empirical scrutiny.
As a reminder, here's Bastiat's parable in full:
Have you ever witnessed the anger of the good shopkeeper, James Goodfellow, when his careless son happened to break a pane of glass? If you have been present at such a scene, you will most assuredly bear witness to the fact that every one of the spectators, were there even thirty of them, by common consent apparently, offered the unfortunate owner this invariable consolation—"It is an ill wind that blows nobody good. Everybody must live, and what would become of the glaziers if panes of glass were never broken?"

Now, this form of condolence contains an entire theory, which it will be well to show up in this simple case, seeing that it is precisely the same as that which, unhappily, regulates the greater part of our economical institutions.

Suppose it cost six francs to repair the damage, and you say that the accident brings six francs to the glazier's trade—that it encourages that trade to the amount of six francs—I grant it; I have not a word to say against it; you reason justly. The glazier comes, performs his task, receives his six francs, rubs his hands, and, in his heart, blesses the careless child. All this is that which is seen.

But if, on the other hand, you come to the conclusion, as is too often the case, that it is a good thing to break windows, that it causes money to circulate, and that the encouragement of industry in general will be the result of it, you will oblige me to call out, "Stop there! Your theory is confined to that which is seen; it takes no account of that which is not seen."

It is not seen that as our shopkeeper has spent six francs upon one thing, he cannot spend them upon another. It is not seen that if he had not had a window to replace, he would, perhaps, have replaced his old shoes, or added another book to his library. In short, he would have employed his six francs in some way, which this accident has prevented.
Speaking of things that are unseen, here's what Bastiat really doesn't see: entropy — the inexorable march of the universe towards disorder. Or, to put it more collquially: stuff breaks.
Stuff breaks, in fact, all the time.
So let's take a look at our French glazier. When he's making his business plans for the year, setting his budgets, preparing his supplies, he is basing this on the number of new windows that will be needed. Now, new windows will be needed in three cases: new construction, replacement of old windows with new ones for aesthetic or functional reasons, and replacement of new windows because windows break.
Let's say that the glazier has a target for revenues in a year of 6000 francs. He charges 6 francs for a window, so he sells a thousand windows per year. Let's say of those thousand windows, three hundred of them are projected to be windows sold because windows in the town get broken by children, natural disasters, etc.
Now, let's move to a world where windows don't break. Suddenly, our glazier has a three hundred window shortfall, and misses his revenue target by 1800 francs due to a lack of demand. If the glazier wants to hit his target of 6000 francs, he has to raise prices on windows to about 8.6 francs a year–and lets round it up to 9, since part of the reason why a replacement window might be desired is because the glass on windows gets more brittle over time. In a world where windows don't break, that's less of a concern.
I think it's safe to say that the market wouldn't fight the price hike, because reduced demand will likely reduce supply as people are discouraged from entering a smaller market. So in a world without broken windows, the price of a new window is about 50% higher than it otherwise would be!
In other words, the fact that windows break is actually built into the price of the window. The glazier can afford to charge less for his services because the inevitability of windows breaking means that demand will remain steady enough to hit his revenue targets. Absent broken windows — absent stuff breaking at all — and things would cost more. That's why particleboard assembled furniture can be sold more cheaply than handmade Amish furniture. The fact of replacement is built into the cost of the assembled furniture — it wears out faster, so you'll be back.
By ignoring the simple fact of entropy, Bastiat is ignoring the complexities of the economy that are necessitated by the simple fact that items will eventually break. The economy is built around that fact, and prices are built around that fact. It's a major Unseen factor that Bastiat, notably, doesn't see.
Update: Based on the comments, I've tried to clarify a few points here.