Do Earthquakes Stimulate the Economy?
Either a bunch of bloggers or one of the world's smartest economists doesn't understand economics.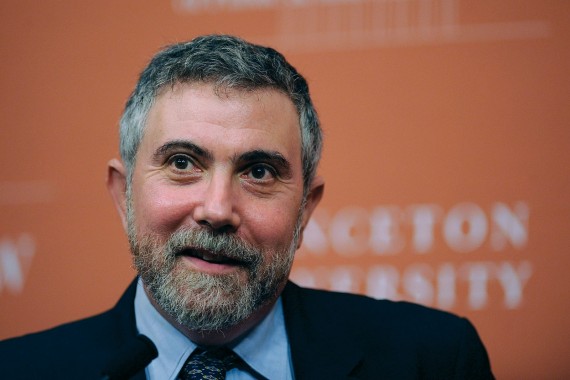 A parody Google+ page under the name of Nobel Prize-winning economist Paul Krugman declares, "People on twitter might be joking, but in all seriousness, we would see a bigger boost in spending and hence economic growth if the earthquake had done more damage."
People with a passing familiarity with economics will immediately recognize Frederic Bastiat's fallacy of the broken window, articulated in 1850:
Have you ever witnessed the anger of the good shopkeeper, James B., when his careless son happened to break a square of glass? If you have been present at such a scene, you will most assuredly bear witness to the fact, that every one of the spectators, were there even thirty of them, by common consent apparently, offered the unfortunate owner this invariable consolation – "It is an ill wind that blows nobody good. Everybody must live, and what would become of the glaziers if panes of glass were never broken?"

Now, this form of condolence contains an entire theory, which it will be well to show up in this simple case, seeing that it is precisely the same as that which, unhappily, regulates the greater part of our economical institutions.

Suppose it cost six francs to repair the damage, and you say that the accident brings six francs to the glazier's trade – that it encourages that trade to the amount of six francs – I grant it; I have not a word to say against it; you reason justly. The glazier comes, performs his task, receives his six francs, rubs his hands, and, in his heart, blesses the careless child. All this is that which is seen.

But if, on the other hand, you come to the conclusion, as is too often the case, that it is a good thing to break windows, that it causes money to circulate, and that the encouragement of industry in general will be the result of it, you will oblige me to call out, "Stop there! your theory is confined to that which is seen; it takes no account of that which is not seen."

It is not seen that as our shopkeeper has spent six francs upon one thing, he cannot spend them upon another. It is not seen that if he had not had a window to replace, he would, perhaps, have replaced his old shoes, or added another book to his library. In short, he would have employed his six francs in some way, which this accident has prevented.

Let us take a view of industry in general, as affected by this circumstance. The window being broken, the glazier's trade is encouraged to the amount of six francs; this is that which is seen. If the window had not been broken, the shoemaker's trade (or some other) would have been encouraged to the amount of six francs; this is that which is not seen.

And if that which is not seen is taken into consideration, because it is a negative fact, as well as that which is seen, because it is a positive fact, it will be understood that neither industry in general, nor the sum total of national labour, is affected, whether windows are broken or not.

Now let us consider James B. himself. In the former supposition, that of the window being broken, he spends six francs, and has neither more nor less than he had before, the enjoyment of a window.

In the second, where we suppose the window not to have been broken, he would have spent six francs on shoes, and would have had at the same time the enjoyment of a pair of shoes and of a window.

Now, as James B. forms a part of society, we must come to the conclusion, that, taking it altogether, and making an estimate of its enjoyments and its labours, it has lost the value of the broken window.

When we arrive at this unexpected conclusion: "Society loses the value of things which are uselessly destroyed;" and we must assent to a maxim which will make the hair of protectionists stand on end – To break, to spoil, to waste, is not to encourage national labour; or, more briefly, "destruction is not profit."

What will you say, Monsieur Industriel — what will you say, disciples of good M. F. Chamans, who has calculated with so much precision how much trade would gain by the burning of Paris, from the number of houses it would be necessary to rebuild?

I am sorry to disturb these ingenious calculations, as far as their spirit has been introduced into our legislation; but I beg him to begin them again, by taking into the account that which is not seen, and placing it alongside of that which is seen. The reader must take care to remember that there are not two persons only, but three concerned in the little scene which I have submitted to his attention. One of them, James B., represents the consumer, reduced, by an act of destruction, to one enjoyment instead of two. Another under the title of the glazier, shows us the producer, whose trade is encouraged by the accident. The third is the shoemaker (or some other tradesman), whose labour suffers proportionably by the same cause. It is this third person who is always kept in the shade, and who, personating that which is not seen, is a necessary element of the problem. It is he who shows us how absurd it is to think we see a profit in an act of destruction. It is he who will soon teach us that it is not less absurd to see a profit in a restriction, which is, after all, nothing else than a partial destruction. Therefore, if you will only go to the root of all the arguments which are adduced in its favour, all you will find will be the paraphrase of this vulgar saying – What would become of the glaziers, if nobody ever broke windows?
Emphases mine in all cases.
I'm rather confident that Krugman, who has his PhD in economics from MIT and has won a half dozen international prizes for his contributions to macroeconomic theory, including the John Bates Clark Medal and the aforementioned Nobel, is aware of Bastiat's work. But the parody account holder's point is that he operates as if he doesn't. Indeed,  as AllahPundit points out, Krugman made an almost identical argument three days after the 9/11 attacks.
Presumably, Krugman's response would be that macroeconomics is different than microeconomics and public spending is different than private spending. As Matt Yglesias pointed out in a different context last week:
When Bastiat wrote that, "money" meant, in France, a commodity of which there was limited supply. Specifically, the so-called "Germinal Franc" contained 290.32 mg of gold. The modern economy isn't like that. The quantity of money and credit are policy variables. If the country were afflicted with unemployed glaziers, Ben Bernanke could run around smashing bakery windows and leaving checks behind. The checks don't need to be backed by anything, and the bakers will use the checks to hire glaziers to replace the lost windows without reducing their spending on tailors. Problem solved. This would be, admittedly, a silly way to resolve the problem. A more reasonable approach would be to cut the checks and pay the glaziers to do something useful. But it would work. Everyone understands that we don't have a barter economy operating or a gold standard operating purely with cash-in-advance, but people often fail to see that this is important. But it makes a ton of difference. Among other things it means that if your argument about why something can't be done turns at some key point on an alleged scarcity of money that something has gone awry.
So, yes, if major damage had been done to the infrastructure of the national capitol region, the Federal government could simply borrow money and pay to fix it without forgoing spending it was otherwise going to make. Politically, of course, that's not going to happen in the current climate, in which simply raising the nation's self-imposed borrowing limit to pay for spending already agreed to is cause for a standoff. But, if Krugman were king, we could fix the broken windows and still buy all the shoes we would have.
Indeed, that's been US national policy for going on four decades now, in good times and bad. Our solution to the age-old guns versus better dilemma was ingenious: Both!
The fine print, unfortunately, that someone ultimately has to pay for it. We're already at the point where just the interest on the national debt is more than we spend on virtually every non-defense discretionary category.
Additionally, given that the federal budget is $3.46 trillion and the annual GDP is $14.12 trillion, the earthquake would have had to be epic, indeed, for the repair bills to have provided much of a stimulus.
UPDATE (Alex Knapp): Krugman never said this – that Google Plus account isn't his.
UPDATE (James Joyner): Alex beat me to the update. As "Carlos," the person who professes to be behind the account, he did so to illustrate Krugman's actual views. He collects several examples, in addition to the post-9/11 one noted in my original post. I've changed the post title and made minor changes to the original post to avoid perpetuating the false rumor that Krugman actually wrote the post in question. The analysis itself remains unchanged.