Memes
Didn't we just talk about this?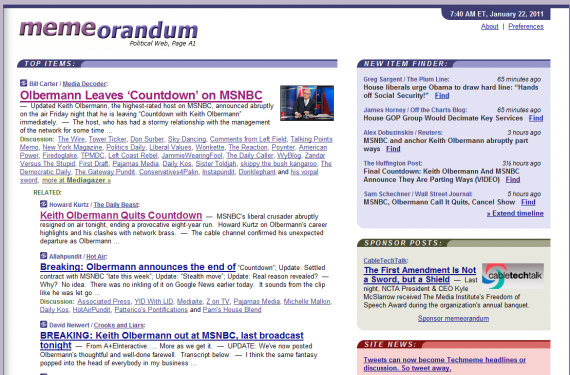 In the old days, back before every man, woman, and child was obligated to record their every thought and movement on the Internet and "media" was something left to the professionals, there was something called the "bandwagon effect."   Basically, when the New York Times judged something to be big news, it was sure to be covered by all the local papers and the three nightly newscasts.  And a given story might dominate coverage for days, until the next big thing came along.
Sometimes, these things were obvious.  When President Reagan was shot, the Challenger exploded during take-off, or the Berlin Wall came down, every editor and producer knew instinctively that these demanded wall-to-wall coverage.  But, more often than not, it was some local niche story of no real national importance that somehow captured the imagination.  A baby is trapped in a well!  A child beauty queen has been killed!  The intern of a Congressman is missing!
The same phenomenon continues today but, because media is ubiquitous, the process is different.   Videos and "memes" are generated by people you've never heard of bubble up through the blogs, Twitter, Facebook, YouTube, or whathaveyou.  Sometimes within minutes, sometimes not for days and weeks, somebody with an audience notices and passes it on.
A fellow most readers have never heard of, Gabe Rivera, has spent the last several years developing a cottage industry of aggregating these.  Political bloggers all peruse memeorandum ("Political Web, Page A1").  Coders and gadget freaks keep up with Techmeme ("Tech news essentials").  There's also Mediagazer ("Must-read media news") and WeSmirch ("Celebrity news and gossip").  The rise of aggregators of this sort artificially speeds up the process and, occasionally, generates minor memes around things that might not have spread otherwise.
Regardless of how it happens, though, the result is the same:   Everyone in a given niche winds up feeling obligated to weigh in.   Indeed, I frequently see a headline or story somewhere, decide it's not worth my time, and then get drawn into it hours later when I see conversations about it on Twitter or my blog feed reader.   Sometimes, it's just a function of "well, this must be important so let me say something."   More often, it's because, while the particular item itself doesn't interest me, some aspect of it that's being talked about does.
All this manifests itself in topics getting beaten like a rented mule.  Or a redheaded stepchild.  Or a dead horse.
The most recent example of this has been the debate, spawned by the Tucson shootings apparently targeting Rep. Gabby Giffords, over whether the national debate is too caustic.  There must have been a dozen postings on variations of that theme here at OTB in the span of less than a week.   While overall I think they were a worthwhile contribution to the national debate.  But, spawned as they were organically, as ideas occurred to individual contributors here, there was doubtless substantial repetition and overlap.
Similarly, the announcement just before the Thanksgiving holidays that the Transportation Security Agency was introducing particularly invasive scanners at some of our nation's airports, coupled with an Astroturf campaign to boycott said scanners and several incidents in which TSA employees acted stupidly, led to a national frenzy in which the topic seemed to be all any of the news outlets and blogs were talking about.
And, of course, the meme that won't go away is Sarah Palin.  For a variety of reasons, her announcement as John McCain's running mate ignited a conversation that hasn't stopped now in two-and-a-half years.   Partly, it's because she was, in the words of Bob Dylan, a complete unknown who emerged as a national celebrity in an instant.  Partly, it's because she's an almost perfect litmus test for so many issues that divide the country.  Partly, it's because many people think she has a decent chance of becoming President of the United States.  Mostly, it's because she is perhaps the most amazing publicity machine in the history of the planet.
Ironically, annoyance with Palin as a meme has now become a meme.  WaPo's Dana Milbank is trying to get everyone to take the Palin pledge, promising not to talk about Palin for a month.  Not only will this guarantee that we talk about not talking about Palin — thus, of course, talking about Palin! — but it will almost certainly not result in us talking less about Palin in February.   Mostly, because there's no story that doesn't somehow become about Palin.   (Six people shot in Tucson! Is it Palin's fault?!  Even suggesting it is blood libel!)
The nature of 24/7 cable news networks, blogs, Twitter and other non-scripted coverage is that it's sporadic, highly driven by the developments of the moment, and tends to be repetitive.   I'm always amused when I visit my mom, who watches Fox News for hours on end, complain that they talk about the same thing over and over.  But, of course, there's only so much to talk about!  And most people watching drop in and out, so the fact that the exact same story was on last hour doesn't bother them.
To a lesser extent, the same is true at OTB.  While I write with regular readers — and especially regular commenters — in mind, the fact of the matter is that the vast majority of people reading any given post have little to no familiarity with the unfolding conversation here.  Indeed, a substantial portion of them have no idea that they're even at a blog; a website is a website for the vast majority of Internet uses.  Recognizing that means that posts need to at least partially set the stage with our overall perspective on an issue, since most readers will only have that one post to understand the point being made.