Merriman Smith 'Canceled' Posthumously
A man most have never heard of is being reassessed more than a half-century after his death.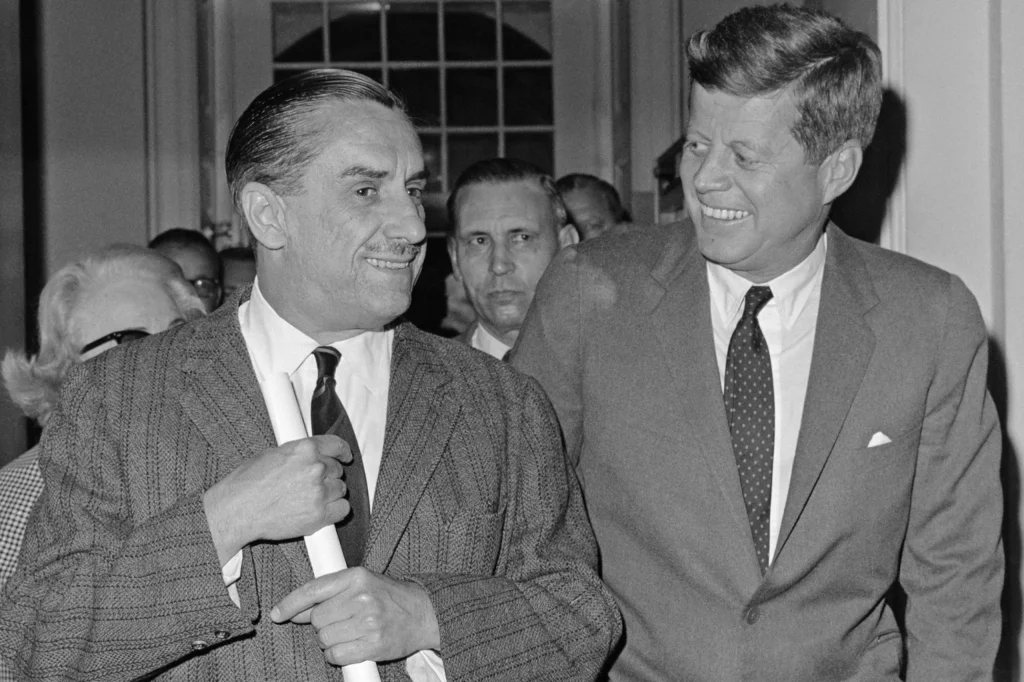 WaPo ("His reporting on the Kennedy assassination made him a legend. Then a press group looked into his past."):
Merriman Smith was a distinguished White House correspondent for decades, but he cemented his place in journalism history on a bright afternoon in 1963.

Traveling in the press-pool car as President John F. Kennedy's motorcade wound through Dallas that day, Smith heard the crackle of gunfire. He reacted instinctively, grabbing the car's "radiotelephone" before other reporters to file a brief but world-shaking scoop to his editors: "Three shots fired at President Kennedy's motorcade today in downtown Dallas."

He went on to report from a hospital where he saw the president slumped in the rear of his limousine, "a dark stain spreading down the right side of [his] dark gray suit."

Smith's final dispatch from the day of Kennedy's assassination was a masterpiece of deadline writing, earning him a Pulitzer Prize in 1964. He went on to win a Presidential Medal of Freedom several years later. And for the past 50 years, the White House Correspondents' Association has honored print and broadcast reporters with an award that bears his name. Until now.

The WHCA's board voted unanimously to strip Smith's name from its signature prize in January after research revealed a more troubling side to the reporter once known to colleagues and presidents as "Smitty." The vote has not been publicly reported until now.

After a review of its archives and other research, the organization's board concluded that Smith — who was twice president of the WHCA — upheld restrictions on Black and female journalists, excluding them from membership in the National Press Club, and from attending the correspondents' annual dinner.

The group has now renamed its Merriman Smith Award as the WHCA Award for Excellence in Presidential News Coverage Under Deadline Pressure.

The decision is a small but symbolic reassessment of a legendary journalist and is in keeping with recent reappraisals of other notable historical figures.

Smith reported on every president from 1941 to early 1970 — from Franklin D. Roosevelt to Richard M. Nixon — for the United Press wire service and its successor, United Press International. As the senior White House reporter in the 1960s, Smith usually ended presidential news conferences by saying, "Thank you. Mr. President."

[…]

During his leadership of the WHCA, Smith actively opposed admitting female reporters to the organization's annual White House correspondents' dinner, according to former Senate historian Donald Ritchie, who recounted Smith's role in a 2008 speech to the National Press Club. Smith argued that the all-male affairs "were too dirty … and that the men liked it bawdy and they weren't about to change it," Ritchie said at the time.

Women were finally admitted in 1962 over Smith's objection, according to the historian. The late, legendary White House reporter Helen Thomas, among others, had advocated that President Kennedy boycott the dinner if it remained all male, and Kennedy agreed, leading to the change.

Smith also opposed admitting women as members of the National Press Club, despite Kennedy's advocacy, Ritchie said in his presentation. During a trip aboard Air Force One, he told Kennedy the issue was "dicey" and joked that Kennedy should "stick to things you understand, like the Congo." (Women first became members of the club in 1971).

Smith also pushed backed in 1955, when the press club on the verge of admitting its first Black journalist, Louis Lautier, according to "The Eisenhower Years," a book by Michael S. Mayer. Smith reportedly advised James Hagerty — President Eisenhower's press secretary and a club member — to "stay out" of the issue. Lautier, a reporter for the Baltimore Afro-American, was ultimately admitted with support from Hagerty and Eisenhower.
As is often the case in these instances, Merriman strikes me as a man of his time. The world of the 1950s and 1960s was simply radically different than it is today on race and gender attitudes. Indeed, I'm old enough to remember when women is certain reporting roles was still quite controversial.
Presumably, Merriman was honored upon his retirement because his contemporaries considered him a legendary journalist who had performed great service to his profession, not because they thought he was a perfect human being or because they agreed with all of his attitudes. At the same time, few journalists today are likely to have any real connection to that career and insinuations that he was racist and sexist are enough to justify disassociating their professional award from him.
This is just another instance that shows the folly of naming pretty much anything after pretty much anyone. Or, at least, the expectation that that naming will be permanent. Over time, even heroes like George Washington, Thomas Jefferson, or Abraham Lincoln fall out of favor because their sensibilities were so different than ours.
We're in the process of renaming many military bases around the country that memorialize generals and others associated with the Confederacy, slavery, or otherwise problematic from the standpoint of the 21st Century. And I'm in favor of it. Most people have only the faintest idea who Henry Benning, Braxton Bragg, or John Bell Hood were; honoring them while potentially insulting the Black soldiers stationed there has no upside. Bring on Fort Colin Powell and Fort Alwyn Cashe. Then again, Powell's "yellowcake" speech likely disqualifies him. Maybe the Army should just emulate the Marines and name bases after local cities and landmarks. I suspect "29 Palms" will never offend anyone. Or, at least, not too many.