Michele Bachmann's Husband is Gay Meme
I've been hearing whispers that Michele Bachmann's husband, Marcus, is gay for a while. It's now exploding into a full-on meme.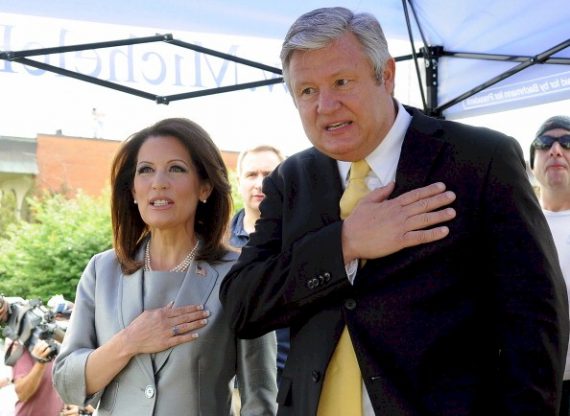 I've been hearing whispers that Michele Bachmann's husband, Marcus, is gay for a while. It's now exploding into a full-on meme.
Given my early bedtime, I'm always at least a day late on "Daily Show" bits. Last night, I saw this episode from Wednesday:
Now, I admit, Marcus Bachmann is pudgy and has a less-than-baritone voice. But, last I checked, those aren't the distinguishing characteristics of homosexuality.
Apparently, gay activist Dan Savage has started pushing the meme hard, too. And Slate's June Thomas is calling him out:
Dan Savage begins each of his "Savage Love Cast" podcasts with a rip-roaring rant—a sword of invective aimed at homophobic school boards that won't let lesbians attend their high-school prom, hypocritical politicians, and generally despicable people. It's a rousing start to 45 minutes of sex advice, and it's usually right on and empowering.

This week, though, the podcast started with an attack on Marcus Bachmann's masculinity.After a short preamble about the accuracy of gaydar (with a scientific citation, no less), Savage—whom I respect tremendously—played a tape of Michele's* husband's speaking voice. Bachmann has a tiny bit of a lisp—though it's barely perceptible—and he slurs his words slightly. To Savage's ears, it was a gay accent. Savage played the tape over and over, and reprised it several times throughout the podcast. He even did his own Bachmann impression, exaggerating the lisp and camping it up.

In other words, the man who launched the "It Gets Better Project," an effort to stop the bullying of gay teens, was acting like a big bully. As Savage always notes, the kind of smear-the-queer taunts that can cause so much pain to young people aren't aimed only at kids who are gay, they're often aimed at boys who don't live up to some mythical standard of masculinity and girls who just aren't girly enough. I can only imagine how listeners who happen to have the kind of lisping, effeminate speech and affect that Savage was ridiculing felt upon hearing the attack.

Marcus Bachmann makes money in what I consider to be a reprehensible way: offering "reparative therapy" to "cure" gay people. Judging from the testimony of people who have sought Bachmann's help, it's no exaggeration to say that he tries to "pray the gay away." But that doesn't justify bullying, and it's not a good message to send.
Now, I'm not a fan of Savage. I've heard him on NPR and other venues and found him to be intelligent and reasonable. But his shtick is bombast, rage, and vitriol. And I find "outing" people who wish to be left alone–much less, people who probably aren't gay–to be despicable.
But that's what Savage does and I at least get why he thinks it justified. I'm much more surprised that Jon Stewart, he of the Rally to Restore Sanity, is stooping to using his powerfully influential television show to suggest–with no evidence whatsoever–that Marcus Bachmann is homosexual. If this isn't "ridicul[ing] people of faith" and "look[ing] down our noses at the heartland," I don't know what is.
Like Thomas–and presumably Savage and Stewart–I find the notion of "curing" gay people beyond silly; it's offensive and potentially quite dangerous. But the Bachmanns are deeply committed to a religious tradition that teaches that homosexuality is an abomination and that they have a duty to help people "afflicted" with it come back to the path of righteousness. Thankfully, that view is becoming less prevalent every day.
Is Marcus Bachmman's "counseling" practice deserving of ridicule? Yes. Yes, it is. And he's certainly a public figure, so have at it. But the line should be drawn on this side of slander.