Michigan's Justin Amash Defeats Establishment Backed Challenger
Despite a high profile effort to oust him, the most prominent libertarian Republican in Congress survived his primary challenge yesterday.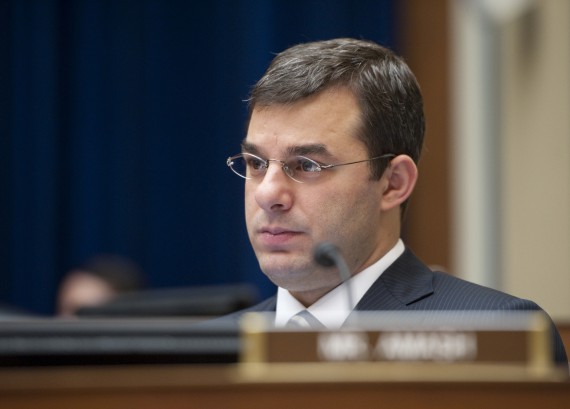 While there has been much attention paid to the battle between Tea Party and establishment forces inside the GOP at the Senate level, there has been a similar battle taking place in several House primaries across the country. The most prominent example, of course, was in Virginia's 7th District where David Brat, who was backed by local Tea Party groups as well as several prominent conservative pundits, defeated former House Majority Leader Eric Cantor. In Texas, attorney John Ratcliffe defeated long-time Congressman Ralph Hall in May and North Carolina Congressman Walter Jones beat back an establishment backed challenger.  Another battle was taking place in Michigan's 3rd Congressional District where second-term Congressman Justin Amash found himself faced with a strong challenge backed by the Chamber of Commerce and other Tea Party groups. Amash has made something of a name for himself as an iconoclast who has clashed with Republican leadership on many occasions, including casting several high profile votes that went against the GOP. This made him something of a target for the establishment, as did his position on issues such as foreign aid. Amash's opponent Brian Ellis was very well funded and, for at time at least, his race was a priority for the groups backing him. It was a bitterly fought campaign on both sides, but it seemed to reach its nadir when Ellis ran an ad calling Amash, who happens to be an Arab-American, "al-Qaeda's best friend", something that led Amash to besomewhat vitriolic in his victory speech last night.
In the end, though, it became apparent that the effort to unseat Amash would not succeed. Notwithstanding a boatload of money from the Chamber of Commerce and other groups spent on behalf of his opponent, though, Amash maintained a solid lead in the minimal number of polls that were conducted in the district, and last night he end up coasting to a rather easy victory:
Michigan GOP Rep. Justin Amash beat back a forceful primary challenge Tuesday, according to The Associated Press.

With 56 percent of precincts reporting in the Grand Rapids-area 3rd District, Amash led businessman Brian Ellis, 55 percent to 45 percent.

Amash, an idiosyncratic congressman known for posting full explanations on his Facebook page for each vote he takes, has been a thorn in the side of the Republican establishment ever since he arrived in the House in 2010. In January 2013, the libertarian-minded Amash famously voted to oust John Boehner as speaker. He would later vote for the deal to end the government shutdown.

Ellis cast Amash as an ineffective congressman and peculiar outsider who cast "bizarre" votes. He received the backing of interest groups including the U.S. Chamber of Commerce.

Ellis ran a well-funded campaign, drawing on his considerable personal wealth. Through the middle of last month, he had spent over $1 million from his own pocket.

He also had the support of GOP establishment figures including Michigan Rep. Mike Rogers, the House Intelligence Committee chairman, and California Rep. Devin Nunes. Boehner did not get involved in the contest.
As Daniel Larison and Conor Friedersdorf both note, Ellis attempted to make an issue out of things such as Amash's opposition to indefinite detention of prisoners at Guantanamo Bay and NSA surveillance and he failed miserably in the effort. To that extent, then, there is something good about the idea that the voters of Michigan's 3rd District weren't persuaded by the arguments of those who asserted that Amash was somehow advocating ideas that were dangerous for the country, as epitomized by this Ellis ad:
D
Much like Senator Rand Paul, Amash is attacked for supporting a less interventionist foreign policy but, as Larison notes, his victory in the primary by such a convincing margin is a demonstration that Republicans can indeed dissent from their party's prevailing foreign policy, which hasn't changed significantly from the Bush Administration, without suffering electorally. Indeed, given the polling that we have been seeing on foreign policy issues in recent years, it seems rather apparent that Amash and Paul are closer to where the American public is than people like Congressman Peter King or Senators McCain, Graham, and Rubio. Hopefully,  Amash's win notwithstanding such direct attacks on his foreign policy views will encourage other Republicans to break from the foreign policy orthodoxy that has taken hold in their party.
In some respects, Amash suffers from many of the same problems that other Members of Congress affiliated with the Tea Party do. He has spent far too much time butting heads with House GOP Leadership for example, although given the manner in which they've directly and indirectly campaigned against him I suppose that's understandable. He also tends to have the same aversion to compromise that Ron Paul used to have during his time in Congress. At the very least, he would likely accomplish much more if he learned a few lessons from Paul's son the Congressman from Kentucky. In general, though, I do think it's good that we have a few Congressmen like Amash in office, if only to try to keep the other guys honest.