Mike Huckabee Defends Obama On Birther Claims, Religion, And Jeremiah Wright Issues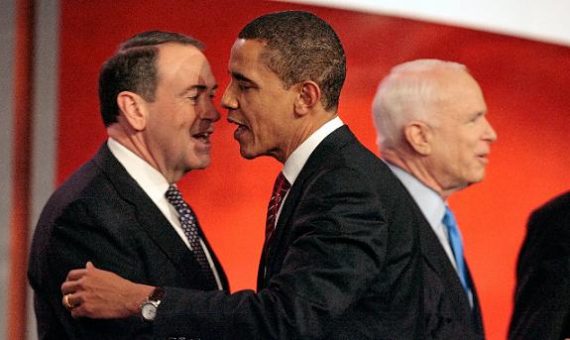 I'm no Mike Huckabee fan, but I will say I'm glad to see that he said this in an interview with a Christian magazine:
According to a Pew survey last August, 29 percent of evangelical Christians believe Obama is a Muslim, while only 27 percent think he is a Christian. Who or what is at fault for this misperception, and do evangelical attitudes/beliefs need to change?

He's been very expressive in his statements, even at the Saddleback Forum when he ran in 2008. He spelled out very clearly what his view was, and frankly, it's inappropriate , wrong-headed, and not helpful to the overall discussion when people try to say he doesn't have a birth certificate or he's a Muslim. To me that demeans the entire real discussion—what is he proposing and whether it's good for the country—that ought to be the centerpiece for our entire conversation, not what did he hear when he sat in church. If people went back and heard every sermon I heard when I was a little kid and some of the more fundamentalist pastors were yelling from the pulpit at me, if they took every one of those sermons and lifted out of them certain phrases and things, it could be scandalous, but only out of the context of the bigger picture. That's why I thought that a lot of the focus on Jeremiah Wright was misplaced.
Good for you, Governor.