Military No Longer Republican Bastion
Always as many military personnel identify as Independents as with the GOP.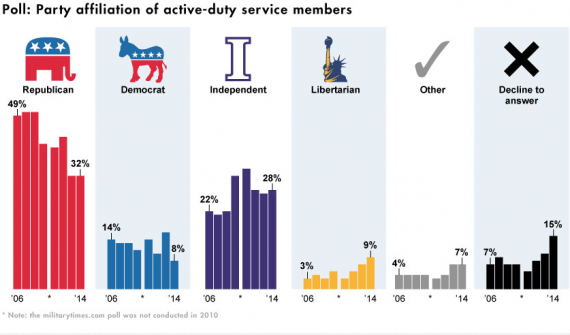 Transitioning from a Washington foreign policy think tank to teaching Marine majors fourteen months ago was something of a culture shock. After years surrounded by people with an Acela Corridor establishment outlook, I was suddenly back among people who were much more culturally conservative, who married and had children in their 20s, and who attended church on a regular basis. Yet, while military officers are conservative compared to their Beltway professional counterparts, they're much less so than they were when I was in uniform twenty-plus years ago.
The polling backs this up. Military Times (a Gannett publication unaffiliated with the US Government) has been surveying active duty military personnel for years and finds them following the same trend as the rest of the country and eschewing identification with either party.
Results of the most recent annual Military Times Poll of more than 2,200 active-duty troops show growing frustration with gridlocked congressional politics, mirroring low approval ratings for national lawmakers in recent polls.

More than one-third of readers who responded to the Military Times Poll said that neither Democrats nor Republicans have been a strong advocate for the military, and 44 percent think both major political parties have become less supportive of military issues in recent years.

Only 12 percent believe both parties have the armed forces' best interests at heart.

[…]

In the last nine years of the Military Times Poll, the percentage of respondents who consider themselves Republicans has slowly dropped, from nearly half of those surveyed in the late 2000s to just 32 percent this year. Increasingly, readers are more likely to describe themselves as libertarian (7 percent) or independent (28 percent).

Likewise, readers who described themselves as "very conservative" have remained steady over the years, but the "conservative" respondents have dwindled as well — down to 29 percent from a high of 41 percent in 2011.

Democrats and liberal readers make up about 8 percent of the poll respondents.

National polls of veterans have shown a strong preference for Republican candidates over Democratic hopefuls, although not as wide a gap as shown in the Military Times Poll. But they have also shown the same strong affinity for the "independent" label, more so than voters without military experience.

Duke University political science professor Peter Feaver, a former George W. Bush National Security Council adviser, said a rise in popularity for independent and libertarian positions among military members comes as little surprise to him.

"The military follows national trends but lags and skews conservative," he said. " 'The libertarians' sensibility fits with some of the military's profile more naturally, particularly the 'don't tread on me' kind of mentality."

[…]

President Obama gets similar low support from Military Times Poll respondents, with 55 percent disapproving of his performance as commander in chief.

Even support for the tea party was spotty, with just 13 percent of readers saying they back nearly all tea party candidates and 34 percent saying they never back the conservative offshoot.

Despite the mixed feelings about national candidates, military voters in recent years have been more engaged than their civilian peers. According to statistics from the Federal Voting Assistance Program, the number of troops voting in recent presidential elections has stayed around 55 percent, just below national rates, and around 45 percent in midterm elections, about 8 percentage points above civilian rates.
The article cites sequestration and the recent shutdown and round of furloughs as particularly inducing cynicism. There's a very real sense among officers I talk to that the whole system is simply broken and that politicians care only about getting reelected, not the good of the country. That echoes sentiment in the wider population but is especially critical in military culture, where leaders are expected to put mission ahead of self.
While I get the strong sense that most officers consider President Obama weak and indecisive leader when it comes to military and foreign policy, I think it's a function of his style and decisions rather than his political party. But the Republicans have lost their traditional edge here. Between the neocon war hawks like John McCain and Lindsey Graham, who want to send our troops to fight endless wars in endless places, and the Tea Party zealots who want to slash budgets without safeguarding the Pentagon budget, the sense that the GOP is the responsible, pro-military party has gone away.