Police Perception and Race
A recent poll provides interesting insights.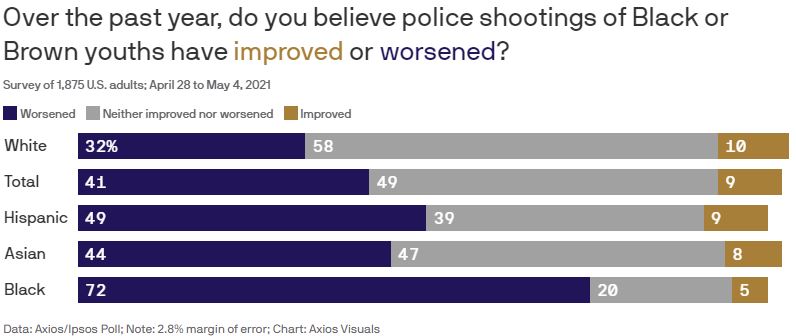 The folks at Axios have commissioned a poll, the visualization of what tops the post. Managing editor David Nather supplies some context:
Nearly seven out of 10 Black Americans say police treatment has gotten worse in the past year, and about the same percentage believe police shootings of Black and brown youths have become worse in that time, according to an Axios-Ipsos poll.

The big picture: The poll, conducted a year after George Floyd's death, suggests that the relationship between Black Americans and the police not only hasn't improved, but is a profound and escalating crisis.
Two things immediately struck me. First, the question wording is simply abysmal. What does it mean to say that shootings have improved or worsened? Second and more importantly, presuming we're simply trying to get a sense of whether police are shooting more young Black or brown folks, that's a matter of data collection, not opinion.
What we're really doing here is testing the degree to which media coverage of police shootings has changed people's perceptions. And, pretty much across the board, we see that is has. Which, given how much of it there has been, is hardly surprising.
More interestingly, other questions not highlighted in the headline or the graphic of the report tell us something more valuable.
Most Americans still have a positive view of police and law enforcement. But that's not true of Black Americans. Just four out of 10 said they have favorable views of police and law enforcement, while 57% said they have unfavorable views. By contrast, 69% overall — including 75% of white respondents, 64% of Hispanic respondents and 65% of Asian respondents — said they have favorable views.
It's not super shocking, of course, that Blacks have a less favorable opinion of police than whites–although I would not have guessed the contrast quite this stark. And I'm genuinely surprised that the Hispanic experience is much, much closer to white (and essentially identical to Asian) perception. Granting that "Hispanic" is a broad category, it actually calls into question the conflation of Black and Brown in the featured poll question.
Between the lines: Seven out of 10 Black respondents said they've been pulled over by the police, slightly less than the 83% of white respondents who said they've been stopped. (For Hispanic and Asian respondents, the numbers were 54% and 58%.) But once they've been stopped, 14% of Black respondents and 9% of Hispanic respondents said a police officer has taken a gun or taser out of its holster, compared to 4% of white respondents and 2% of Asian respondents. And 40% of Black respondents and 31% of Hispanic respondents said more police officers have arrived on the scene during the stop, compared to 22% of white respondents and 13% of Asian respondents.

There's also a strong sense that the stops are unreasonable. More than half of all Black respondents — 56% — say they've been pulled over for a reason they thought was unjustified or wrong, compared to 41% of Hispanic respondents, 32% of white respondents and 22% of Asian respondents.
These numbers are a bit harder to parse. Whites are more likely to report having been pulled over by police than any other group. Is that a function of being more likely to have a car? But, certainly, the perception of fairness and the likelihood to have police draw a weapon is vastly different.
And, while this isn't a new finding, the percentages are rather stark:
The distrust is so severe that many people of color don't see calling the police as a viable option in an emergency. 55% of Black Americans and 40% of Hispanic Americans said calling the police or 911 often does more harm than good — a view shared by just 25% of white Americans and 25% of Asian Americans. And when they see a police car in their neighborhood with its lights or siren off, 44% of Black Americans say they feel anxiety — either mostly fear or a mix with some anxiety — a view shared by 38% of Asian Americans, 33% of Hispanic Americans and 23% of white Americans.
When large subgroups of the society feel like calling the police is dangerous, we have a serious problem.
Still, I can't help but think there's really something weird going on with this poll. In particular, I can't square the Hispanic affinity for the police with the reported lived experience. They have a positive view of cops comparable to that of Asians are yet report being unfairly pulled over and having weapons pointed at them at a far, far higher rate. Are they're much more afraid to call police.