Immigration To The U.S. Now Dominated By Asians
The largest group of immigrants to the United States doesn't come from south of the border anymore.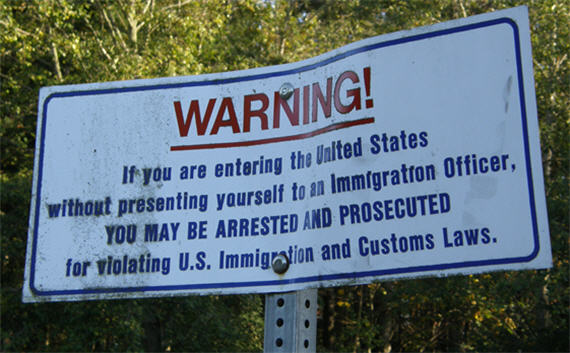 Throughout American history, the nation has changed as the sources of immigration have changed. In the 19th Century, immigrants came from Europe for the most part, but at different times the  bulk of immigrants came from different parts of Europe ranging from Ireland to Italy to Germany to Eastern Europe. Each new group brought their own customs to their new nation, many of which became part of American culture as a whole. In the 20th Century, as immigration laws changed, the major sources of immigration came from Mexico and Central America, and we've seen the same thing happen with elements of Hispanic culture being assimilated into America as a whole. Now, it looks like we're undergoing another shift that is bound to have its own impact on the United States:
Asians have surpassed Hispanics as the largest wave of new immigrants to the United States, pushing the population of Asian descent to a record 18.2 million and helping to make Asians the fastest-growing racial group in the country, according to a study released Tuesday by the Pew Research Center.

While Asian immigration has increased slightly in recent years, the shift in ranking is largely attributable to the sharp decline in Hispanic immigration, the study said.

About 430,000 Asians — or 36 percent of all new immigrants, legal and illegal — moved to the United States in 2010, compared with 370,000 Hispanics, or 31 percent of all new arrivals, the study said. Just three years earlier, the ratio was reversed: about 390,000 Asians immigrated in 2007, compared with 540,000 Hispanics.

"Asians have become the largest stream of new immigrants to the U.S. — and, thus, the latest leading actors in this great American drama" of immigration, Paul Taylor, executive vice president of the Pew Research Center, wrote in the report.

Immigration scholars have attributed the decrease in Hispanic immigration to a mix of factors, including the economic downturn in the United States, increased deportation and border enforcement by the American authorities, and declining birthrates in Mexico.

Tougher enforcement measures have made a greater impact on the Hispanic immigrant population than on the Asian immigrant population because a much higher percentage of Hispanics are in the United States without immigration papers, experts said. About 45 percent of Hispanic immigrants in the United States are here illegally compared with about 13 percent to 15 percent of Asian immigrants, Pew demographers found.

Under this pressure, Hispanic immigration dropped 31 percent from 2007 to 2010, while Asian immigration increased about 10 percent.

Pew researchers estimated that Asian immigration surpassed Hispanic immigration by 2009. Mr. Taylor said in an interview on Monday that the delay in identifying this shift was due in part to the fact that the analysis relied on later demographic data, including the 2010 American Community Survey.
The differences between this new wave of Asian immigration and the ones that came before it are rather interesting:
Compared with the educational attainment of the population in their country of origin, recent Asian immigrants also stand out as a select group. For example, about 27% of adults ages 25 to 64 in South Korea and 25% in Japan have a bachelor's degree or more.2In contrast, nearly 70% of comparably aged recent immigrants from these two countries have at least a bachelor's degree.

Recent Asian immigrants are also about three times as likely as recent immigrants from other parts of the world to receive their green cards—or permanent resident status—on the basis of employer rather than family sponsorship (though family reunification remains the most common legal gateway to the U.S. for Asian immigrants, as it is for all immigrants).

(…)

Despite often sizable subgroup differences, Asian Americans are distinctive as a whole, especially when compared with all U.S. adults, whom they exceed not just in the share with a college degree (49% vs. 28%), but also in median annual household income ($66,000 versus $49,800) and median household wealth ($83,500 vs. $68,529).4

They are noteworthy in other ways, too. According to the Pew Research Center survey of a nationally representative sample of 3,511 Asian Americans, conducted by telephone from Jan. 3 to March 27, 2012, in English and seven Asian languages, they are more satisfied than the general public with their lives overall (82% vs. 75%), their personal finances (51% vs. 35%) and the general direction of the country (43% vs. 21%).

They also stand out for their strong emphasis on family. More than half (54%) say that having a successful marriage is one of the most important things in life; just 34% of all American adults agree. Two-thirds of Asian-American adults (67%) say that being a good parent is one of the most important things in life; just 50% of all adults agree.
Given these rather traditionalist views on family, which are also reflected in other results in the survey that touch upon such things as the role that parents should have in their children's career and marriage choices along with a much higher percentage of families that like in multi-generational households, one would think that Asian-Americans would be a naturally Republican constituency. However, that isn't the case at all:
Compared with the general public, Asian Americans are more likely to support an activist government and less likely to identify as Republicans. Half are Democrats or lean Democratic, while only 28% identify with or lean toward the GOP. Among all American adults, 49% fall in the Democratic camp and 39% identify with or lean toward the Republican Party. Indian Americans are the most heavily Democratic Asian subgroup (65%), while Filipino Americans and Vietnamese Americans are the most evenly split between the two parties.

President Obama gets higher ratings from Asian Americans than from the general public —54% approve of the way he is handling his job as president, compared with 44% of the general public. In 2008, Asian-American voters supported Obama over Republican John McCain by 62% to 35%, according to Election Day exit polls.12

On balance, Asian Americans prefer a big government that provides more services (55%) over a smaller government than provides fewer services (36%). In contrast, the general public prefers a smaller government over a bigger government, by 52% to 39%.
This is consistent with the 2008 Election, where the Exit Polls show that Asian-Americans went overwhelmingly for President Obama 62% to 35% although they only made up 2% of the electorate that year while comprising about 5% of the population according to the 2010 Census. At the same time, though, Asian-Americans tend to be somewhat less politically active than the population as a whole, with about 50% of those eligible voting in 2008 compared with 67% of the eligible population as a whole. So, despite the new wave of immigration, it's going to be some time before they become a group that has a significant impact on the election. Most likely, we'll see it first in states like California where they make up a slightly larger share of the population. Comparatively, Hispanics make up 16% of the population and that percentage is likely to continue rising given birth rates and family size. In short, then, we're looking at an interesting historical landmark here, and one that is likely to have an impact on American culture as a whole. Politically, though, Asian-Americans aren't likely to become anything close to the type of political force that Hispanics have become absent even more radical changes in immigration patterns and birth rates.