Hispanics Identify More With Democratic Party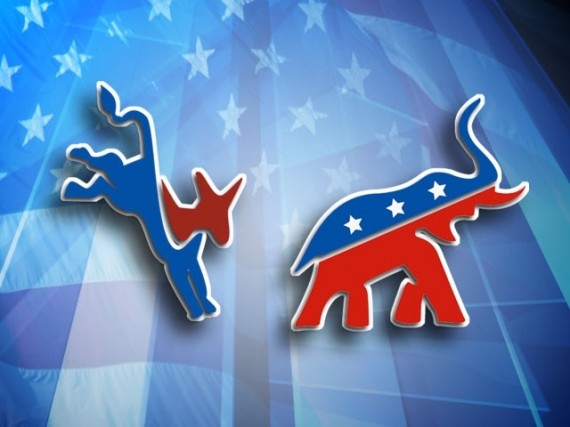 A new Gallup poll shows that Hispanic-Americans identify with the Democratic Party over the Republican Party by a nearly 2-to-1 margin:
PRINCETON, NJ — Hispanics of all ages in the U.S. today are more than twice as likely to identify with or lean to the Democratic Party rather than the Republican Party. However, younger Hispanics are slightly more likely to be independent, and are more likely to identify with or lean toward the Republican Party, compared with older Hispanics. These patterns highlight the challenges the Republican Party faces in the years ahead as the Hispanic percentage of the potential electorate expands.

These data are based on an analysis of 7,901 Hispanic respondents interviewed in English or Spanish as part of Gallup Daily tracking between Jan. 3 and June 27, 2013.

The importance of the Hispanic vote to leaders of both parties is seen in the increasing number of Hispanics who will be in the voting-age population in the years ahead, as the current "bulge" of Hispanics under the age of 18 reaches adulthood. U.S. Census Bureau data show that 33.2% of Hispanics living in the U.S. are under the age of 18, compared with 19.7% of non-Hispanic whites. Calculations based on census data also show that between 2010 and 2015, the U.S. Hispanic population under the age of 25 is expected to grow by about 14%, while the non-Hispanic white population of the same age is expected to decrease by about 0.5%.
Chris Cillizza comments:
[W]e've noted in this space, overhauling immigration law is not a cure-all for the GOP. Hispanics are not single-minded in their policy focus. But not tackling reform is not going to do any favors for a GOP already struggling for a positive image in most of the Hispanic community.

And it could also mean squandering an opportunity for the future. The Gallup data show that courting young Hispanics is not a lost cause for Republicans. Is it an uphill climb? Absolutely. But impossible? No. And we ware talking about a youthful group that will be voting in elections for years and in many cases decades to come.

The flip side, of course, is the reality that Hispanics are more closely aligned with the Democratic Party right now. And Republicans who don't feel the political urgency to do reform (or outright oppose such efforts) could point to the very same numbers as a reason for why rushing ahead isn't going to fix the party's political problems.
One point worth noting, though, is that not all hope is lost for the GOP given the number of Hispanic voters who continue to identify as Independent: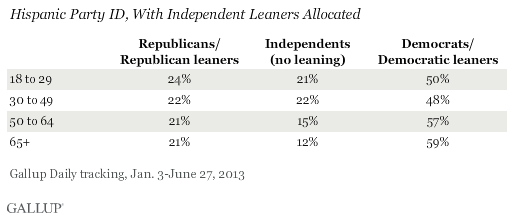 If the GOP could attract some significant part of those who self-identify as Independent then they'd be far more competitive among Latinos than they are today. The problem, of course, is that they're making no real effort to do so, and their current obstructionist issue on immigration and all of the issues related to it makes it less likely that they are going to do so. If that trend continues, then they are likely to push many of those Independents in the Democratic camp, which for some reason is exactly what the seem to want to do.