Military 'Rushed' Denials of Religious Exemption from COVID Vaccines
The Pentagon's Inspector General is "concerned" over the pace of rejections.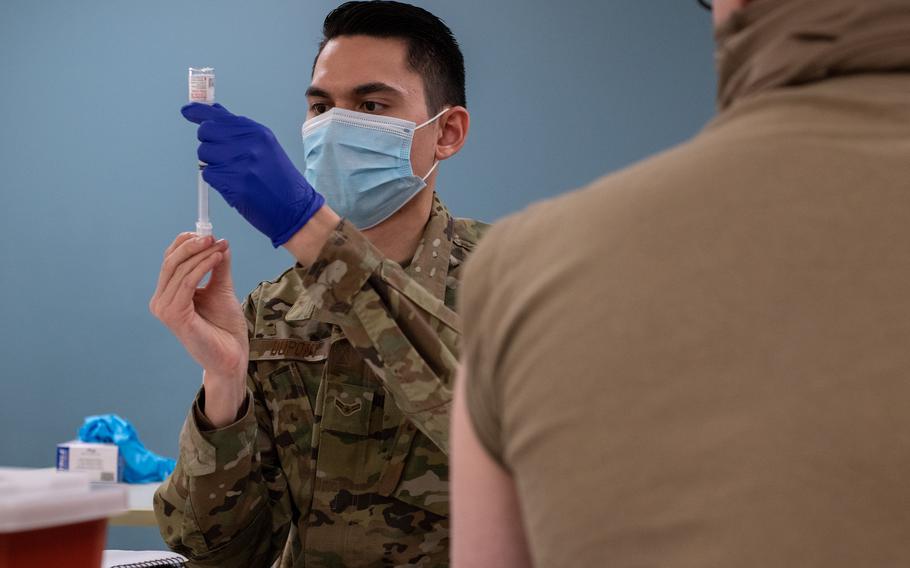 Steve Beynon and Konstantin Toropin reporting for Military.com: "Pentagon Likely Rushed Denials of COVID-19 Vaccine Religious Exemption Requests, Watchdog Finds."
The military may have moved too fast denying religious exemptions for COVID-19 vaccination. The Pentagon's inspector general warned that mass denials of religious exemption requests were "concerning," according to an internal memo obtained by Military.com.

"We found a trend of generalized assessments rather than the individualized assessment that is required by Federal law and DoD and Military Service policies," Sean O'Donnell, the Pentagon's inspector general, said in the June 2 memo to Defense Secretary Lloyd Austin. "Some of the appellate decisions included documentation that demonstrated a greater consideration of facts and circumstances involved in a request."

The watchdog said that military officials likely spent only minutes reviewing exemption requests, providing potential grounds for legal challenges to the denial decisions.

"The volume and rate at which decisions were made to deny requests is concerning," the memo said. "Assuming a 10-hour work day with no breaks or attention to other matters, the average review period was about 12 minutes for each package. Such a review period seems insufficient to process each request in an individualized manner and still perform the duties required of their position."
Two caveats up front. First, I have not read the IG report, so I'm basing my judgments only on this reporting. Second, I'm by no means an expert in the legal issues here.
Still, while the Defense Department and its individual services should absolutely follow the law, it seems absurd on its face that "individualized assessment" can't be generalized the face of a mass movement. If 8,514 people are making the same argument as to why they merit a religious exemption, surely it makes no sense to treat these de novo.
For that matter, given that the requirement was pursuant to a Presidential directive and implemented via an order from the Secretary of Defense on the basis of risk to mission, it strikes me as perfectly reasonable to simply rule out religious objection altogether. This is especially the case given that 1) no significant religious denomination objects to vaccinations per so or these vaccines in particular and 2) the ostensible basis for these "individual" objections are fictitious.
In the military, service members are required to be vaccinated against at least a dozen ailments, ranging from the flu to smallpox. The only way to be excused is through a religious waiver or an even more rare medical exemption — reserved for extreme and rare cases such as if a service member is known to be at risk of myocarditis, a rare heart inflammation side effect of COVID vaccination.

The COVID-19 vaccines were politicized almost immediately by conservative pundits and some Republican lawmakers after being made available. Critics argued, without evidence, that the vaccines did not work or were broadly dangerous themselves, points that have been refuted by ostensibly every medical study.

Most religious objections are due to the use of fetal tissue in COVID-19 vaccine research. While researchers did use cell lines derived from elective abortion tissue originally created decades ago, that tissue was used to produce proteins for testing and wasn't put directly into the vaccine.

In addition, a vaccine that did not use fetal tissue in any part of its development, Novavax, was approved by the FDA, and subsequently the Pentagon, in August. Spokespeople for both the Navy and Marine Corps have confirmed to Military.com that the vaccine is available to their servicemembers.
Now, in fairness, last month was a wee bit late for those who were discharged for their refusal to follow a lawful order prior to that. Still, the larger objection to the farce of religious exemptions for routine vaccination stands.
Indeed, the source of the objections, in almost all cases, was pure quackery.
Exemption requests among military members have been a point of controversy and debate since the introduction of the vaccine mandate, and at times have pitted religious leaders against those in their flock.

Andrew Torba, the head of Gab.com – a far-right social media network that gained notoriety for being actively used by the man who was charged with killing 11 people at Pittsburgh's Tree of Life synagogue in 2018 — wrote in a 2021 newsletter that he "stumbled upon a set of religious exemption documents that the creator calls an 'air tight religious exemption request' for the COVID vaccine if it is mandatory for you at work, school, or in the military."

The military template Torba offered was a 21-page document that argued the Eastern Orthodox church was against the vaccine. However, leaders of the Greek Orthodox Church in America said the opposite – there was no exemption needed from them on the vaccine.

Pope Francis has similarly encouraged vaccination and so have leaders in Islam. One research paper even concluded that getting vaccinated was "actually a form of compliance with Sharia law."

Other service members have told Military.com that they sourced their exemption paperwork from secretive and hidden Facebook groups, sometimes citing arguments from people like Lt. Col.Theresa Long. Long, an Alabama-based Army surgeon, gained a following in vaccine refuser circles despite the fact that many of her claims made in court were filled with errors and inaccuracies.
Alas, quackery isn't limited to yahoos on the Internet. It's infested our federal judiciary as well:
Meanwhile, the legal challenges that vaccine refusers have filed in federal courts have made an impact. In late March, the Navy was forced to suspend discharging sailors with pending exemption requests after a Texas judge ruled that a case involving vaccine-refusing Navy SEALs would apply to the entire service – just days after his earlier order to halt any Navy action against the SEALs was narrowed by the Supreme Court.

Last week, in response to an injunction issued by Judge Steven Merryday in federal court in Florida, the Marine Corps released a message saying it too was halting separations. The decision will impact about 1,150 Marines, according to a statement from the service.

Merryday was the same judge who in March forbade the Navy from reassigning a commander of a destroyer despite testimony that the man had flouted the service's rules for COVID-19 mitigation while seeking a religious exemption from the vaccine. Merryday called the officer "triumphantly fit and slim and strong, who is robustly healthy, who is young." He was later overruled by the Supreme Court.

Mark Zaid, a Washington, D.C.-based attorney who fought and prevailed over the military's last major vaccine mandate for anthrax, had previously told Military.com that it's no accident that many of the same judges have been appearing in vaccine cases.

"It's clearly forum shopping. … I don't think it's surprising that stays were obtained in very conservative districts on religious issues," he said.
It's all rather depressing.