Minor Reshuffling of Obama's Staff is Major News?
Why is the press gushing over routine movement in White House team?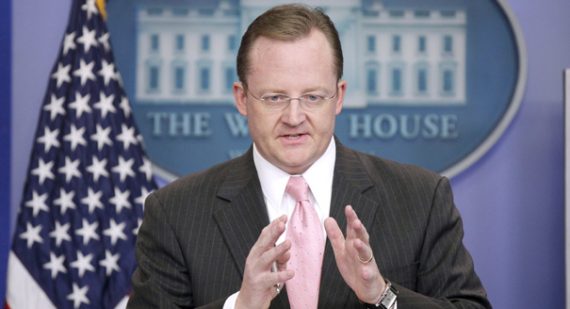 In "White House shakeup could mean Robert Gibbs exit" Politico's Glenn Thrush and Amie Parnes gush, "Administration officials — who long denied that President Barack Obama was planning a major housecleaning in the wake of the disastrous 2010 midterms — aren't pushing back anymore."
But Gibbs is the only big fish and he's not really going anywhere.
Senior adviser David Axelrod has already announced his departure, and press secretary Robert Gibbs has also joined the roster of administration officials likely to leave in the coming weeks. Add the possibility of new permanent chief of staff to replace interim appointee Pete Rouse — perhaps Clinton Commerce Secretary William Daley or even former Senate Majority Leader Tom Daschle — and you have the makings of what many Democrats had suggested — a major overhaul, albeit one on Obama's terms and on his timetable.

Until recently, many in the building had expected Gibbs to stay. But according to sources, he is now seriously considering an exit from the West Wing — a move that would allow him to work on Obama's 2012 reelection campaign and act as a media surrogate for the president, the sources say.

[…]

Rouse's future remains in his own hands, several administration officials said, on condition of anonymity because of the sensitivity of the discussions. Obama is seriously considering Daley as a permanent successor — but he hasn't ruled out other candidates, including Daschle. Sources said the president will likely stick with Rouse if the laconic, reclusive and hyperorganized aide decides he truly doesn't want the job on a permanent basis.

White House officials also said it's increasingly likely that Obama — who returned to the White House on Tuesday after an extended holiday break in Hawaii — will elevate economic adviser Gene Sperling to chair the National Economic Council, a job vacated by Larry Summers at the end of 2010 and a post Sperling held during Bill Clinton's last term.
Not to be outdone, WaPo's Anne Kornblut and Scott Wilson ("Obama weighs major reshuffling of staff") report, "As President Obama returns from Hawaii, he is weighing a major reshuffling of his staff that could see as many as eight people playing new key roles in the weeks ahead, Democrats familiar with the process said. "
Again, aside from possibly bringing in a permanent chief of staff to replace the interim guy and a having his current communications guy communicate from behind a different podium, nothing exciting.   Oh, there are vague rumblings of  "a potentially much larger reorganization that encompasses almost the entire West Wing hierarchy, including those who have had the most influence over the administration's direction in its first two years."  But there's no meat to that.
Rahm Emanuel has already left, of course.  But he wasn't pushed out to give the administration a fresh start or to send some sort of signal that Obama learned from the midterm "shellacking."  Rather, he's running for mayor of Chicago.
This is pretty standard stuff, not "a major housecleaning."  A handful of top people from the 2008 campaign are heading off to focus on the 2012 campaign and a couple other people are leaving the grueling, low paying life of a White House staffer for more lucrative opportunities.    Oh, and some people are moving on from the staffs of Joe Biden and Michelle Obama. Not exactly a big F-ing deal.