Mississippi Proposes License Plate Honoring Confederate General, KKK Grand Wizard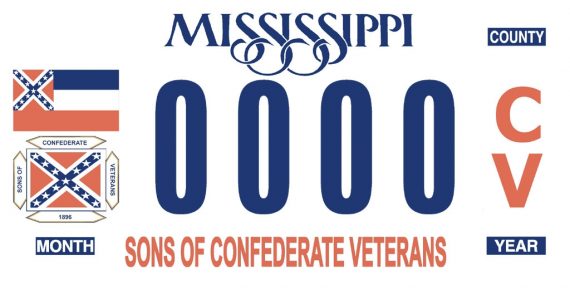 This strikes me as being precisely not the kind of publicity Haley Barbour would like if he really is running for President:
BILOXI, Mississippi — A Mississippi proposal to issue a state license plate honoring a Confederate general believed to be a Grand Wizard of the Ku Klux Klan has stirred protest and resurrected the state's ugly racial past.

The Sons of Confederate Veterans proposed that Mississippi issue a specialty plate honoring General Nathan Bedford Forrest, who many historians say was the first Grand Wizard of the Ku Klux Klan, the white supremacist group that terrorized blacks in the South after the Civil War.

Forrest is the only individual they want to commemorate. All the other plates would be in remembrance of battles that took place in Mississippi or Confederate veterans as a whole.

The proposal must be approved by the state legislature and signed by Gov. Haley Barbour.

The National Association for the Advancement of Colored People (NAACP) sent a letter to Barbour on Friday saying it would be immoral and unconstitutional to honor a KKK leader.

"We are asking the governor to stop this action immediately. Every fair-minded southerner knows that the Civil War was a negative time in history and having a Grand Wizard of the Ku Klux Klan on the back of vehicles will only tarnish the state's image," NAACP state president Derrick Johnson said.

(…)

Sons of Confederate Veterans, an organization that honors Confederate heritage, wants the state to issue the series of license plates to commemorate the 150th anniversary of the Civil War.\
This wouldn't be the first racially tinged controversy that Barbour has dealt with recently. Just before Christmas, he was quoted in a Weekly Standard interview as saying that the civil rights era "wasn't that bad," a comment that he later apologized for. Before that, back in March, he dismissed those criticizing his decision to sign a proclamation honoring Confederate History Month. Stuff like this may not be a big deal in Mississippi or elsewhere in the Deep South, but I doubt it plays very well anywhere else. and Barbour would be advised to proceed accordingly if her really does want to mount a Presidential bid.