Mitch Daniels Gets The Worst Job In Politics
Mitch Daniels got the unenviable task of responding to the State Of The Union Address last night.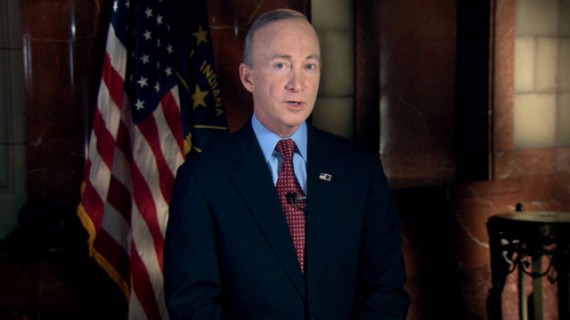 As Bobby Jindal could tell you, being assigned the task of providing the opposition response to the State Of The Union Address tends to be the most thankless, and potentially most disastrous, job in politics. At best, you are just some man or woman standing in front of a camera somewhere who gets to speak to a television audience that just spent an hour or more watching the President of the United States speak in the chamber of the House of Representatives that includes all of Congress, the Supreme Court, the military leadership, the Cabinet, and foreign dignitaries. In the best of all possible worlds, even the best speech of your life is going to come across as a huge emotional letdown from the spectacle just presented to the nation. At worst, you end up like Jindal, compared to Kenneth from 30 Rock for a year because of what really was an uncomfortable performance filled with silly lines about volcano research. This year, the thankless task went to a man that many Republicans still wish had run for President, Governor Mitch Daniels of Indiana who is in the final year of a successful eight years in office:
Indiana Gov. Mitch Daniels delivered a pointed and pugnacious response to President Barack Obama's State of the Union address Tuesday night, in a speech likely to amplify the drumbeat of voices urging Daniels to wage a late presidential bid.

The term-limited Daniels, who ruled out a White House run last year, slammed Obama for promoting "pro-poverty" extremism and leading a "constant effort to divide us."

A former budget director under George W. Bush, Daniels was chosen by Republican leaders as a respected and serious voice who could credibly position the party as the champion of business.

"As Republicans, our first concern is for those waiting tonight to begin or resume the climb up life's ladder," Daniels said. "We do not accept that ours will ever be a nation of haves and have-nots; we must always be a nation of haves and soon-to-haves."

Daniels also assailed the president for halting the Keystone XL pipeline project that would transport oil from Canada to Texas, equating the move to a "pro-poverty policy" — a line reminiscent of Newt Gingrich's accusations on the campaign trail that Obama is the "food stamp president"

"The extremism that stifles the development of homegrown energy, or cancels a perfectly safe pipeline that would employ tens of thousands, or jacks up consumer utility bills for no improvement in either human health or world temperature, is a pro-poverty policy," Daniels said, calling for a "passionate pro-growth approach."

His delivery was rigid and subdued, but the language was notably charged — especially for Daniels, who is widely respected for his even-tempered and pragmatic nature.

But the Republican appeared to channel some of the anger and energy that's fueling his party as it works its way through a chaotic nominating process to pick a candidate to oppose Obama.

While the president chided those who believe "America is in decline" in his speech, Daniels painted a much darker picture of the country.

"On these evenings, presidents naturally seek to find the sunny side of our national condition. But when President Obama claims that the state of our union is anything but grave, he must know in his heart that this is not true," he said.
The tone of Daniels' speech surprised me, actually. Following a speech which the President ended by talking about the greatness of America being the fact that we "have each others backs" and that there's nothing we can't do if we're united together in a common purpose, a response that follows by saying that the state of the nation is "grave" is politically risky at best. As I've noted before, Ronald Reagan succeeded in 1980 not because he constantly talked about how bad things were back then, although he certainly did remind Americans of that, but by reminding Americans of his vision of America as "the shining city on the hill." Positive always cells better than negative, even when times are bad, and I'm not sure that's its wise for Republicans to keep pushing the idea that "Yea things are really crappy right now, you know."
The tone was also surprising because it's different than what we've heard from Daniels in the past. He's gotten the reputation over the past year of being very blunt when it comes to the fiscal issues facing the country, but he's never had the reputation of being a doom-and-gloom guy. Granted, these response speeches are typically written by speechwriters and consultants from Congressional Republicans and the RNC, so once Daniels was assigned and accepted the task he sort of had to go along with the message the party wanted to put out in response to the President. Nevertheless, I'm not sure it came across the way that they intended it to, to the extent that anyone event noticed it.
At the same time though, and as Jennifer Rubin notes, Daniels did raise important issues in his response:
As a governor of the opposition party, he was, by necessity, rather general in his policy proposals. But the basic outlines of the GOP agenda were there.

His toughest language was reserved for the president's failure to approve the Keystone XL Pipeline: "The extremism that stifles the development of homegrown energy, or cancels a perfectly safe pipeline that would employ tens of thousands, or jacks up consumer utility bills for no improvement in either human health or world temperature, is a pro-poverty policy. It must be replaced by a passionate pro-growth approach that breaks all ties and calls all close ones in favor of private-sector jobs that restore opportunity for all and generate the public revenues to pay our bills."

On tax policy he urged that rates be lowered and loopholes eliminated. On entitlements he chastised the defenders of the status quo. ("The mortal enemies of Social Security and Medicare are those who, in contempt of the plain arithmetic, continue to mislead Americans that we should change nothing.") The details will have to be supplied by Congress and/or the presidential contender.

He indicted the president's divisive rhetoric ("No feature of the Obama presidency has been sadder than its constant efforts to divide us, to curry favor with some Americans by castigating others") and deplored policies that promote dependency.
All of these were good points that Daniels brought up, but Rubin makes another point that I think puts the final nail in all of the "Draft Daniels" arguments:
Daniels is poised and serious, but his speech lacked the soaring themes that Rep. Paul Ryan (R-Wis.) sounded last year. His tone nevertheless should serve as a model for less sober conservatives. He was business-like, avoiding personal slams at the president and urging Republicans to be the mature, positive voices for growth and fiscal sobriety.
Those who have regretted Daniels decision not to seek the Republican nomination this year have often repeated the idea that, had he run, he would now be the one leading the field, not Gingrich or Romney. I'm not so sure. If this cycle has shown us one thing, it is that "sober conservatism" is not what the Republican base is looking for. If they were, then Jon Huntsman would have been far more successful than he turned out to be. Instead, as the rise of every "not Romney" from Michele Bachmann to Rick Perry to Herman Cain to Newt Gingrich has shown us, they are looking for bombast and bomb throwing, for the candidate who will "fight" with Obama, not the candidate who will present conservative policy alternatives in a rational manner, take the President to task for his bad decision making without demonizing him, and realize that winning in politics means doing more than throwing red meat into the debate audience. Just like Hunstman and Tim Pawlenty failed to catch fire with this base because they didn't play that game, I now think that Daniels would have run into the same problem. Moreover, last night's speech revealed that, to put it bluntly, Daniels is not necessarily the kind of fiery speaker that riles up a crowd, another skill which seems to be more important to voters this year than actual substance. As I noted on Twitter last night, Daniels is sadly too rational to be successful in the Republican race for President this year.
Given recent history, I'm not even sure why the opposition party wastes the time to try to respond to a State of the Union Address. As I noted above, it's never going to be able to match the authority projected by the President's speech, and it risks harming the political career of a promising prospect like Jindal. In Daniels case, I don't think there will be any harm suffered but I don't think it necessarily helped him all that much either. He will be leaving office at the end of this year, and unless he ends up taking a Cabinet position in a Republican Administration, he's likely to mostly disappear from the national political scene after that. Judging from the way he made his decision not to run for President, I don't get the impression that the prospect of this bothers him all that much, to be honest. Whether he returns in 2016 to make a run for the White House if the President is re-elected is something we'll have to wait and see, but I'm guessing it's not very likely.