Mitch McConnell And Wife Tied To Favortism At Transportation Department
Transportation Secretary Elaine Chao is being accused of giving preferential access to businesses and businessmen tied to her husband, Senate Majority Leader Mitch McConnell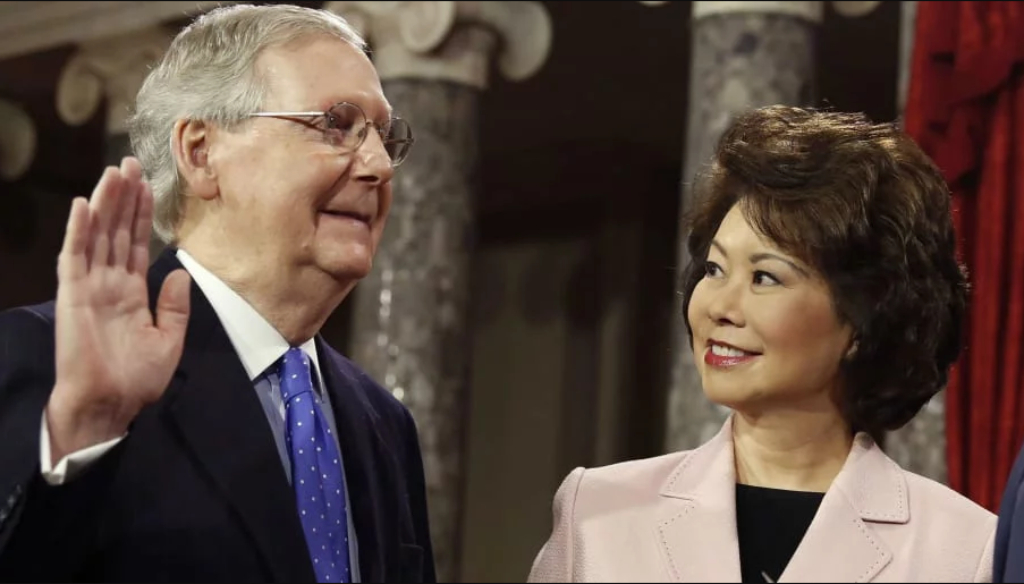 A special report at Politico appears to show that the Transportation Department under Secretary Elaine Chao provided privileged treatment to businesses with ties to her husband, who just happens to be Senate Majority Leader Mitch McConnell:
The Transportation Department under Secretary Elaine Chao designated a special liaison to help with grant applications and other priorities from her husband Mitch McConnell's state of Kentucky, paving the way for grants totaling at least $78 million for favored projects as McConnell prepared to campaign for reelection.

Chao's aide Todd Inman, who stated in an email to McConnell's Senate office that Chao had personally asked him to serve as an intermediary, helped advise the senator and local Kentucky officials on grants with special significance for McConnell — including a highway-improvement project in a McConnell political stronghold that had been twice rejected for previous grant applications.

Beginning in April 2017, Inman and Chao met annually with a delegation from Owensboro, Ky., a river port with long connections to McConnell, including a plaza named in his honor. At the meetings, according to participants, the secretary and the local officials discussed two projects of special importance to the river city of 59,809 people — a plan to upgrade road connections to a commercial riverport and a proposal to expedite reclassifying a local parkway as an Interstate spur, a move that could persuade private businesses to locate in Owensboro.

Inman, himself a longtime Owensboro resident and onetime mayoral candidate who is now Chao's chief of staff, followed up the 2017 meeting by emailing the riverport authority on how to improve its application. He also discussed the project by phone with Al Mattingly, the chief executive of Daviess County, which includes Owensboro, who suggested Inman was instrumental in the process.

"Todd probably smoothed the way, I mean, you know, used his influence," Mattingly said in a POLITICO interview. "Everybody says that projects stand on their own merit, right? So if I've got 10 projects, and they're all equal, where do you go to break the tie?"

"Well, let's put it this way: I only have her ear an hour when I go to visit her once a year," he added of Chao and Inman, a longtime Bluegrass State operative who had worked as McConnell's advance man. "With a local guy, he has her ear 24 hours a day, seven days a week. You tell me."

The circumstances surrounding the Owensboro grant and another, more lucrative grant to Boone County, highlight the ethical conflicts in having a powerful Cabinet secretary married to the Senate's leader and in a position to help him politically. McConnell has long touted his ability to bring federal resources to his state, which his wife is now in a position to assist.

Chao's designation of Inman as a special intermediary for Kentucky — a privilege other states did not enjoy — gave a special advantage to projects favored by her husband, which could in turn benefit his political interests. In such situations, ethicists say, each member of a couple benefits personally from the success of the other.

"Where a Cabinet secretary is doing things that are going to help her husband get reelected, that starts to rise to the level of feeling more like corruption to the average American. … I do think there are people who will see that as sort of 'swamp behavior,'" said John Hudak, a Brookings Institution scholar who has studied political influence in federal grant-making.

In fact, days after launching his 2020 reelection campaign McConnell asked Owensboro's mayor to set up a luncheon with business and political leaders at which the senator claimed credit for delivering the grant.

"How about that $11 million BUILD grant?" McConnell asked the crowd rhetorically, according to the Owensboro Times. He then recalled his role in securing earlier grants to the city, adding, "It's done a lot to transform Owensboro, and I was really happy to have played a role in that."

McConnell's role — along with Chao's and Inman's — was also celebrated by local officials when the $11.5 million grant was approved — to much local fanfare in December 2018.

(…)

Owensboro wasn't the only beneficiary of Inman's assistance. He also communicated with McConnell's office about multiple requests from county executives to meet with Chao to speak about potential projects in Kentucky, according to emails which, like the others, were obtained under the Freedom of Information Act by the watchdog group American Oversight.

One of those executives, Boone County Judge/Executive Gary Moore, met with Chao in December 2017. Moore's request, a $67 million discretionary grant to upgrade roads in rural Boone County, another McConnell stronghold northeast of Louisville, was ultimately approved in June 2018.

Chao declined to comment for this story, and neither she nor Inman addressed questions about his role as intermediary between the department and Kentucky.

Inman said in a statement, "I'm proud to work for the Secretary and it's an honor to work at the Department of Transportation, especially as this Administration is prioritizing infrastructure investments and meeting with people from all 50 states to discuss their needs. Our team of dedicated career staff does an outstanding job evaluating hundreds of applications for these highly competitive grant programs, a thorough process developed well before this Administration."

The Transportation Department, through a spokesperson, said that "No state receives special treatment from DOT," noting that Kentucky is 26th in population and 25th in DOT money in the Trump years. Of 169 grants awarded during Chao's tenure, the spokesperson said, Kentucky received five.

"The evaluation process, which is well known, originates with dedicated career staff thoroughly reviewing applications before senior review teams are involved," the spokesperson said. "This evaluation takes thousands of hours across our discretionary grant programs. Similarly, a team of career staff handles cost-benefit and project readiness review. Discretionary grant programs are competitive and based on merit and how well the projects align with selection criteria."

Nonetheless, one former career official who was involved in the grant review process under multiple administrations, said that once the findings of the professional staff are presented to the secretary's office, politics often plays a role in who gets the money.

Putting a thumb on the scale for a favored project, the official said, "is really, very common, I would say across parties."

"It's always going to be political," the former official, who spoke without attribution for fear of reprisals, added. "We have a merit-based process that we essentially ignore, [and] it's really detrimental to meeting national transportation needs and having people feel like the process is worth engaging in."

(…)

McConnell, for his part, did not address questions about potential conflicts of interest in dealing with his wife's department, instead touting his own clout.

"Every single day, Kentuckians from across the Commonwealth contact me with their concerns," he told POLITICO in an emailed statement. "As Senate Majority Leader and a senior member of the Appropriations Committee, I am able to ensure that these issues — both large and small — are part of the national discussion. Kentucky continues to punch above its weight in Washington, and I am proud to be a strong voice for my constituents in the Senate."
Historically, the Transportation Department has flown under the radar notwithstanding the fact that it controls the sixth largest budget of all the Cabinet Departments, outranked only by the Departments of Health And Human Services, Defense, Veteran's Affairs, Agriculture, and State. It's also despite the fact that the department controls billions of dollars, over $72 billion dollars according to the most recent figures, in funds that are used to fund projects at the Federal and state levels around the country. Given this, the question of how those billions of dollars are allocated and whether the process of doing so is fair and impartial is a crucial one. If these reports are even close to being accurate, the fairness and impartiality of the appropriations process at DoT clearly seems to be worthy of examination by Congress and the appropriate committees in both the House and the Senate.
If these allegations are true, then it appears that businesses and projects that are close to the Senate Majority Leader, and which benefit his home state of Kentucky, have been given something that can only be described as a preferred status that other projects are not receiving. It's possible, of course, that these are entirely legitimate projects and that they would get approved regardless of who the Transportation Secretary was or who was Majority Leader of the Senate. Given the nature of Politico's findings, though, it seems clear that this is an issue that ought to be examined by the appropriate oversight committees. Of course, the odds of that happening in the Senate, where the appropriate committee is headed by longtime Mississippi Senator Roger Wicker, is fairly low to say the very least. This leaves it to the House Committee on Transportation and Infrastructure to do the job.