Mitt Romney 2012 v. Ronald Reagan 1980: A Brief Study In Contrasts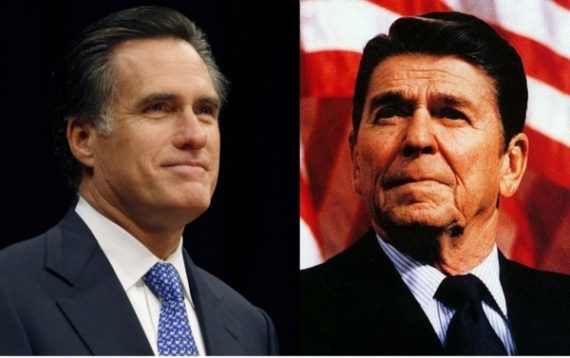 National Journal's Sophie Quinton makes an interesting historical comparison:
Foreign-policy crises don't often punctuate presidential campaigns. And when they do, the response from the campaign trail usually isn't to criticize the commander in chief. Mitt Romney's sharp statements on the Obama administration's response to a fatal attack on the U.S. consulate in Libya are a departure from the approach taken by Republicans in a similar position over 40 years ago — most notably, that of Ronald Reagan.

Former President Carter's handling of the Iranian hostage crisis helped torpedo his reelection hopes. But when news broke in April 1980 that an attempt to rescue Americans held hostage at the Tehran embassy had failed, the immediate response from the campaign trail was more supportive than critical.

Former California Gov. Ronald Reagan told reporters it wouldn't be appropriate for him to express an opinion at that time. "This is the time for us as a nation and a people to stand united" and to pray, Reagan said, according to United Press International.

George H.W. Bush, also campaigning for the Republican presidential nomination, went further. "I unequivocally support the president of the United States — no ifs, ands or buts — and it certainly is not a time to try to go one-up politically. He made a difficult, courageous decision," Bush said in Michigan, UPI reported.
Interestingly, and perhaps surprisingly to many people viewing history though 30 years of rhetoric in which conservatives turned Ronald Reagan into something he never really was, Reagan's foreign policy rhetoric in 1980 was not in any way similar to what we hear from opposition candidates today:
Although the Reagan campaign wasn't afraid to go after Carter's foreign-policy record in campaign ads later that year, he refrained from inflammatory rhetoric when he debated Carter as the GOP nominee that fall.

"Your question is difficult to answer," Reagan said, when the debate moderator asked how he would deal with a similar hostage crisis. "Because, in the situation right now, no one wants to say anything that would inadvertently delay, in any way, the return of those hostages if there is a chance of their coming home soon, or that might cause them harm."
Could you imagine Mitt Romney, or the conservative media machine from Limbaugh on down saying anything even remotely similar today?