Mitt Romney Gives Money To Unemployed Woman At Campaign Stop
Charity? Or campaign stunt? Does it matter?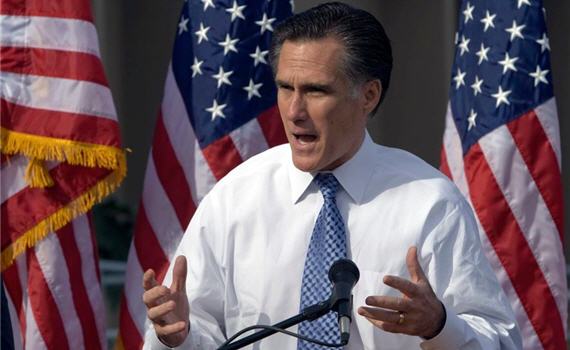 There seems to be some effort from some corners of the political world to make something out of what happened at the end of a Romney campaign appearance in South Carolina earlier this week:
SUMTER, S.C. — Amid shaking hands and signing campaign posters, Mitt Romney did something he has never done before on the ropeline: He took out his wallet and handed a wad of cash to a woman waiting to shake his hand.

The woman, 55-year-old Ruth Williams, says she has been following the Romney campaign since he arrived in the state on Jan. 11, when she said she received a message from God to track him down.

"I was on the highway praying and said, 'God just show me how to get [my] lights on,' and I pulled up to a stop sign and his bus was there," said Williams, who has been unemployed since last October. "And then God said, 'Follow the bus,' and I followed the bus to the airport."

According to Williams, she followed the campaign bus to the Columbia airport on Wednesday, the same day Romney was arriving from New Hampshire. When Romney wasn't on the bus, aides told her to go to the rally scheduled in Columbia later that day. When she showed up, Romney found her to say hello and pulled over South Carolina Gov. Nikki Haley to say "hello" too.

"He was kind to me and he made Gov. Haley come see about me," Williams said. "He stopped doing everything."

Williams, who would not specify how much money Romney gave her, said also that South Carolina Treasurer Curtis Loftis paid her light bill on Thursday. A spokesman for Loftis, one of Romney's major endorses in the state, confirmed to ABC News that he paid Williams' bill. While Loftis didn't know the amount of the bill, he confirmed that he gave her $150.

"God didn't tell me to go to nobody else, he told me to pray for Romney," said Williams, when asked why she has decided to support Romney. "I listened to the Lord."

Williams said she has been volunteering at Romney's Columbia headquarters since meeting his bus last week.
Some are already declaring this nothing more than a photo op and a campaign stunt. There's no doubt that it does provide positive PR to a candidate who is currently being attacked by his rivals on charges that he used to head a company that did little more than fire people for profit, however it's worth noting that it wasn't the Romney campaign that brought this story to the public's attention and that if they really wanted to exploit the PR value of something like this it could have been in a more public, far more cynical and exploitative manner. Is it really hard to believe that this could have been a spontaneous act of charity? And I ask that question as someone who is usually entirely cynical about politics, politicians, and their motives.
Even some conservatives, though, seem to be reacting negatively to the whole thing. AJ Strata calls this whole thing "cringe worthy," for example:
Are we now left with Daddy Warbucks as our solution to big government? Is this not the most crass political stunt you've ever had to digest?

In other words, tipped by his political handlers Romney tried to put on a little skit showing how the rich can help the poor with a hand out. Pathetic. What she needs is a good job.
No doubt, but in a state with 9.9% unemployment rate is it at all surprising that a 55 year-old woman might have trouble finding work at the moment? Additionally, the whole "What she needs is a job" argument seems profoundly dismissive of the woman's immediate concerns, such as the fact that her lights had been turned off because she couldn't pay the electric bill. Also, the "Daddy Warbucks" comment points to one reason why campaign concerns might not have been at the top of the priority list here. The idea of a very rich man handing out whatever cash he had on him to a woman in such a desperate situation has as much potential to make Romney look bad as it does to make him look good. No doubt, in fact, people will draw their conclusions about what happened here based on their per-concieved notions of Romney and his politics, or of the Republican Party in general.  I'm no fan of Mitt Romney in general, but I'm willing to at least willing to give him the benefit of the doubt on this one rather than turning it into the latest political outrage of the day.
Anyway, like I said, everyone will make their own judgment call on this one, here's ABC's video on the story so you can make your own call:
H/T: Jazz Shaw