Mitt Romney Vows To Continue The Same Failed War On Drugs Obama Is Fighting
When it comes to issues like medical marijuana, Mitt Romney and Barack Obama are reading from the same playbook.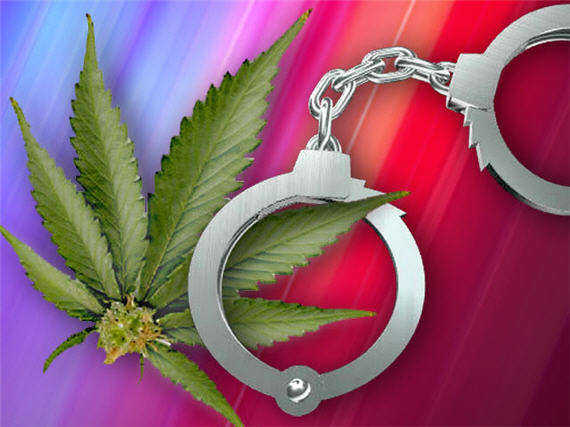 I suppose it's not a surprise, but Mitt Romney is making clear that he would be as much of an irrational drug warrior as his predecessors:
 I would not legalize marijuana for medicinal purposes, and the reasons are straightforward: As I talk to people in my state and at the federal government level about marijuana and its role in society, they are convinced that the entry way into a drug culture for our young people is marijuana. Marijuana is the starter drug….The idea of medical marijuana is designed to get marijuana out in the public marketplace and ultimately lead to the legalization of marijuana overall. And in my view, that's the wrong way to go. I know that other people have differing views. If you'd like to get someone who is in favor of marijuana, I know there are some on the Democratic side of the aisle who will be happy to get in your campaign. But I'm opposed to it, and if you elect me president, you're not going to see legalized marijuana. I'm going to fight it tooth and nail.
Of course, there is little actual evidence for the idea that marijuana is a "gateway drug," despite the fact that it is an argument that drug warriors have relied up on for decades now. Indeed, in terms of its actual effect on the body, marijuana is far less harmful than completely legal substances like alcohol and tobacco, not that I am suggesting that we should consider making either of those substances illegal of course.
What really stands out for me in these remarks those, is Romney's total disdain for the idea of medical marijuana despite the numerous instances in which the substance has been shown to reduce the pain and suffering experienced by people with glaucoma, cancer, and other diseases. Indeed, in the case of cancer it has long been known that marijuana can reduce the nausea that chemotherapy patients often experience, nausea that often causes them to eat far less than they should which in turn deprives their body of much needed energy. If smoking a few marijuana cigarettes a day can help a cancer patient eat better and make their body stronger to fight the hell that they're going through, then who is Mitt Romney to say no? Indeed, I'd suggest that there's something rather cold and heartless in the attitude Romney expresses in this clip.
Of course, Mitt Romney isn't the only candidate for President with this outdated, and in some cases factually flawed, view of the War On Drugs. Despite promises during his campaign that it would not do so, the Justice Department has continued, and in some cases escalated, the Federal crackdown on medical marijuana providers and dispensers in the State of California, where the sale of marijuana for medical use is completely legal. The situation in other states where medical marijuana has been legalized is roughly the same. Additionally, as Jacob Sullum noted in an October 2011 piece in Reason, despite having given the impression when he was campaigning that he would be more open to rationalization of the nation's drug enforcement policies, Obama has turned out to be pretty much the same as every other President since the War On Drugs began in earnest under the Nixon Administration:
It is not hard to see how critics of the war on drugs got the impression that Barack Obama was sympathetic to their cause. Throughout his public life as an author, law professor, and politician, Obama has said and done things that suggested he was not a run-of-the-mill drug warrior. In his 1995 memoir Dreams From My Father, the future president talked candidly about his own youthful drug use, in sharp contrast with the Democrat who then occupied the White House and the Republican who succeeded him. As an Illinois state senator in 2001, he criticized excessively harsh drug sentences and sponsored a bill that allowed nonviolent, low-level offenders to enter court-supervised treatment instead of going to jail, saying "we can't continue to incarcerate ourselves out of the drug crisis."

As a candidate for the U.S. Senate in 2004, Obama called the war on drugs "an utter failure" and advocated marijuana decriminalization. As a U.S. senator, he cosponsored legislation aimed at reducing the federal government's draconian crack cocaine sentences. Unlike Bill Clinton, who notoriously admitted smoking pot while claiming he "didn't inhale," Sen. Obama forthrightly told a 2006 meeting of magazine editors, "When I was a kid, I inhaled, frequently. That was the point."

Obama stood apart from hard-line prohibitionists even when he began running for president. In 2007 and 2008, he bemoaned America's high incarceration rate, warned that the racially disproportionate impact of drug prohibition undermines legal equality, advocated a "public health" approach to drugs emphasizing treatment and training instead of prison, repeatedly indicated that he would take a more tolerant position regarding medical marijuana than George W. Bush, and criticized the Bush administration for twisting science to support policy—a tendency that is nowhere more blatant than in the government's arbitrary distinctions among psychoactive substances.

The promise of a more enlightened, less repressive national drug policy generated considerable excitement among anti-prohibition activists.
As Sullum goes on to point out, though, there hasn't been any substantive change in policy from the Obama White House or Justice Department and in many cases there has been an escalation of policies that were put in place by previous Presidents and continued notwithstanding the fact that they seemed to clearly be a failure. Obviously, the President is without authority to change the law on his own, but there are whole host of ways that the Executive Branch can influence how those laws are enforced. The President can direct his Attorney General to cease Federal raids on marijuana growers and dispensaries in states where medical marijuana is legal unless there is evidence that their products are crossing state lines. He can direct the Justice Department to exercise more discretion in prosecuting possession cases for people caught on Federal property where the amount seized is a small one. And, most importantly, he can use the bully pulpit to call for changes in the sentencing laws so that someone caught with some marijuana doesn't end up getting his or her life ruined by being sent to a Federal Prison for an unduly long period of time. Heck, he could use his pardon power to pardon people sitting in prison on those types of charges. There's been little to no action by the Obama Administration on this, and little sympathy for people who are suffering for whom medical marijuana could be, if not a lifesaver, at least something that could alleviate unnecessary suffering.
We've been fighting this War On Drugs for some 40 years now, and we've got next to nothing to show for it other than a huge prison population and countless lives ruined by the criminal justice system. In cases where we're talking about addiction issues, which doesn't apply to marijuana itself, we already know that addiction is quite often a medical or psychological issue, and yet we imprison people for essentially being sick rather than treating them. The War On Drugs has been an astounding failure, and yet we've got two major party Presidential candidates who would seemingly not only continue it, but escalate the fighting despite the lack of any evidence that doing more of what hasn't worked for 40 years is going to make any difference.
I'm disappointed, but not surprised, that Mitt Romney has taken the position that he has on this issue, but in reality he's really not advocating anything that the man he's running against isn't already doing. When will someone realize it's not working, I wonder.