Bernie Sanders Wants To End The Federal Marijuana Ban, Conservatives Should Support Him
Senator Bernie Sanders wants to let states decide how to regulate marijuana, or to not regulate it at all if they choose. Intellectually honest conservatives should support his effort.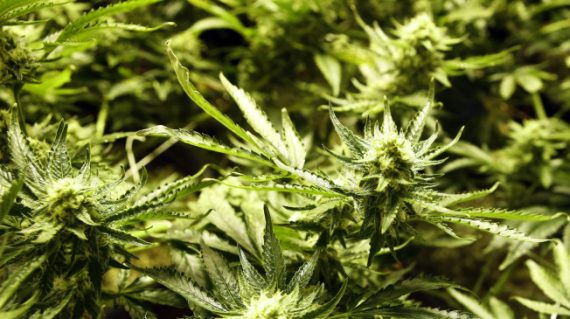 Vermont Senator Bernie Sanders has introduced a bill that would lift the Federal ban on marijuana and allow individual states to decide the issue for themselves:
Democratic presidential candidate and Independent Vermont Sen. Bernie Sanders introduced a bill Wednesday to end the federal prohibition on marijuana, the first such bill to ever be introduced in the Senate, according to marijuana legalization advocates.

Sanders went farther than any other presidential candidate last week on the question of ending the drug war when he called for lifting the federal ban on marijuana, and he followed up this week by introducing a bill in the Senate to remove marijuana from the federal government's list of Schedule I drugs, which includes other illegal substances such as heroin and LSD.

"It is absurd that it is compared to, or treated, the same way as heroin is," Sanders told The Daily Beast Tuesday.

Last week, Sanders told an audience of college students that ending marijuana prohibition was essential to ending racial disparities in the criminal justice system.

"Although about the same proportion of blacks and whites use marijuana, a black person is almost four times more likely to be arrested for marijuana possession than a white person," Sanders said. "Too many Americans have seen their lives destroyed because they have criminal records as a result of marijuana use."

Marijuana legalization advocates praised Sanders' bill.

"This is the first time a bill to end federal marijuana prohibition has been introduced in the U.S. Senate," Tom Angell, the chairman of the pro-legalization group Marijuana Majority, told BuzzFeed News. "A growing majority of Americans want states to be able to enact their own marijuana laws without harassment from the DEA, and lawmakers should listen."

The bill would not legalize marijuana, but rather leave its legal status up to individual states. It would ban interstate transport of marijuana, but it is still the most wide-sweeping marijuana bill to be introduced in the Senate, which is traditionally more reserved than the House on this issue.
As noted, this is an issue that Sanders has spoken about before, most prominently last week when he first suggested on the campaign trial that the Federal Government's decision to classify marijuana as a drug as dangerous as heroin and cocaine made absolutely no sense and had absolutely no medical merit, an argument that many doctors and drug policy experts have made in the past. In reality, the decision to classify marijuana as a Class One drug is one that was made by the Food and Drug Administration, meaning that at least theoretically it could be reversed by that agency as well. The reality, of course, has been that the political pressures of the War On Drugs and the desire of Presidential Administrations going back to Richard Nixon to appear to be "tough" on drugs and crime has made any sane medical analysis of this issue impossible. Indeed, the FDA's classification is so bizarrely extreme that it is essentially impossible for researches to study marijuana or its active ingredients for possible medical benefits even independent of smoking marijuana leaves. The classification also means that people who live in those jurisdictions that have legalized marijuana such as Colorado, Washington, Oregon, Alaska or the District of Columbia, or the even more numerous ones that have decriminalized marijuana or legalized it for medical use are taking a tremendous legal risk since they may still be liable for prosecution under Federal laws, many of which have far harsher penalties than comparable state laws. The Obama Administration has taken the position that it would not crackdown on marijuana use, sale, or harvesting inside states where it has been legalized, but this is purely an exercise of prosecutorial discretion that could be revoked by a subsequent Administration. In that regard, New Jersey Governor Chris Christie has repeatedly stated during his Presidential campaign that he would end that policy and enforce Federal laws even in states where marijuana sale, use, and possession are completely legal. Additionally, when the District of Columbia's voters approved marijuana legalization in a referendum the Republican controlled House threatened to use its control over the D.C. budget to reverse the referendum, although it never followed through on that threat. Given that, the entire status of legal marijuana remains in legal limbo that depends entirely on the beneficence of whomever happens to be President and Attorney General. Sanders bill is designed to address that issue.
There are not many issues where I agree with Senator Sanders, but this is most certainly one of them. Based on all of the available literature, there is not rational basis for treating marijuana the same way we treat "hard" drugs like cocaine and heroin. For example, it has never been shown to be addictive in the way that those drugs are in both a physical and psychological sense. Nor has it been shown to be as harmful as those drugs, as well as other substances such as amphetamines and barbiturates, have been shown to be. Yes, there are risks from smoking marijuana but they are basically the same risks one takes from smoking tobacco, which is entirely legal. Furthermore, the fact that marijuana is illegal has not stopped people from using it and its illegal status has created a black market that empowers organized criminal gangs the same way that alcohol prohibition did in the 1920s Beyond that, though, it is clear that the public is ready for marijuana to treated far more sanely than we are currently treating it. Polling shows that support for legalization nationwide is well over 50% now and, notwithstanding this week's defeat of a flawed legalization initiative in Ohio the political momentum for legalization shows no signs of abating and looks to be as though it will be a big issue in many states next year. Given that, the idea that Federal law would end up treating an increasing number of American states as being places that harbor Federal criminals is utterly absurd.
On a final note, it strikes me that this ought to be an issue that conservative Republicans could agree with Sanders on if they really treated his proposal seriously. Notwithstanding Chris Christie's reefer madness, the idea of allowing the states to chose what laws regarding marijuana are appropriate for them is something that fits right within the conservative preference for federalism and the ability of the states to chose their own course on issues not specifically addressed by the Constitution. Passing this bill would effectively mean that marijuana will be treated the same way that alcohol has been since the passage of the 21st Amendment, which repealed Prohibition and allowed states to set their own laws regarding alcohol. Using that authority, the manner in which alcohol is treated, and how and where it can be sold, varies from state to state even today. One can argue that one state's laws are better than another state's for some reason, but the point is that each state has the right to choose their own path. That should be the case with marijuana too, and Republicans should get behind an idea like this.
Don't hold your breath that they will, though.