Monumental Silliness
One cannot support the shutdown tactic and then be outraged that part of the government is shutdown.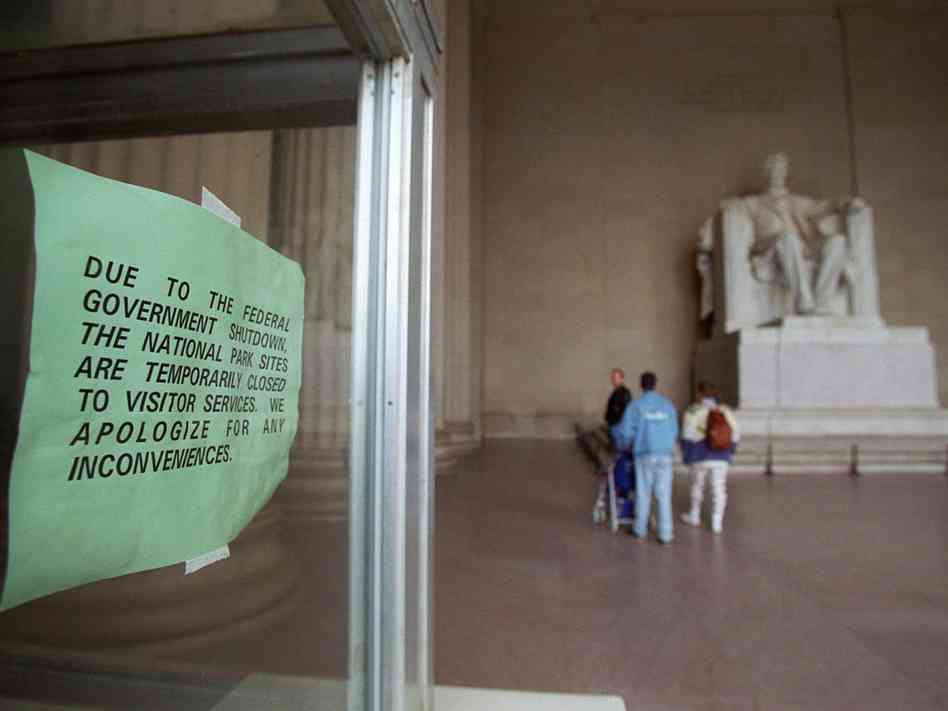 Let me start with the following:
1.  I have skin in the this monument shutdown game, as my son's 8th grade class is headed to DC for a class trip and will be directly affected by the closures in DC.  I am disappointed on my son's behalf and, in honesty, a bit angry about the overall situation.  At a minimum, the situation is not a as distance an abstraction for me as it is for some.
2.  I honestly do not know how much of what has been done is for legitimate policy reasons due to the shutdown and how much is political theater (I suspect some of both).  I looked around yesterday to see if any actual reporting, as opposed to speculation, had been done (but I did not find anything).  It seems pretty clear that most conclusions about what is going on is based on a great deal of assumption and speculation.
3.  I will further say that at a distance, closing the National Mall entirely seems a bit much, given that things like the WWII Memorial and the FDR Memorial are totally open air.  However, by the same token someone has to pick up the trash and so forth.   (Likewise with the cones at the Mt. Rushmore viewing area).
4.  If, in fact, the administration is using monuments and parks as a pawn in this game, remember the game was chosen by the House Majority.  Further, they have played it before, and are threatening a mega-round over the debt ceiling next.  It is amazing to, for example, refuse to vote to keep the government open, and then castigate employee working for IOUs for closing a monument (click).
Having said all of that, I find any complaints about these closures from anyone who supports the House Majority's shutdown tactics to be utterly void of intellectual honesty.
For example,* JD writing at Patterico's Pontifications wrote yesterday "Obama is a petty, petulant, narcissistic d-bag" in the context of two stories about park-closure related issues.  My favorite is this one from Twitchy:  "How far will the Obama Administration go to make sure the government shutdown is as unpleasant as possible?"
So, for the sake of argument, let's stipulate for the moment that all the claims about closures are true, and that they are the result of political calculation.  If true, the supporters of the shutdown tactic have no room to complain, because the whole point of the shutdown is to crate pain to try and force the administration to capitulate to demands.   One cannot, if one is intellectually honest, pursue a strategy that is designed to make life unpleasant by shutting down parts of the government and then complain when it makes life unpleasant by shutting down parts of the government.
Form a pure power perspective, the actions of the House GOP caucus, and specifically the Tea Party Caucus makes sense insofar as they have no other cards to play.  However, the playing of the shutdown card is, to borrow a word quoted from above, petulant.  It is throwing a national fit because legislation that it doesn't like made through a rigorous constitutional process.  However, the whole point of this tactic is to make shutdown, to borrow again from above, as "unpleasant as possible."  If it isn't, what's the point?
What gets me the most frustrated with all this parks and monuments hysteria, is that it is ridiculous to declaim (with moral outrage!) the fact that monuments and parks are closed when one supports a policy that creates serious personal economic uncertainty for the federal workers and contractors who don't know when they will be paid.  It is all well and good to pretend like these folks are getting a vacation, but when the rent check come due, and your pay has been deferred, that's not a lot of fun.   Moreover, the shutdown itself is costing the federal government money, and worst of all, the basic extortionist tactic being used at the moment has been squarely aimed at the economy itself via the debt ceiling deadline.
I understand that a lot of this is partisan grousing aimed at the like-minded, but it is extremely cynical and highly dishonest (or, purely ignorant).
Let me boil it down to this:  getting outraged that tourists can't take pictures while supporting the withholding of paychecks from almost a million workers, along with the economic consequences thereof, is a case of rather substantially misplaced priorities.
Of course, a lot of this is pure cognitive dissonance about what public things are, and how they are funded and maintained.  Parks, monuments, etc., as manifestations of government and are a creation of tax dollars.  Further, complaining about park closures is pretty much the very definition of the privileged class complaining because you have to have some amount of means to enjoy these parks and such given that travel isn't cheap.  However, pursuing policy extortion because you want to prevent the funding a of a policy designed to extend insurance coverage to everyone, well that's fine.  Or, better yet, threating another round of extortion that could threaten basic services to the poor and elderly, no problem there as well.  But put cones up at a parking lot designed for view Mount Rushmore?  Well, then, "This is a scandal."
This stuff is great for cable news, talk radio, and blogs.  The problem is that is has moved from sphere of infotainment to that of the national political tactics of a major political party.
*These two are just ones I happened to remember where I saw them. Examples are legion on blogs, in commentary, on cable news, and on Facebook/Twitter.
**Indeed, even more than the constitutional process, since the constitution does not require a 60% super-majority to pass legislation the way the Senate rules do.