More Americans Have Died from Covid this Year than Last
A scary if misleading factoid.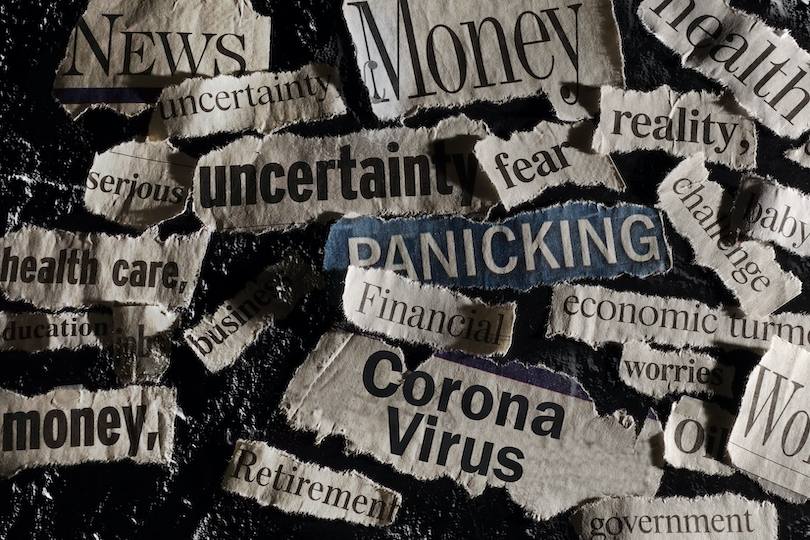 "Despite vaccines, the U.S. has lost more lives to Covid this year than last," NYT reports.
Headlines like that, alas, will only serve to feed conspiracy theories about the vaccine. A well-educated but older friend from my Army days recently posted an article, translated from the German, from a medical journal claiming that countries with high vaccination rates have higher excess deaths than those without, thus demonstrating that the vaccines are killing people in droves.
According to the NYT report,
This was supposed to be the year vaccines brought the pandemic under control. Instead, more people in the United States have died from Covid-19 this year than died last year, before vaccines were available.

As of Tuesday, the Centers for Disease Control and Prevention had recorded 386,233 deaths involving Covid-19 in 2021, compared with 385,343 in 2020. The final number for this year will be higher, not only because there is more than a month left but because it takes time for local agencies to report deaths to the C.D.C.

Covid-19 has also accounted for a higher percentage of U.S. deaths this year than it did last year: about 13 percent compared with 11 percent.

Experts say the higher death toll is a result of a confluence of factors: most crucially lower-than-needed vaccination rates, but also the relaxation of everyday precautions, like masks and social distancing, and the rise of the highly contagious Delta variant.

Essentially, public health experts said, many Americans are behaving as though Covid-19 is now a manageable, endemic disease rather than a crisis — a transition that will happen eventually but has not happened yet.

Yet many are also refusing to get vaccinated in the numbers required to make that transition to what scientists call "endemicity," which would mean the virus would still circulate at a lower level with periodic increases and decreases, but not spike in the devastating cycles that have characterized the pandemic. Just 59 percent of Americans are fully vaccinated, the lowest rate of any Group of 7 nation.

"We have the very unfortunate situation of not a high level of vaccine coverage and basically, in most places, a return to normal behaviors that put people at greater risk of coming in contact with the virus," said Jennifer Nuzzo, an epidemiologist and senior scholar at the Johns Hopkins Center for Health Security. "If you take no protections whatsoever, you have a virus that is capable of moving faster and you have dangerous gaps in immunity, that adds up to, unfortunately, a lot of continued serious illness and deaths."
There's no doubt that refusal of people to get the vaccine is a huge problem. And, anecdotally, while people are wearing masks in these parts about as well as they were a year ago—which is to say, most people seem to be doing so with an incredibly high percentage of them doing so incorrectly—people are way, way more likely to be out and about than they were.
But the "more people in the United States have died from Covid-19 this year than died last year, before vaccines were available" juxtaposition is really more noise than light. Look at the daily COVID deaths in the US: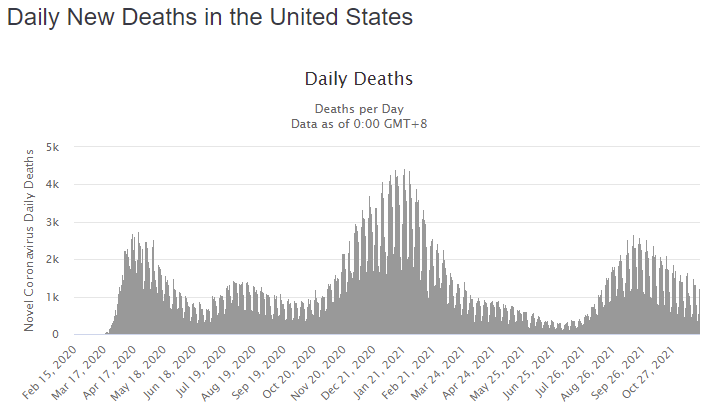 The disease really didn't start spreading here in earnest until the spring of 2020 and the peak period of deaths stretched well into 2021. Thus, 2020 and 2021 are not comparable or even distinct periods for useful comparison.
Similarly, it's not as though vaccines were magically available to all on January 1. Eligibility was extremely limited in the early weeks and we didn't have the supply to get shots to everyone eligible for quite some time. As a Defense Department employee who was also a front-line worker in my capacity as a professor, I was eligible earlier than most and didn't get my first shot until early March and my second until March 31; I thus wasn't "fully vaccinated" until mid-April. My stepchildren, who were in their teens and early 20s, weren't eligible until considerably later. My 12-year-old wasn't eligible until June. My 10-year-old just became eligible this month. And those under 5 still aren't. So the "despite vaccines being available" device is rather misleading.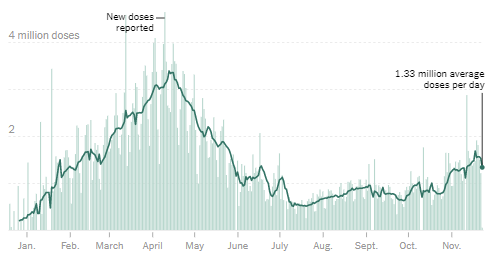 Regardless, we seem to be pretty close to peak adult vaccination. We're seeing everyone from football coaches and actors making millions of dollars a year to United States military personnel ostensibly prepared to put their lives on the line in the service of their country losing their jobs rather than comply with vaccine mandates. We're moving to a society where most of us are vaccinated—and dutifully getting our boosters—but a sizable minority are simply not going to do it.