Yes, Florida's Numbers are Better; No, that is not a Vindication of DeSantis' Policies
Let's look at the numbers and the clear effects of policy choices.

The headline of an editorial in the Washington Examiner earlier this week proclaimed, COVID-19 is plummeting in Florida — DeSantis's critics hardest hit.
Upon reading the piece, I had several simultaneous thoughts. The first was that yes, the numbers in Florida are down and that was expected, therefore inferring that anyone was seriously arguing that they would never come down is disingenuous.
Second, this underscores the way in which too many, especially in the right-wing press, think this is all just a political game with simplistic scoring.
Third, it was not a game for all the people who got sick and especially not for those who died unnecessarily (and let me emphasize that the sick and dead are those "hardest hit," not DeSantis nor his critics).
Fourth, and above all else, people need to learn how to read, interpret, and compare data. Moreover, a clear-headed evaluation of the numbers has to take policy choices into account.
So, let's look at the numbers and the broader context. Keep in mind, that if the data show that DeSantis' approach prevents infections, hospitalizations, and unnecessary deaths then I would be happy to praise him and ask that his approach be replicated. I am not in this discussion to boost Dems or score points against Reps. I have been, and continue to be, fundamentally concerned about public health outcomes as measured by metrics like cases, hospitalizations, and deaths.
Yes, Florida's numbers are better now than they were recently, quite a bit better, in fact (and that is a good thing). However, that doesn't mean that everything was good before. To suggest an illustration that Floridians would readily understand, the weather may have cleared, but we still have to clean up after the hurricane that just blew through. For anyone who needs that decoded, just because things are better today doesn't make the tragedy of yesterday any less tragic. When the storm passes the dead are still dead.
Let's look at the actual numbers.
In terms of assessing the overall effects of the pandemic on a given state (which can lead us to then ask about policy responses and other issues), one has to look at numbers over time as adjusted for population.
For example, in terms of cases per 100,000, Florida ranks seventh overall. That is not indicative of successful public health policy.
Here are the top 10 states in terms of deaths per/100,000 (as of this writing) coded by color based on how the state voted for president in 2020: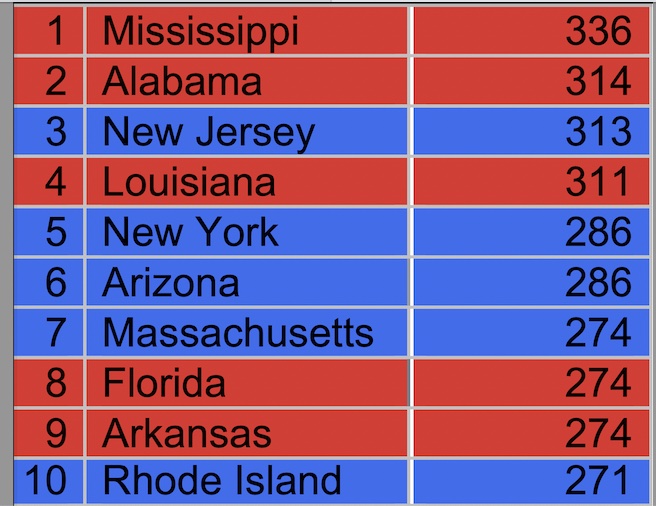 On the face of it, we have a 5-5 split–so, both sides and all that, right? Well, let's see.
It is worth noting that while Arizona went Biden it did so narrowly and that state government is run by Republicans. Likewise, the governor of Louisiana is a Democrat.
In terms of why red/blue matters in this context, we know that partisan affiliation has influenced behavior vis-a-vis the virus. The redder the state, the less likely the population is going to be willing to engage in mitigation behaviors, including mask-wearing and getting vaccinated. This is made worse if the state government is Republican-controlled, as that increases the likelihood of lax public health rules and contradictory messaging (if not rules that actually ban or discourage virus mitigation).
In terms of the Washington Examiner piece, the fact that Florida is in the top ten in population-adjusted death is not what we could call vindication for DeSantis' policy approach. But that alone is not enough to indict DeSantis' policy choices. To do that we need not just the variable of deaths per 100,000, but we also need to know when the deaths occurred. Were most deaths early in the pandemic, throughout, or late? This matters because we would expect that public health policies like lockdowns and mask mandates would, over time, lower infection and death and that specifically, vaccinations would be key.
Quite simply, deaths later in the pandemic, when the world had learned how to cope with the virus, in terms of both mitigation of infections and the treatment thereof, are more attributable to public policy choices than earlier in the pandemic, when knowledge of how to act was limited. This is especially the case once vaccinations were available. Policies and rhetoric that encourage vaccines can be empirically demonstrated to save lives, while the opposite can be seen to contribute to more deaths.
Indeed, I would state that there is a pre-vaccination era and a vaccination era. Vaccines started to become available in January of 2021 and were widely available by April. As such, it is fair to say that deaths due to Covid-19 after roughly the May period (after which the ability for adults to be fully vaccinated was high) were largely preventable.
Note the following comparing the vaccinated and unvaccinated in terms of infection rates and death: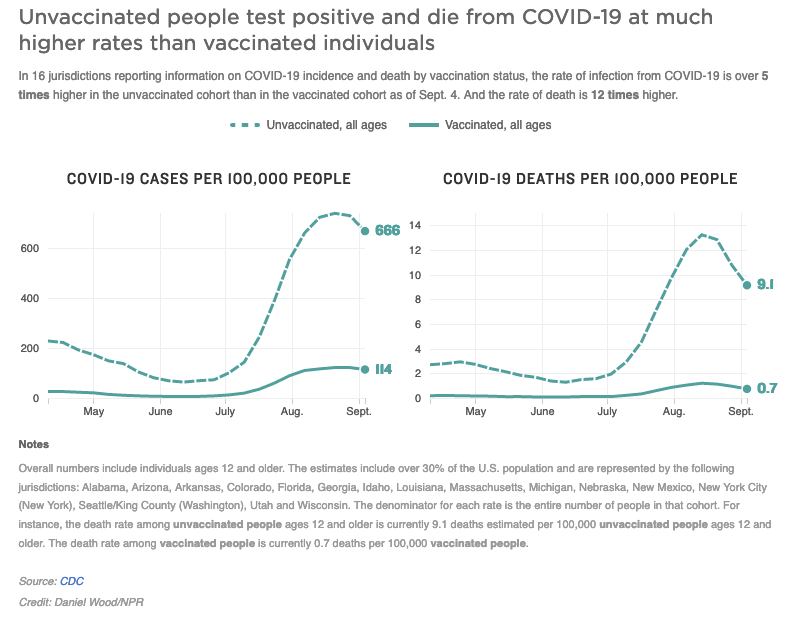 The easiest way to look at this issue in a blog post is visually. So here are the same top ten stated based on deaths per 100,000 with the NYT's graphs of daily deaths over time. I would argue that early surges (in the winter of 2020) are different than surges from spring 2021 onward, since any deaths in the vaccination era are far, far more preventable than those prior to vaccinations. In other words, surges in March of 2020 are the result of some combination of ignorance and lack of public health measures. Surges after May of 2021 are in the vaccination era and are simply not the same as early surges, as those surges were preventable via vaccines and mitigation policies like masking. I will leave aside too much discussion of surges in the middle spaces but would hypothesize that they are likely explainable by public variations (such as when lockdown and mask mandates were ended or not).
Note that the Y-axes are not all the same, but this allows for visual tracking of when surges took place.
Mississippi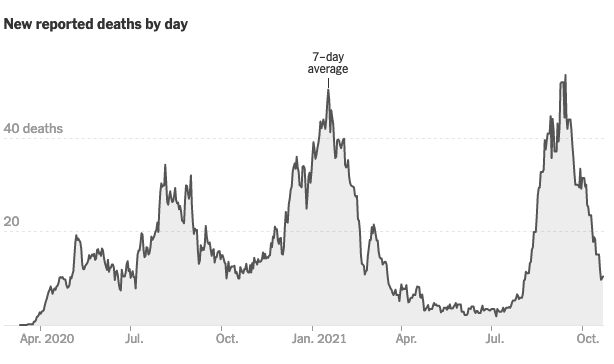 2. Alabama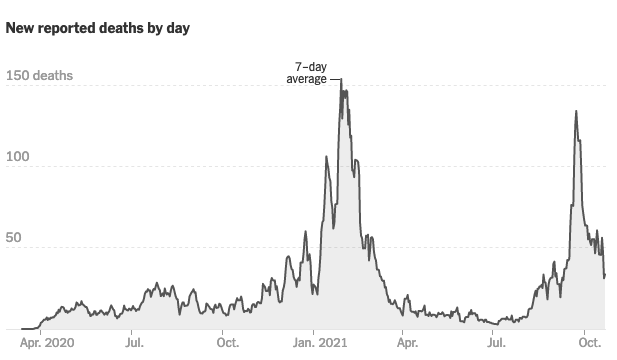 3. New Jersey: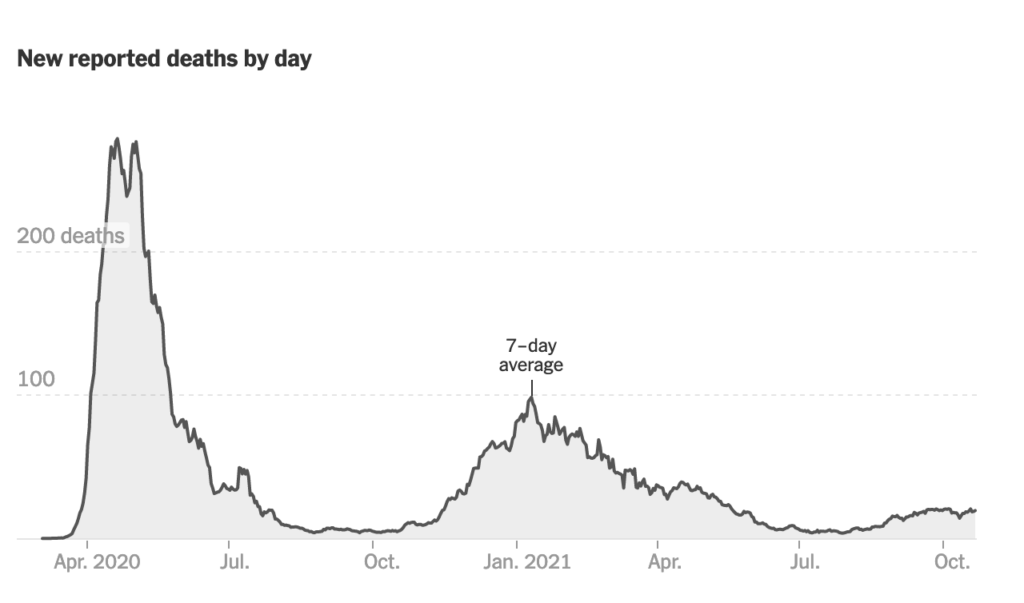 4. Lousiana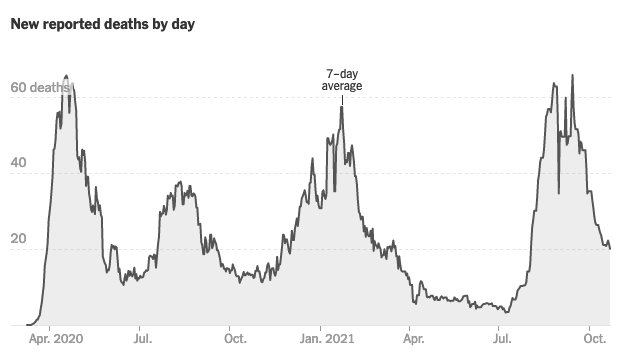 5. New York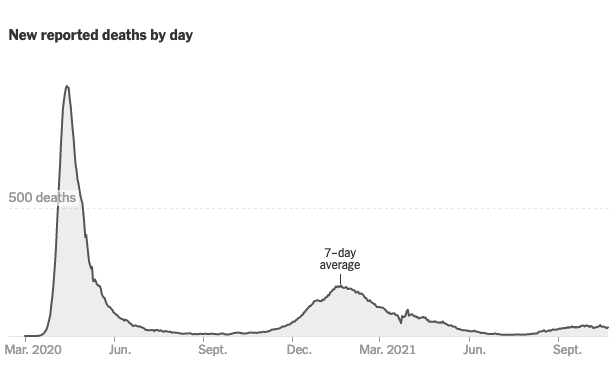 6. Arizona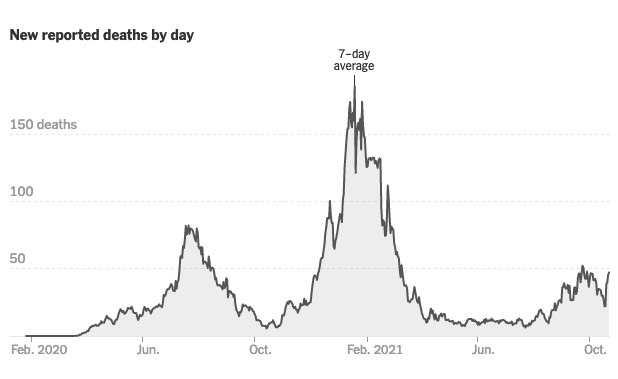 7. Massachusetts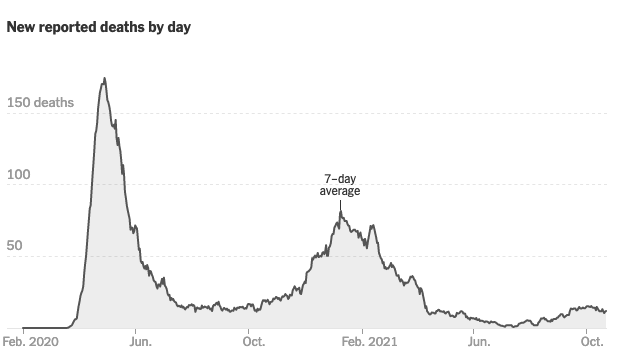 8. Florida: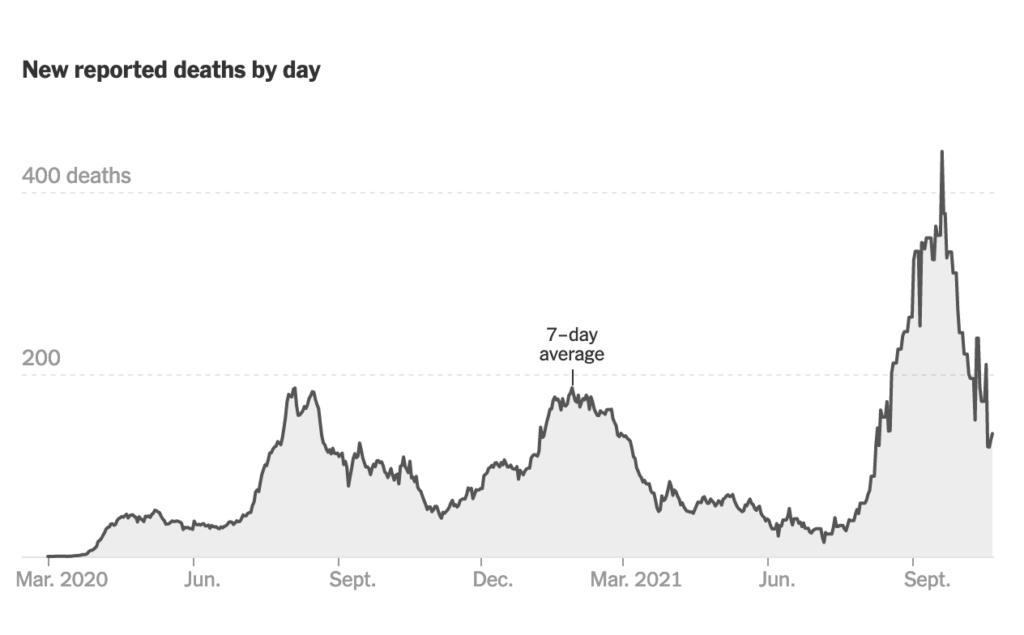 9. Arkansas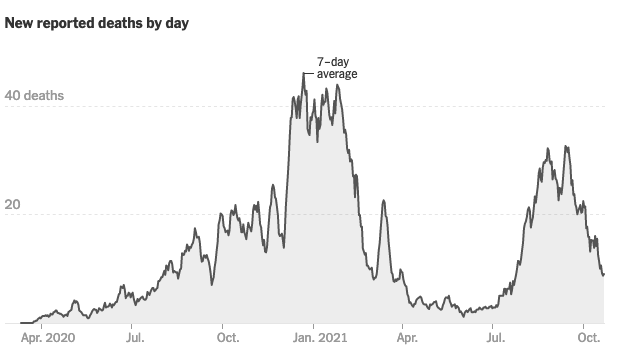 10. Rhode Island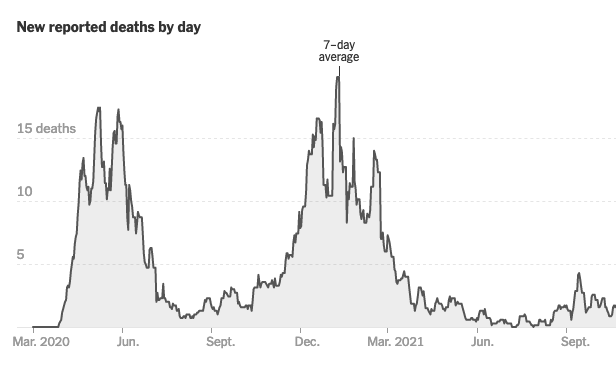 By including time as a variable, context is added to claims like this one by the Washington Examiner's editorial:
Despite the recent spike, Florida still has a lower cumulative COVID-19 death rate than New York, New Jersey, and Massachusetts, among others. It had been weathering COVID-19 so much better than these states until this summer, casting doubt upon the notion that governors' orders have much effect on the coronavirus.
First, note the use of cumulative and note population-adjusted numbers (that's sloppy analysis at best and is more likely just plain dishonest analysis). Second, the fact the deaths have been this summer is important given, as noted, the fact that there is now a vaccine.
Further, later surges are more likely the result of policy choices than were earlier ones (especially surges at the very beginning of the pandemic).
If we look at these graphs we see that the following states with significant (either all-time peaks or matching past peaks) post-vaccination era surges in Mississippi, Alabama, Louisiana, Florida, and Arkansas.
It is further worth noting that Florida and Arkansas (along with Texas and Arizona) are states with mask bans in place for schools.
Likewise, note that of the top ten in deaths per capita that also have seen serious surges in deaths recently, Alabama, Arkansas, and Florida all have bans on vaccine requirements.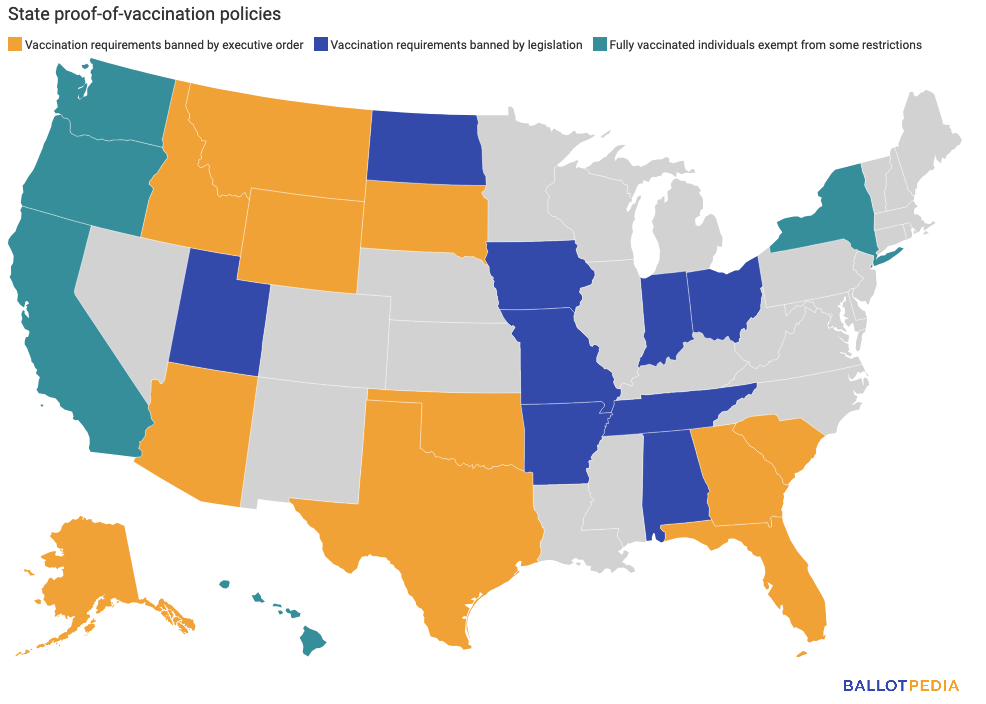 If we use the prevention of death as a metric, and if we can link specific policies to the rate of death, then it is hard to say that states that have pursued policies like Floridas have been doing a very good job.
Again: once we got past the initial surge in winter of 2020, we knew (based on empirical evidence) that masking and other mitigation efforts were effective. Moreover, we know that vaccinations are effective and that states with high vaccination rates are doing better than states with lower rates.
If we look at the states with the recent surges in deaths after the advent of vaccinations, we see the following:
| | | | |
| --- | --- | --- | --- |
| | | Vaxxed Rate | Post-Vax Surge? |
| 1 | Mississippi | 45% | Yes |
| 2 | Alabama | 44% | Yes |
| 3 | New Jersey | 66% | No |
| 4 | Louisiana | 47% | Yes |
| 5 | New York | 66% | No |
| 6 | Arizona | 53% | Very small bump |
| 7 | Massachusetts | 69% | No |
| 8 | Florida | 59% | Yes |
| 9 | Arkansas | 48% | Yes |
| 10 | Rhode Island | 70% | No |
Source: NYT/Author's annotations
With the exception of Florida, which I will return to in a moment, states with under 50% of their eligible population fully vaxxed all had post-vaccine era surges.
All of this further fits with my analysis in the post Oh, Look, Vaccinations Rates Matter.
If we return to the Washington Examiner piece, we find that it tries to use some data to make its case, but it does so incompletely, without much in the way of context, and with decided cherry-picking. The vaccination issue is a good example.
DeSantis has also been a vocal supporter of vaccination. His state's high vaccination rate — 78% of those eligible have received at least one dose of the vaccine and 98% of those over age 65 — reflects his efforts. But again, that hasn't stopped irresponsible speculation that he "flirts" with anti-vaccine opinions.
First, nice try by focusing on one shot and looking at older demographics. The reality, as noted, only 59% of the state is fully vaccinated. That means that the 12-65 age range is not especially well vaccinated.
Second, while it is true that DeSantis has told people to get vaccinated, it is also true that, as noted above, he issued an executive order banning vaccine requirements. While his defenders like to call him pro-vaccine, it is also the case that he sends mixed signals on the subject (such as his public fight with cruise lines over the issue). Further, his "don't Fauci my Florida" swag and his anti-mask rhetoric and policies all help fuel partisan behavior that downplays the threat of the virus and gets people sick, often to the point of death. To be stark: he does not just "flirt" with anti-vax opinions, he proactively has engaged in anti-vaccine policy.
As the delta variant spread, DeSantis was also criticized for shifting his emphasis toward treatments rather than vaccination. But that approach absolutely made sense. After all, with the growing number of delta infections, there were many more people than before who needed treatment. These people were sick and did not need a vaccination that would make them more resistant to the virus after multiple doses over several weeks. Vaccination is intended for people at risk of getting a disease, not for those currently suffering from it.
Indeed, so why is DeSantis opposed to vaccine requirements and passports if private entities want to impose them? Further, if vaccines indeed prevent infections (and therefore help avoid death) should not public health policies proactively require Covid vaccinations (as we have for any number of other deadly diseases?).
We would all be better off if COVID scolds stopped trying to make a deadly virus into a political issue.
Oh, the painful irony.
The issue is ultimately about which rhetorical and policy choices have led to fewer cases and less death. Also, we have to look not just at aggregate data, but population-adjusted data, and time is a key variable. Any analysis that fails to take these factors into account is either sloppy or simply unserious.