Oh, Look, Vaccinations Rates Matter
The evidence is pretty clear: vaccinations are key, not weather (but that won't stop people from trying to say otherwise).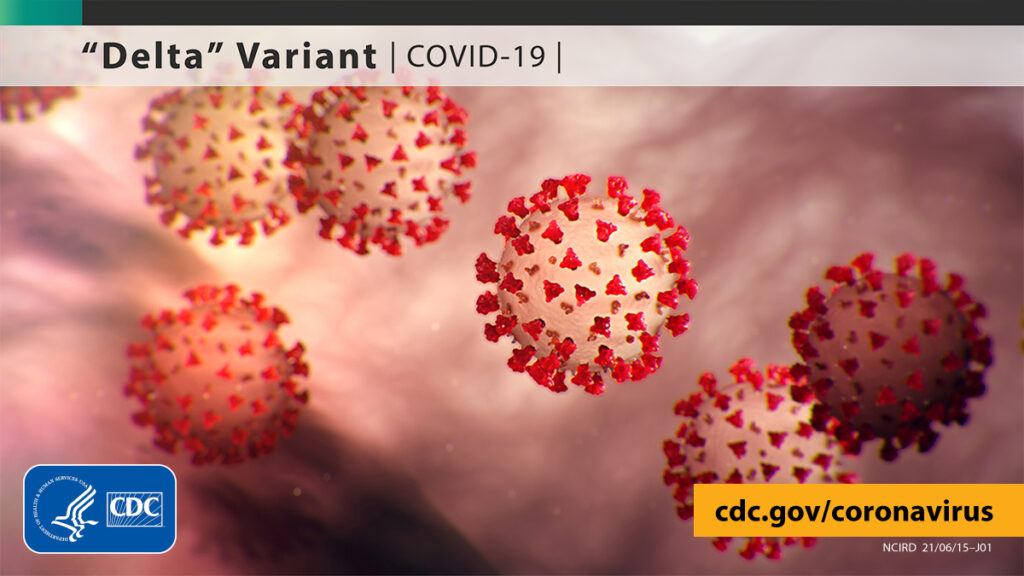 When a drive-by comment on a recent post from one of our less insightful commenters referenced the notion that Covid cases were increasing in some northern states, I figured that I was encountering a new right-wing media talking point (especially since it was so specific about Maine). Specifically, I suspected that the theory that problems of late with hospitalizations in southern states was a function of weather and not, as I have argued, poor policy choices by some governors (and the general anti-vaccine, anti-mitigation cues of a lot of Republican elites).
Along those lines came Indeed, Geraghty at NRO comes through with the following: Oh Look, COVID-19 Hospitalization Rates in the Northern States Are Increasing.
The piece is, I have to admit, more than a bit lazy. In the post, he notes a partial list of states ranked by growth rates of hospitalizations and number of hospitalization per 100,000, picks the top fifteen, and then says: See! They are in the north!.
Now to be clear, I have never said, nor has anyone of consequence of whom I am aware said, that there is zero seasonality to infections nor was the claim made that only southern states would get a surge (it feels like this latter point is an emerging false narrative).
I would also note that as I pointed out recently there is evidence of far more than some regional difference going on here that could be attributable to weather. Indeed, the evidence continues to be that vaccination rates are the most significant variable, which has been linked clearly to partisanship and elite cues (and elite-level policy choices).
Nonetheless, Geraghty tries to obfuscate all of this:
Some of these states have Republican governors, some of them have Democratic governors. Some of these states have big cities, and some are more rural. Some of these states enacted stricter regulations because of the pandemic, and some have looser ones. So what do all of these 15 states have in common? They're all in the northern half of the country.

[…]

A lot of commentators seemed to relish making a moral judgment about the southern states that saw cases and hospitalizations rising dramatically in late summer. Indeed, southern states generally had lower vaccination rates, although those rates are slowly inching up, week by week.
But Geraghty, in his haste to make what he thinks is a great point, looks too much at the hospitalization growth rates and not at the actual number of people in the hospital.
So, here are the top 15 by rate of growth of hospitalizations over the last two weeks:
| | | |
| --- | --- | --- |
| 1 | Maine | 22% |
| 2 | Pennsylvania | 19% |
| 3 | North Dakota | 18% |
| 4 | Montana | 17% |
| 5 | Vermont | 17% |
| 6 | West Virginia | 16% |
| 7 | Minnesota | 11% |
| 8 | Wisconsin | 11% |
| 9 | Michigan | 10% |
| 10 | Idaho | 9% |
| 11 | Iowa | 9% |
| 12 | Ohio | 9% |
| 13 | Rhode Island | 8% |
| 14 | New Hampshire | 6% |
| 15 | Wyoming | 5% |
It is further true that 19 states have increasing hospitalization rates at the moment, while the remaining states have decreasing rates. It is further true that the states that are increasing are all northern, broadly defined (although if VA is a southern state, isn't WV also?).
That this highly contagious disease is spreading is not surprising, nor is it surprising it is spreading now that school is fully in swing (and start dates vary regionally). The real question is going to be not growth rates alone, but how many people are in the hospital and how many of those people die comparatively.
I took the top fifteen and sorted by hospitalizations per 100,000 to give us a sense of not just where growth is taking place, but how severe the pandemic is per state. I also added in the vaccination rate (source) and the share of the 2020 Trump vote in that state (source). I color-coded the states appropriately and sorted on hospitalizations per 100,000. The results should not be surprising to anyone who has been paying attention.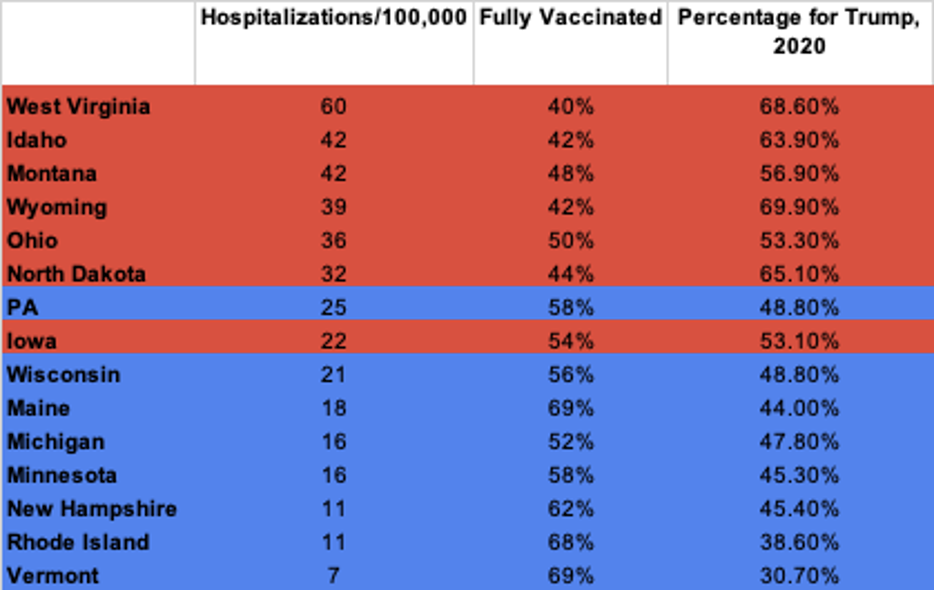 Weirdly, being a highly vaccinated state correlates to substantially fewer actual people in the hospital. So, yes, Maine is number 1 in increased hospitalizations over the last two weeks (+22%) and Wyoming is 15th (+5%), but Wyoming has over twice the number of persons in the hospital as adjusted for population.
Note, especially, that the highly vaccinated, very much northern states of New England have far, far better numbers in terms of actually hospitalized persons versus similar stats for lower vaccinated, also pretty northern states.
BTW, if one goes down the list of states as ranked by changes in hospitalization, one finds states in the north. Massachusetts is -14% with only 7/100,000 in the hospital (Washington and Oregon have decreasing rates as well). All "northern" and also all blue states with higher vax rates.
It is also true that a lot of southern states are seeing decreases in hospitalization, but sadly still have high numbers in the hospital (just not as high as they were). Mississippi had the biggest decrease in hospitalizations over the last two weeks (-40%) but has 25/100,000 in the hospital still. Vermont may be in the top five in increases in hospitalization but is only has 7/100,000 currently hospitalized.
Here's the whole country by current hospitalizations/100,000 and their vote-share for Trump in 2020:

If you are playing the "look at the north game" you really need to explain the bottom eight, in particular, a lot better. For that matter, why are southern New Mexico and sunny California in the bottom 13? (And why are the bottom 13 all blue states?). Why are the top states almost all red?
What could be the difference?
Look, I understand these numbers are not all 100% comparable because the surges, peaks, and declines of the disease are not uniformly happening in all places at the same time. It will take more sophisticated analysis and more complete data to fully understand the impact of policies and yes, weather and things like the school calendar, to see how the disease spread and what helped fuel spread and what helped mitigate it. For example, it would be helpful to be able to sync up when K-12 started across all the states and see when surges began.
Having said all of that, the evidence of the role played by vaccinations seems pretty clear at the moment (and it seems incredibly unlikely that that will change). I expect, too, that we will find other mitigation policies (like masking) also were relevant.
The partisan pattern is pretty clear. A quick calculation yesterday suggested an amazingly strong negative relationship between voting for Trump and being vaccinated (which one can even eyeball–and is something that many people have already noted). Since concentration of voting for a candidate is, by definition, a geographic variable, it stands to reason that states with higher Trump votes, and therefore lower vax rates would have worse case counts, more hospitalizations, and more death. Since southern states are almost uniformly Trump-voting, this is likely why we have seen what we have seen in terms of results, not because of the weather.
Vaccination made it possible for people to opt-out of increased immunity. The people making that choice are not randomly distributed around the country. Rather, while they can exist in any given state, they are clustered in states that voted for Trump. This is because there is a clear correlation between Trump voting and lack of vaccination (for reasons I have discussed in various places). Those people are largely, but not exclusively in the south.
Ergo, the hypothesis is that weather and seasonablity are not the reasons for the hospitalizations and deaths that we have seen in the deep south over the last couple of months. Rather, it is about vaccination rates as linked to partisan politics.
Now, if different evidence emerges, I will change my position (you, because science). But, to date, the evidence is incredibly strong that vaccination prevents severe disease and death. And, unfortunately, the evidence also suggests that partisanship is a major determinant of who gets vaccinated.
Ultimately the issue is going to be how many people die based on vaccination status. Again, to date, most of the people dying are unvaccinated.
Politics and policy matter.
And people who want to divert attention away from these facts need to ask themselves why they are more interested in scoring partisan points than they are in saving the health and lives of their fellow Americans.
---
See, also: