The Consequences of Partisanship
Politics is not a game.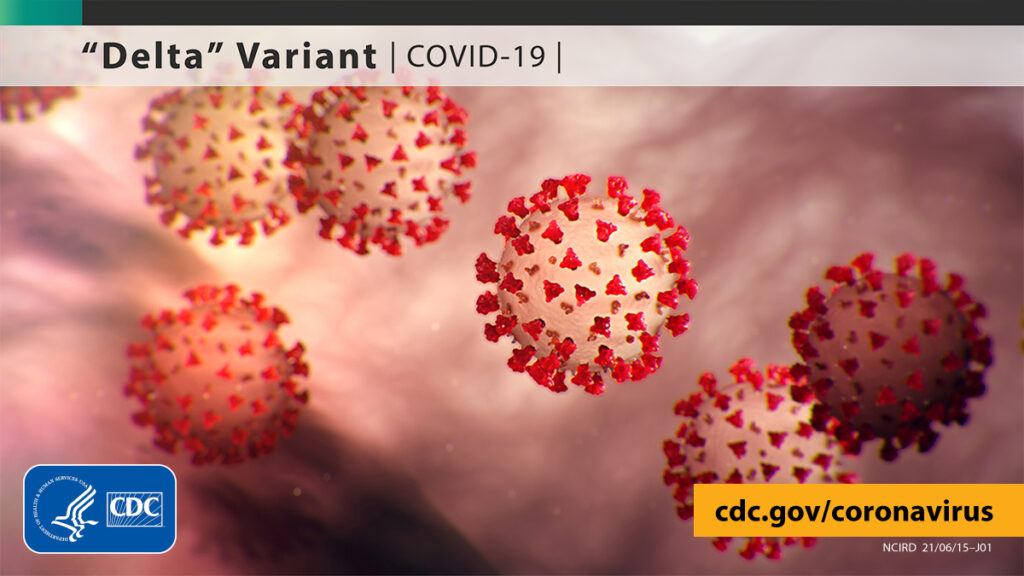 David Leonhardt in the NYT has a pretty stark set of numbers that shows the consequences of politics and partisanship in the era of Covid-19: Red Covid.
During the early months of Covid-19 vaccinations, several major demographic groups lagged in receiving shots, including Black Americans, Latino Americans and Republican voters.

More recently, the racial gaps — while still existing — have narrowed. The partisan gap, however, continues to be enormous. A Pew Research Center poll last month found that 86 percent of Democratic voters had received at least one shot, compared with 60 percent of Republican voters.
There are several graphs to illustrate this fact, but I will share these two and recommend the whole piece.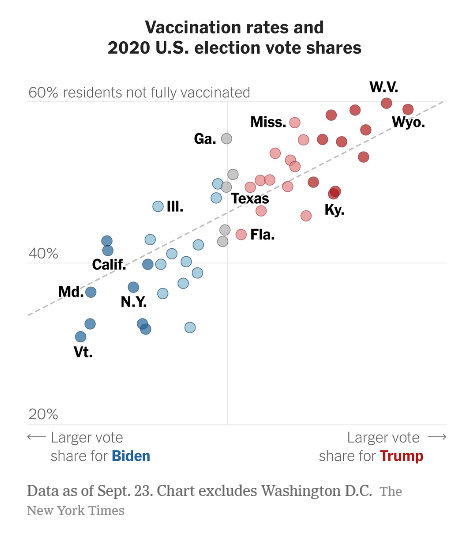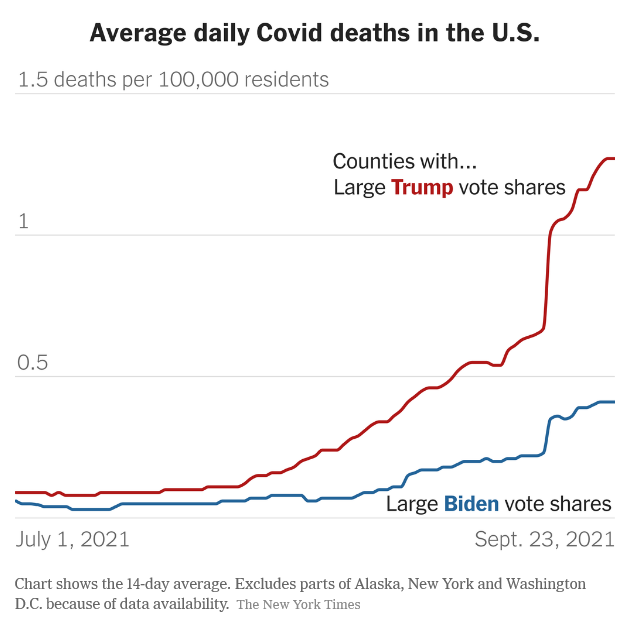 All of which reminded me of this from the Ezra Klein Show a few weeks ago:
Seth Masket, a political scientist, he put out this incredible finding to me, which is — and I'm quoting him here — that "vaccination rates are a better predictor of the 2020 election than the 2000 election is. That is, if you want to know how a state voted in 2020, you can get more information from knowing its current vaccination rate than from knowing how it voted 20 years ago," unquote.
To help illustrate all of this is a story from Morning Edition this morning about Arizona's governor offering money to parents who want to send their kids to schools without mask mandates (Critics Blast Arizona's School Voucher Offer As A Way To Avoid Mask Mandates). I was struck first that this is just another way that a GOP politician is signaling that public health attempts to mitigate spreading a contagious disease are just politics and not, you know, about saving lives and keeping people well. I was further struck by a mother who was interviewed who was upset that her choice about masking was taken away by her local school. There was no reason given for her not wanting her child to wear a mask, but instead, it was framed simply as a personal choice (and the governor was coming to her rescue, to empower her family to send her child to a school not engaged in infection mitigation–hooray for freedom!).
Every politician, media personality, and attention-seeker who has made vaccines and masks into political statements is responsible for the increased deaths in that second chart above. There is just no way around that fact.