Vaccines v. Monoclonal Antibodies
The difference is politics, not reason.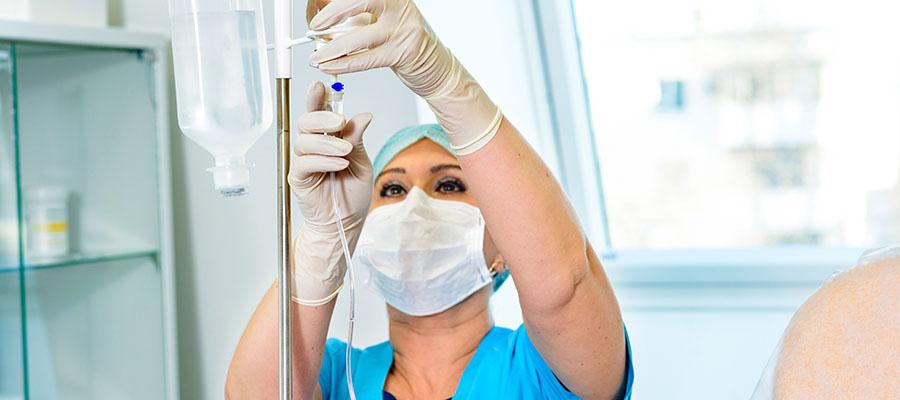 Before the pandemic, I used to joke that by 2030 all political science dissertations would be about either Donald Trump or Brexit. Clearly, a to of them now will be about the pandemic (which overlaps substantially with the Trump category). All quippiness aside, the pandemic has clearly illustrated the power of political identity and the role of elite signals to the masses and will provide a substantial amount of fodder for future study. For example, the evidence is extremely strong that substantial amounts of vaccine and masking opposition are directly linked to political identity and, further, to the signals that Donald Trump sent about the pandemic from the very beginning. He helped cast doubt on the nature of the pandemic, on mitigation practices like masking and distancing, and was not a zealous advocate for vaccinations. He, and others in his party, have fueled doubt and distrust over what should be straightforward public health policies.
However, it is should be noted that he spoke highly of the Regeneron monoclonal antibody treatment he received when was infected (and other Republicans, like Ron DeSantis, as well as right-wing commentators, have touted the treatment–as discussed here and here).
All of this leads into this NYT piece: They Shunned Covid Vaccines but Embraced Antibody Treatment.
Vaccine-resistant Americans are turning to the treatment with a zeal that has, at times, mystified their doctors, chasing down lengthy infusions after rejecting vaccines that cost one-hundredth as much. Orders have exploded so quickly this summer — to 168,000 doses per week in late August, up from 27,000 in July — that the Biden administration warned states this week of a dwindling national supply.
As the piece note, the infusions are arguably more experimental than the vaccines (undercutting any "they rushed the shots" logic). Further, there is no particular reason to assume that the vaccines might have some long-term, unknown consequence but that the infusions won't.
And yet, millions eschew the vaccines, but,
Amid a din of antivaccine falsehoods, monoclonal antibodies have become the rare coronavirus medicine to achieve near-universal acceptance. Championed by mainstream doctors and conservative radio hosts alike, the infusions have kept the country's death toll — 2,000 per day and climbing — from soaring even higher.
Indeed, the response to the infusion treatment tracks more with what might be considered "normal" public responses to health crises, which is to say trusting what medical experts assert is proper action.
There may be some psychological aspects of all of this wherein people are more predisposed to being willing to take treatment over preventative actions. For example, getting the shots and not getting sick is different from getting sick and then getting cured (or even just being made better). Prevention that leads to no infection looks a lot like no vaccine and avoiding infection while getting sick and then getting a treatment that make one feel better is more concrete.
One factor driving the demand is that many patients, including vaccine skeptics, have been spreading the word about their seemingly miraculous recoveries.

"They're like, 'I have Covid, I want this treatment, my friend or family told me about this,'" said Jennifer Berry, the Houston Methodist nursing director of infusion services. "Now the word is out."
I think that the main driver here is a mass response to elite cues. After all, no state is passing anti-infusion laws or carrying on about how Regeneron is taking away your liberty. But there is plenty of elite-level signaling against vaccines.
"The people you love, you trust, nobody said anything negative about it," Mr. Jones said of the antibody treatment. "And I've heard nothing but negative things about the side effects of the vaccine and how quickly it was developed.
And to demonstrate the illogic of the situation, Jones was anti-vaccine, got the disease, was treated with the infusion, and is still anti-vaccine (because the vaccine, like the treatment, was recently developed):
"If I can go get an infusion and feel as good as I do right now, man, I'd rather not take a vaccine that has just been developed," he said. "That makes me nervous, still."
Sigh.
And look, I am more than pleased that we are developing treatments for this disease. Indeed, in just the last couple of weeks, a close family friend and a member of my family had breakthrough cases and were treated with monoclonal antibodies, for which I am quite grateful. Similarly, an older couple that I know were infected pre-vaccine, and while one spouse received the infusion and recovered, the other did not want to go to the doctor and consequently was in-and-out of the hospital for weeks and now has permanent kidney damage. So, I have personal anecdotes that line up with the broader data that exists about these treatments.
The role of political identity as linked to elite cues has clearly been an issue of significance throughout the Trump era (or, at least, it has gathered significance and centrality in discussions of American politics). I think that national responses to Covid vaccinations help illustrate this fact and the disjuncture between anti-vaccination rhetoric and behavior v. pro-monoclonal antibodies add additional evidence to this contention.
To be clear: the point is while we might like it to be the case that the order of causation is that facts/evidence/information leads to policy preferences leads to party affiliation, the reality is that we (yes, that includes all of us) often let party affiliation lead to policy preferences which then leads us to decide which facts/evidence/information we will take seriously. This is partisanship in a nutshell.
This makes me think about an interview on the Ezra Klein Show with political scientist Lilianna Mason (whose work I hope to discuss further soon):
And I think one of the most lethal things that Trump did was politicize it [the virus], and say it's just happening in blue cities, right, let them rot, leave them there. So I think it was this sort of long journey, where Trump politicized the virus, and then all of the things that were used to try to stop the virus became connected to other identities within the Republican Party. And then at that point, it's over.
And:
I mean, we have states where Republican leaders are prohibiting schools from requiring masks. It's not even vaccines. They aren't taking vaccines because they're too young. They're prohibiting schools from requiring masks, which puts kids in danger. There just must be some justification system going on, right, where it's like, it's child abuse to put a kid in a mask because they're going to be breathing in carbon dioxide, or whatever the argument is.

But it really does demonstrate not only sort of like this extreme power of identity defensiveness to guide behavior, but also, I think, a really horrifying level of cynicism from leaders, who are definitely taking advantage of this. They know that they can use these identity- defensive feelings to get whatever policy they want, and they're doing it to put children in danger, for no — I mean, I still don't really fully understand what it does for these leaders to do this. But I think it is extraordinarily cynical. It is absolutely taking advantage of all of the worst parts of how identities can affect politics. It's literally killing people, and for the party.
This really speaks to a feedback loop wherein elites see the masses respond to specific rhetorical stimulus, and the elites then reinforce the position for cynical political gain. People can far more easily be mobilized based on partisan identity than they can on evidence (especially in the context of ongoing misinformation in niche media). As she noted elsewhere in the interview:
there's just so much intentional misinformation that people have been given. And most of the people who tell you that they're not getting vaccinated are giving you reasons that are just completely false things, but they believe them, and they just read them on Facebook, right? So there's a lot of kind of — it's related to partisanship, but it's also just kind of right-wing conspiracy theory stuff that's driving some of this. And if they really believed that they were going to die from Covid if they didn't get the vaccine and the vaccine was actually safe, then they would probably take it. There some misinformation going on with those decisions.