Ivermectin and Irresponsible Infotainment
Sound decisions require sound reporting.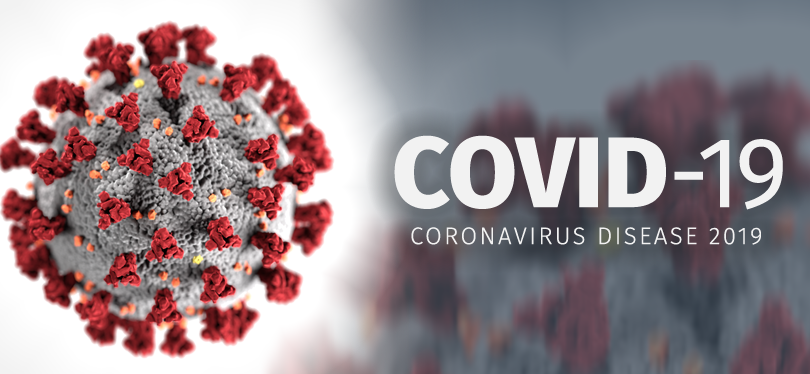 So, yesterday I noticed the following circulating on Twitter (from the MSDH's FB page):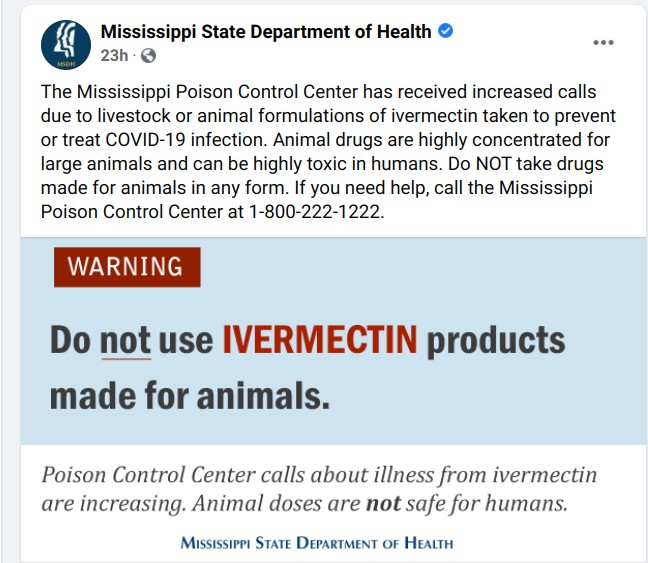 Details here via ABC News: Mississippi officials warn against using livestock ivermectin to prevent COVID-19 after rise in poison control calls.
I have been aware that some people have been promoting, and others taking, ivermectin as a treatment (or an alleged preventative?) for Covid-19. Not surprisingly, veterinary-grade medications intended for use as a dewormer for horses aren't something one ought to self-medicate with.
Like hydroxychloroquine before it, a bunch of people decided that some vague news acquired via social media or somesuch trumps global medical science.
To wit, via Health Feedback: Video shared by Sebastian Gorka Facebook page shows nurse making false and unsubstantiated claims about ivermectin, COVID-19 PCR tests, and COVID-19 vaccine safety
On 13 August 2021, the Facebook page "America First With Dr. Sebastian Gorka" published a video of nurse Nicole Whitley, who made several claims about ivermectin, COVID-19 vaccine safety, and the COVID-19 PCR tests. Sebastian Gorka is a military and intelligence analyst who served as Deputy Assistant to the President during the Trump administration.

The video was also shared on Rumble by a channel bearing the same name as the Facebook group and on Instagram by mixed martial artist Mitch Aguiar. All in all, copies of the video received more than 2 million views.

The claims made by Whitley were debunked in earlier fact-checks by both Health Feedback and other fact-checkers, as we show below.
While I understand the desire for a cheap, miraculous cure, I simply do not understand the propensity of some people to be more willing to trust some random video than established medical science. It is especially baffling since it is likely that there is some overlap between people who don't trust the vaccine because it is "experimental" and yet were willing to ingest hydroxychloroquine or ivermectin because, well, they saw a video on Rumble.
The notion of snake oil salesmen and the "patent medicines" rage of the late 19th/early 20th centuries comes to mind. Plus, even in our allegedly more enlightened times, people will buy supposed medications and supplements that promise to do all kinds of things, but that has no actual scientific backing. But taking echinacea (to pick a fairly benign example) because you think it will lessen the severity of the common cold (even if there is no evidence that it does) is a lot different than taking horse meds because some random nurse as promoted by a talk show host told you so.
And yet,
And it isn't just Gorka's social media accounts, it is Fox News more broadly. Here is an FNC headline from July: Biologist to Tucker: If Ivermectin proven effective against COVID, it moots vaccine push.
Well, sure, if some other thing is shown to be effective it would change the approach to treatment (although it still wouldn't necessarily blunt the vaccine push, since treatment and prevention are two different things).
The linked piece tells us:
An evolutionary biologist claimed Friday that, should the anti-malarial drug Ivermectin be proven effective against the coronavirus, it would moot the usage of and potentially the ability to administer the U.S. coronavirus vaccines currently active under the Food & Drug Administration's Emergency Use Authorization.

Bret Weinstein – who previously made headlines after being pressured out of his biology professorship at Evergreen State College in Washington State for criticizing an anti-White "day-of-absence" – told Fox Nation's "Tucker Carlson Today" that he has been analyzing the vaccines, and has summarily been censored for raising concerns about the shots and the medical establishment's opposition to alternative treatments.

"[I]f Ivermectin is what those of us who have looked at the evidence think it is … then the debate about the vaccines would be over by definition, because the vaccines that we have so far were granted emergency use authorization," Weinstein said, noting that the coronavirus vaccines are not formally "approved" treatments by the FDA and instead administered under the rarely-delineated category of EUA.
(Side note: how is it that with Tucker race always figures in somehow?)
I have to ask: in what way is Weinstein, "analyzing the vaccines"? As noted, he is an evolutionary biologist and, as best as I can tell, none of his research has anything to do with vaccines.
If one reads further, he really isn't even addressing the efficacy of the vaccine, but rather the conditions for EUA. (Note that on Monday the FDA is expected to move the Pfizer vaccine off of EUA to fully approve status). All of that is about treating vaccinations as some political ploy than an actual public health policy (all of which, in addition to touting an unproven and potentially dangerous treatment empowers vaccine hesitancy).
Sean Hannity was likewise discussing ivermectin as a viable choice on his FNC show on August 3rd:
We're also going to discuss something often overlooked and that is the incredible therapeutics that are now being used to treat not just breakthrough cases, but all cases. That includes, yes, the monoclonal cocktail known as Regeneron, the Eli Lilly version of Regeneron. Even, yes, hydroxychloroquine, ivermectin. You get to decide.
There is a conversation that discussed ivermectin later in the transcript that I will not excerpt here. Why he feels the need to include a known, efficacious therapeutic, Regeneron, alongside hydroxychloroquine and ivermectin, I do not understand. But, hey, you get to decide! (And if you decide poorly, you might find yourself hospitalized).
Look, if there are sound reasons to experiment with hydroxychloroquine and ivermectin, that's fine. I am neither a biologist nor a chemist. But I understand the basic ways in which science works and chatting about things on a talk show is not the basis to decide which drugs to take.
All of this is a reminder that Gorka, Carlson, Hannity, and their ilk are entertainers who really don't care about accuracy. Truly scientific discussions are dry and boring, and dry and boring do not extract eyeballs.
I have noted in the past that elite cues matter. Imagine if Gorka and friends had been encouraging vaccinations from the beginning rather than playing these games.
One of the more naive things I believed, even into my early thirties, was that the expansion of the media market away from the limited choices that existed in my youth (i.e., a handful of channels, one or two local papers, etc.) would lead to more and better information. But that assumed that the demand that drove supply was for good information, but of course, that is not the case. The market that exists is to be entertained by our "news" and to have that "news" confirm our positions, not to be informed. There are people who want good, accurate news, but they are not the main drivers of mass markets.
These guys are all rewarded with big paychecks for their irresponsible behavior and, therefore, they have no incentive to be anything other than irresponsible. And so we find ourselves in a world wherein some not insignificant number of people will refuse to take the vaccines because the "news" has made them doubtful. And, worse, some number will take medicine intended for farm animals because Hannity told them he was just reporting, and they could then decide.