DeSantis: No Mask Mandates in Florida
His executive order blocks schools from having masking rules.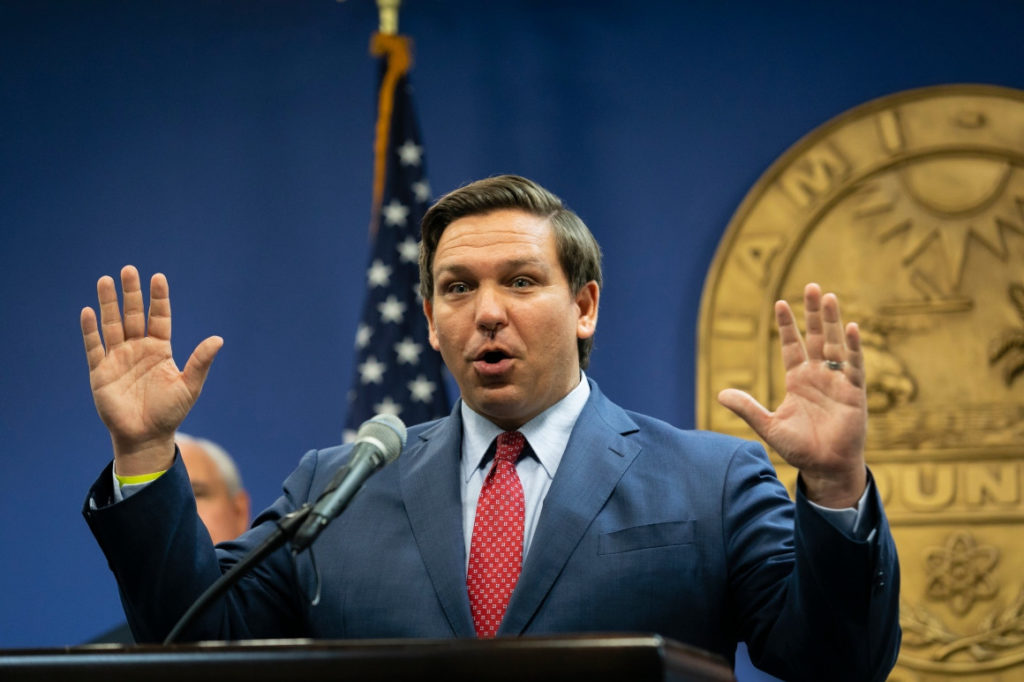 As he seeks to boost his chances to win the 2024 Republican nomination for the presidency (and demonstrating why there will be no vaccine passports rules in this country, let alone mandates), Florida Governor Ron DeSantis has issued an executive order banning local authorities in Florida from issuing mask mandates. Reuters reports: Florida governor blocks school mask mandates, says parents can choose.
Florida Governor Ron DeSantis issued an executive order on Friday blocking mask mandates in the state's schools, saying parents had the right to decide if their children would wear face coverings. 

The move by DeSantis, a Republican who has opposed strict COVID-19 rules on residents and businesses, overrules a requirement by two Florida counties, Broward and Gadsen, that students cover their faces when they return to class next month. 

"In Florida, there will be no lockdowns, there will be no school closures, there will be no restrictions and no mandates in the state of Florida," DeSantis said in announcing his executive order during a speech in southwest Cape Coral. 
I understand that wearing masks is no fun (especially in Florida in the summer). I understand the general principle of personal responsibility. I further understand the appeal of freedom as a generalized principle.
But, this is ridiculous behavior.
Starting school means filling up rooms with people. People who will not be distanced and who will be breathing the same air for extended periods. If the room is full of kids under 12, that means the only potentially vaccinated person in the room is the teacher (and that is not guaranteed).
According to data from CDC posted by the NYT, Florida has 58.6% of its population fully vaccinated, which is above the national average of 49.4% but that still means a lot of unvaccinated people are out there. Further, Gadsen County, one of the two Flordia counties that had already issued a mask mandate, has a fully vaccinated rate of only 41% and Broward is at 52%.
The problem here remains that this is not about personal choice and personal consequences. If it was the case that not wearing a mask only endangered the person not wearing the mask, then fine, let this be about personal choice.
But this is not the case.
We know that the asymptomatic can spread the disease. We know that masks decrease the chances of transmission to others and lessens the chances of clusters of infection.
It is simply not always true that rights are solely individual and that freedom should be understood solely as the sum of all the individual rights of the citizens. Your freedom to drive on the left side of the road, because it is your personal choice to drive the wrong way, can have some serious consequences for the rest of us. We make rules that curtail individual freedoms for the sake of collective safety all the time.
DeSantis' raw ambition and cynicism here is stunning. He is willing to foster false narratives about personal responsibility in a way that is going to increase the chances his constituents get sick because he thinks it will boost his odds of nomination.
That is, not to be too technical about it, just gross.
Jesus of Nazareth stated in the gospel of John (5:13), "Greater love has no one than this: to lay down one's life for one's friends."
But, I guess, wearing a mask in the hopes of preventing your friends from catching a potentially fatal disease is just too much to ask.

And in case anyone is counting, we will surpass 630,000 deaths from this disease in the next couple of days. And every death at this point is almost certainly one that could have been prevented by widely available, free vaccines.
I can stomach governors not installing statewide mandates at the moment and letting localities decide, although I would prefer decisive statewide leadership on this issue. But actively blocking localities from making these choices is, in my view, indefensible.