More Capitol Riot Sentencing
A woman who declared "Civil War is coming" and "they have to kill me" has asked for and received leniency.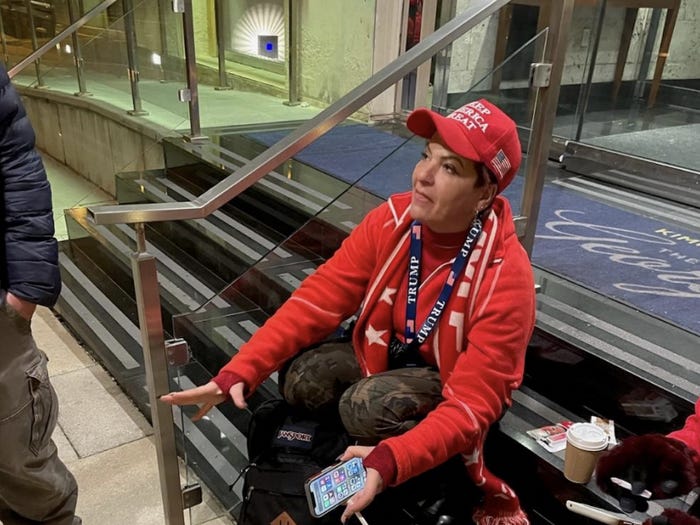 Yesterday, I noted the disparate sentencing of Capitol rioters, with some whose crimes appeared comparatively minor receiving harsher sentences than more serious offenders based on the whims of judges. Business Insider ("A Capitol rioter who declared 'Civil War is coming' just avoided the prison sentence prosecutors wanted") provides another curious case.
A New Jersey woman who declared "Civil War is coming" just days after January 6 was sentenced to two months of home confinement Tuesday, avoiding the month-long prison term that prosecutors had requested for her role in the Capitol attack.

Judge Carl Nichols handed down the sentence during a virtual hearing where the woman, Rasha Abual-Ragheb, pleaded for leniency and said her conduct was motivated by a legitimate belief that her vote was not counted in the 2020 presidential election. Nichols, a 2019 appointee to the federal trial court in Washington, DC, described Abual-Ragheb as "relatively mild in comparison to others" and noted she "showed up in a tutu, not — as many did — in military gear."
So, the astute OTB reader—and, really, is there any other kind?—will immediately note that Nichols is a Trump appointee and wonder if this is some MAGA self-dealing. But, if so, he's playing it well.
Still, Nichols said he was troubled by her social media posts, in which she "predicted if not hoped for civil war and violence." The judge said the January 6 attack was not an "ordinary violent riot" but one that interrupted a tradition of peaceful handing off of power dating back to former President George Washington. "Being part of a violent riot is unacceptable at all times, especially it's such a sensitive time for our nation," he said.
While these words would have seemed pro forma not all that long ago, they're fighting words in MAGA Country.
Abual-Ragheb pleaded guilty in August to a single misdemeanor charge — parading, demonstrating or picketing in the Capitol — carrying a maximum sentence of six months in prison. In addition to her two months of home confinement, her sentence included three years of probation and a $500 fine.
Granting that I am not an attorney, I believe that I read somewhere that peaceably assembling and petitioning the government for a redress of grievances was a thing we allowed in America. How "parading, demonstrating or picketing in the Capitol" could be a crime punishable by six months in prison is rather a mystery.
Now, she actually went inside the Capitol during a riot. Which should absolutely be a crime! But it's weird that a lesser crime that shouldn't be a crime exists. Maybe there's a missing "without a permit" or some such? But even then, absent a failure to disburse upon lawful order of peace officers, one wouldn't think it would be a jailable offense.
During a nearly 90-minute virtual hearing, federal prosecutor Michael Liebman highlighted social media posts in which Abual-Ragheb put her political advocacy in starkly violent terms. After her home state of New Jersey went to now-President Joe Biden by a wide margin, she wrote on Facebook, "I won't stop. They have to kill me."

Later she invoked the year 1776, a "direct reference for the need, in her view, for violence," Liebman said. And as Congress' certification of the presidential election results drew near, she posted on Facebook that she was coming to Washington, DC, with "toys" — referring to a Taser — and encouraged others to bring firearms.

"The intent she had, her purpose, and the fact that it was done with thousands of others, merits — in the government's view —  a brief period of incarceration of 30 days," Liebman said.
Either the reporting here is just awful or something just doesn't make sense here. People are free to rant on social media.
In court filings, prosecutors featured social media posts in which Abual-Ragheb lamented the pro-Trump mob's treatment at the hands of law enforcement. Days after January 6, she posted on social media, "Civil War is coming and I will be happy to be a part of it."

Abual-Ragheb appeared to grow emotion in the virtual hearing, which the public could hear through teleconference. In brief remarks to Nichols, she said, "I never intended to cause any harm or violence."

Her defense lawyer, Elita Amato, stressed that Abual-Ragheb was inside the Capitol for only about two minutes and did not cause any damage or commit any acts of violence.

"Her actions were of a person who came not to cause havoc and not to be violent … but someone who came just to rally and protest," Amato said.

"In terms of things that she wrote, either before or after, she recognizes that many of them were stupid," the defense lawyer added.

Nichols said it was not appropriate to "infer the very worst intentions" behind the social media posts, and he sympathized with Abual-Ragheb's assertion that she has a limited grasp of English.

"I don't think it's reasonable to conclude she was planning to be an active participant in a civil war," he said.
The juxtaposition of violent shit-posting after the event and her current claims that she never intended harm or violence certainly casts doubt on her sincerity. But predicting a civil war—and even encouraging people to fight in one—isn't necessarily a crime. It doesn't sound like she was a participant in any meaningful sense in a conspiracy and the circumstances wouldn't seem to support an incitement charge. (To return to a topic of periodic conversation here over the years, it's noteworthy that these actions may well be a crime in other Western democracies, including the UK and Canada. But our 1st Amendment has been interpreted in a maximalist way.)
I have no way to know for sure what she was planning or thinking when she arrived at the Capitol. She was certainly angry and amenable to be goaded into participating in a riot. But, even with others around her committing acts of mayhem and destruction, she did not. Really, she just sounds like a confused woman who got caught up in the conspiracy hype fomented by Trump and his accomplices in the Republican Party and the right-wing media.
Oddly, according to various other media reports, she escaped the Lebanese civil war as a child and has been living in the United States for 21 years. You would think she would therefore have an above-average understanding of the awfulness of domestic strife and reverence for the institutions of democracy.