January 6th Yeah But-ism
Yes the riots were a disgrace but the Democrats . . . .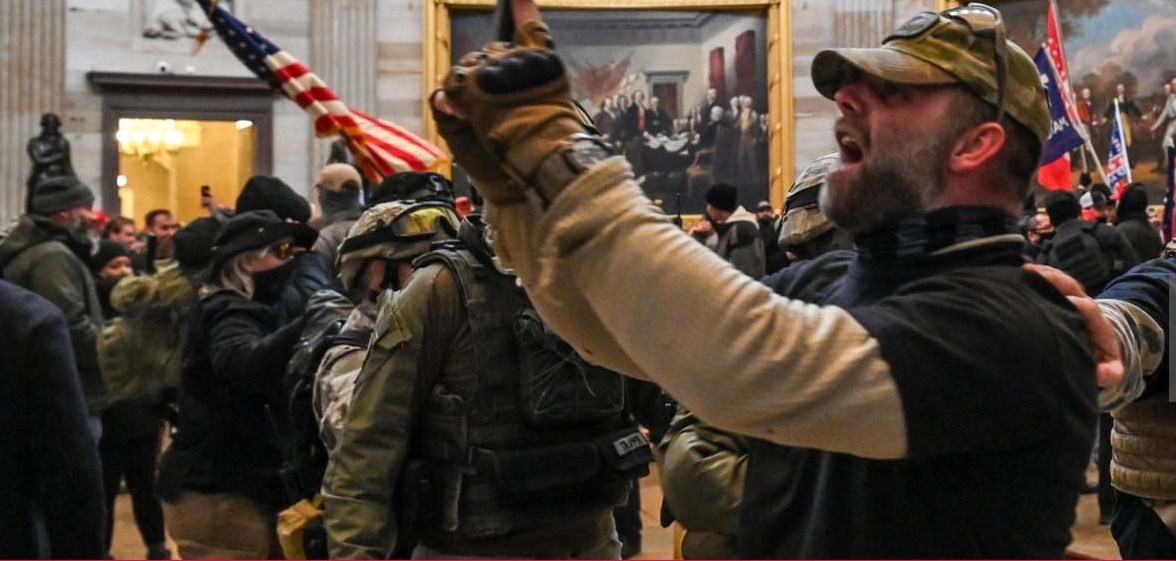 Quite a few conservative sites are, to varying degrees, trying to have it both ways on the Capitol Riot: condemning the violence but also saying Democrats are making too big a deal about what happened. And I'm not talking about the usual suspects, either.
Townhall's Guy Benson ("Reflections on January 6, 2021″) comes the closest of the non-NeverTrumpers to being unequivocal:
The Capitol riot of 2021 was a national disgrace that must never be allowed to happen again. It was not merely an over-the-top protest. It was not a tourist gathering that went a bit haywire. It was a violent and chaotic effort to derail the constitutional process of certifying the 2020 electoral college vote. It was an attempt to disrupt a core element of America's sacred tradition of peacefully transferring power. Those who broke the law, especially those who savagely assaulted police officers and engaged in other forms of violence, are being held accountable. They should be. They are criminals (who are, of course, entitled to due process). They were inspired to commit their criminal acts by a series of lies about the 2020 election – namely, that results in a number of states were illegitimate, fraudulent, or rigged. This was and is false. Joe Biden won the 2020 election. He carried every state awarded to him in the formal electoral count. Donald Trump lost. Trump could not countenance a loss, so he cried foul, without substantiation, over and over again. He and some of his most reckless supporters repeatedly advanced claims in the public square that his own attorneys could not even come close to establishing in court. 

These fantasies continued on January 6 itself, at a rally the soon-to-be-former president convened to amplify his conspiratorial grievances. The date was not chosen by accident. It was selected to coincide with the counting of the electoral votes on Capitol Hill (usually a formality), and to heap more pressure upon Vice President Mike Pence, whom Trump had lobbied to violate his oath by indulging a wild and cockamamie legal theory under which a lone constitutional officer could somehow freeze or help overturn election results. The vice president rightly refused. Trump publicly lambasted Pence for his honorable decision, even while the vice president was potentially in harm's way, and some of the rioters infamously reacted by chanting their desire to assassinate Pence by hanging. The president reportedly watched the hours-long spasm of violence on television, transfixed. His public admonitions urging peace were delayed, belated, and qualified, despite a deluge of desperate requests from political allies begging him to forcefully demand an immediate end to the havoc his lies helped unleash. Eventually, order was restored, and the constitution prevailed. The vote counting proceeded. Our institutions held. But they were strained from within by a mob whipped up by powerful people, including the president himself. Again, a national disgrace that must never be allowed to happen again. 
That's powerful and, I believe, sincere. But why muddy the waters with this?
January 6 is not the most important story in the country, which might come as news to consumers of various media outlets that have been treating it as such for months. There is a fixation on this event, and on the former president generally, that is plainly driven by ratings, clicks, and fan service, not news judgment. Outlets across the spectrum are guilty of this phenomenon, of course – and in some ways, that's a fixture of our political media landscape. It's reality. But the obsession with 1/6 has been particularly outsized among certain left-leaning news organizations who've hyped it relentlessly. It's also worth noting that some of these same outlets have exhibited rather different standards on other election- and democracy-related lies, from Stacey Abrams' outrageous claims in Georgia (embraced or flattered by nearly every leading Democrat in the country) to wild-eyed rants about the supposed illegitimacy of the Trump's 2016 election (a widely-held belief among Democratic partisans) to hyperbolic declarations that American democracy will die if election results go the "wrong" way. 
This is all nonsense.
Yes, Abrams has been lionized by her claims that the election was stolen from her. It was not. But she has a hell of a lot better argument than Trump: her Republican opponent, who happened to also be the state's chief election official, used every trick in the book to purge Black voters from the ranks of registered voters and used other chicanery to boost his chances of winning. It just happens that Georgia also makes it really easy to re-register to vote, right up until election day, and Abrams and the Democratic machine did an excellent job of getting people re-registered and out to vote. Further, while she refused to concede the legitimacy of the outcome or say that her opponent was the victor, as Steven Taylor points out, she conceded that he was going to take office as governor and that there was nothing she could do to prevent that. And, most importantly, she did not encourage her supporters to form a violent mob to steal the election.
I'm not sure a Fox News report about a rant by a co-host of The View is the best evidence of conspiracy theories about Russian interference in the 2016 election. But there's simply zero doubt that Russian operatives spread propaganda on Facebook and other outlets to damage Hillary Clinton and generally foment discord in the American populace. Still, most of the Democratic sense that the election was illegitimate springs from the fact that Clinton got 2 million more votes than Trump and still lost. It's about the fairness of the system itself.
Regardless, none of that has the slightest thing to do with the Capitol riots. Or with the fact that right-wing and white-supremacist violence is a real and growing concern.
The Washington Examiner Editorial Board ("The cult of Jan. 6") provides another example. Again, they start off well:
A year ago today, a mob determined to intimidate Vice President Mike Pence and Congress into delaying the certification of the 2020 presidential election descended upon the Capitol from the Ellipse, where President Donald Trump had falsely told them, "We won this election, and we won it by a landslide."

While not everyone who marched on the Capitol that day planned to commit violence, many did, as evinced by the hockey sticks, wrenches, and baseball bats seen throughout the crowd. When this violent element was met with completely justified and restrained resistance from law enforcement, a riot broke out. Over 140 law enforcement officers were injured, over $2 million in damage was done to the Capitol building, and one rioter was shot dead.

What happened at the Capitol on Jan. 6, 2021, was not a peaceful protest. The violence committed that day was absolutely criminal, which is why the arrests of over 700 rioters by the FBI are completely justified, as is their continued prosecution by the Department of Justice.
But we start to see the pivot here:
Congress has also already held dozens of hearings into the communication and leadership failures that happened leading up to and on Jan. 6. This is not an event that has been forgotten or swept under the rug. Those that committed violence are being held accountable, and law enforcement agencies have implemented reforms to make sure they are not caught outnumbered like that ever again.
And then it comes:
As damaging as the Capitol riot was, however, far too many on the Left are making it an obsession that inhibits rational thought. The New York Times editorial board, for example, apparently believes that "every day is Jan. 6 now."

"The Republic faces an existential threat from a movement that is openly contemptuous of democracy and has shown that it is willing to use violence to achieve its ends," The New York Times says of the Republican Party. The New York Times editors apparently forgot an entire summer of violence by left-wing rioters in dozens of cities, explicitly designed to bring about political change.

"Over the past year, Republican lawmakers in 41 states have been trying to advance the goals of the Jan. 6 rioters — not by breaking laws but by making them," The New York Times continues. "Thus the Capitol riot continues in statehouses across the country, in a bloodless, legalized form that no police officer can arrest and that no prosecutor can try in court."

And this is how The New York Times morphs the very real and deplorable violence of a few individuals on one day into a condemnation of almost half the country for merely participating in the civic process of legislation. Remember those chants of "lock her up"? That's what the New York Times editors are now saying about people who disagree with them on policy. "It's a shame we can't just lock them all up, lawmakers and governors included, because of something a few hundred completely unrelated people did a year ago."
So, this is just silly. Nowhere does the NYT claim that all or even a significant number of the 74 million Americans who voted for Donald Trump are violent extremists. They merely note that there are violent extremists who are mobilized to act again and that Republican lawmakers across the country are trying to make it harder for Democratic constituencies to vote. Now, conflating this with "January 6" and the violent attacks on the Capitol may be a bit overwrought. But the point is that the notion behind the riots—that the votes of Democrats, particularly nonwhite ones, are illegitimate—is being carried forward by the leadership of the Republican Party.
This belief that Jan. 6 is a prism through which the entire world must be understood shares many of the same characteristics as a cult. Cultists are said to have a low tolerance for ambiguity, a strong desire for absolute answers, and a pervasive "us vs. them" mentality. There is even an apocalyptic element thrown in when this "every day is Jan. 6 now" mentality is applied to future elections.
This is rather rich coming from the folks who endorsed Trump's re-election bid even while he was sowing the seeds for the Big Lie. If there's a cult in American politics, it's the people behind January 6, not those seeking to leverage it for political gain.
The strangest of the three that I highlight here, though, comes from The Editors at National Review ("Anniversary of a Disgrace"). Again, it starts strong:
On January 6, 2021, Mike Pence presided over a constitutionally mandated joint session of Congress to count the electoral votes. The Trump-Pence campaign disputed the 2020 results in election contests and in court, but by January 6, the legal options were exhausted. Each state government sent only a single slate of electors to be counted.

Under our Constitution and laws, nothing remained but to count the votes. Instead, an angry mob descended upon the Capitol to prevent that from happening. This will, and should, be remembered as a stain on the nation's history.

There is no defense for what the mob did that day. None. The people have a right to form loud, angry crowds to petition and protest their government. They need not do so in ways that are pleasant or polite. The "Stop the Steal" protesters who listened to the speeches and went home were exercising their rights as citizens.

But ours is a government of laws, not of men. A rule-of-law system has no place for physical intimidation or mobs obstructing the peaceful, constitutional transfer of power. The Founding Fathers feared few things more than mob rule. They created a federal district to avoid a repeat of a 1783 riot around the Continental Congress in Philadelphia.

There is also no defense of what Donald Trump did to summon the crowd, tell it that there remained any option but counting Biden's electoral victory, and urge the assemblage to march on the Capitol because "if we allow this group of people to illegally take over our country . . . you're not going to have a country anymore." Trump's recklessness disgraced the office of the presidency.

Additionally, there is no defense of Trump's pressuring Pence to take unilateral, unlawful action against the counting of electoral votes, then telling the crowd that Pence might do so, knowing full well that they would discover when they reached the Capitol that Pence would not. Some of them, entering the Capitol, chanted, "Hang Mike Pence." It was Trump who led them to believe that his own vice president was allowing their country to be stolen.
Even as it starts to transition to the yeah, but, it remains clear-eyed:
For that matter, there is no defense of Trump's prolonging the election contest far beyond the point of plausibility, spreading blatant lies about the election, and pressuring state legislators and governors to usurp their states' popular votes and certify electors not chosen by the people.

What happened at the Capitol that day is best understood as a riot that was particularly dangerous because of its setting and context. It was not a purely peaceful protest, or a cartoonish costume party with a little bit of trespassing. The Secret Service had to rush Pence to safety. Members of Congress emptied the chamber and fled for cover. The vote-counting process was interrupted for five and a half hours. The Capitol itself was wreathed in smoke. This is the stuff of a banana republic.

January 6 was a day shrouded in tragedy. Four of the protesters died, including one woman who was shot by Capitol Police while she was breaking through a door at the head of a screaming mob, and a 42-year-old Capitol Police officer who was pepper-sprayed had a pair of fatal strokes just eight hours later. Even if not all these deaths are directly attributable to the riot, the mayhem that day has been documented on video — people being stomped on, one officer being beaten with an American flagpole, rioters crushing one police officer in a door. The violence is why, of the more than 700 people who have been arrested, over 200 have been charged with assault or resisting arrest, including scores charged with assaulting police with dangerous weapons (mainly toxic sprays). Police officials report that 140 officers suffered injuries including bad cuts and bruises, burns, and broken bones. There was also damage to the Capitol that was estimated to exceed $1 million.
But, then, it happens:
Defenders of Trump and apologists for the riot argue that the events of January 6 did not emerge out of nowhere. It is true that past Democratic misconduct helped to set the stage for the riot, but that does not exonerate Trump or the rioters.

For two decades, prominent Democrats have attacked the legitimacy of American elections. They claimed that the 2000 election was stolen from Al Gore. They indulged ridiculous fantasies about Ohio being stolen in 2004, resulting in dozens of Democratic members of Congress objecting to counting its electoral votes. Many of those Democrats are now powerful committee chairs, including the chair of the committee investigating January 6. Violent protests marred Trump's inauguration, and leading Democrats denounced him as illegitimate. Polls showed that supermajorities of Democratic voters believed that Russian hackers stole the 2016 election from Hillary Clinton, and she has given every indication that she shares that view. In 2018, Stacey Abrams was anointed a hero by her party for refusing to accept the legitimacy of her loss of a governor's race. It would have been wrong for Trump to emulate this behavior; but he went well beyond what even the most reckless Democrat has done in contesting an election.

Left-wing mobs have targeted the workings of government, for example overwhelming the Wisconsin state capitol in 2011 to protest Scott Walker's union-dues bill. Republican legislators had to be evacuated by police, as Democratic legislators egged on the mob. In 2018, protesters repeatedly disrupted the Brett Kavanaugh hearings, chased Republican senators down hallways and into elevators, accosted them in restaurants, and broke through Capitol barricades, resulting in hundreds of arrests. Law enforcement was unduly lax in punishing these offenses against democratic self-government.

In the summer of 2020, riots convulsed many American cities with courthouses and businesses burned and police assaulted. Democratic politicians pandered shamefully to the rioters and in many cases went easy on prosecuting them. Media outlets expressed horror at deploying police and the National Guard to restore order. The conflict between the Trump administration and D.C. mayor Muriel Bowser over the summer of 2020 seems to have contributed particularly to the sluggish response to the Capitol riot. There is significant force to the claim that Democrats have forged a two-tiered justice system in which the radical Left gets a comparative pass for politically motivated violence. But then, two wrongs do not make a right.

[…]

The New York Times editorializes that "Every Day Is Jan. 6 Now," and one of its columnists argues that Democrats should "Wave the 'Bloody Shirt' of Jan. 6" as Republicans did against Democrats after the Civil War — as if this compares to a four-year war in which 3 million Americans served and 750,000 died. Other opportunists (including Joe Biden) call the riot the "worst attack on our democracy since the Civil War" or say it is comparable to the terrorist attacks of September 11, 2001. CNN and other cable news obsessives plan wall-to-wall coverage of the anniversary in order to inflate its importance and help Democrats wave that bloody shirt.

This is a loss of perspective. In 1915, a former Harvard professor set off a bomb at the Capitol and shot J. P. Morgan. In 1954, five congressmen were shot by Puerto Rican nationalists in the House chamber. In the early 1970s, the left-wing Weather Underground set off bombs at the Capitol, the Pentagon, and the State Department. In 1983-84, the Communist group M19 bombed the Capitol, an FBI office, and Fort McNair and the Navy Yard in D.C. In 2001, 3,000 people died on 9/11, air travel was grounded across the country, the president was shuttled to a secure location, and a wing of the Pentagon was destroyed. In 2017, a gun-toting Bernie Sanders supporter attempted to massacre Republican congressmen at a baseball practice, gravely wounding Steve Scalise, the Republican House whip.
This is mostly an extension of the talking points that Benson pointed to earlier. There's truth in all of this and I've made many of these arguments myself over the years. Too many on the left, and too many Democratic Party leaders, justify conspiracy-mongering and resort to mob violence. As I noted many times during the Black Lives Matter protests, the valid concerns they were drawing attention to risked being overshadowed by the ancillary violence if the movement didn't condemn and disassociate itself from it. And the "riots are the language of the unheard" mantra embraced by far too many works both ways.
I must admit that, even though I was not only alive but politically aware in 1983-84, I had to look up the M19 bombing spree, having no recollection of it whatsoever. Their story was interesting but it rather pales in comparison to the January 6 attack:
Amidst the social and political turmoil of the 1970s, a handful of women—among them a onetime Barnard student, a Texas sorority sister, the daughter of a former communist journalist—joined and became leaders of the May 19th Communist Organization.

[…]

Just before 11 p.m. on November 7, 1983, they called the U.S. Capitol switchboard and warned them to evacuate the building. Ten minutes later, a bomb detonated in the building's north wing, harming no one but blasting a 15-foot gash in a wall and causing $1 million in damage. Over the course of a 20-month span in 1983 and 1984, M19 also bombed an FBI office, the Israel Aircraft Industries building, and the South African consulate in New York, D.C.'s Fort McNair and Navy Yard (which they hit twice.) The attacks tended to follow a similar pattern: a warning call to clear the area, an explosion, a pre-recorded message to media railing against U.S. imperialism or the war machine under various organizational aliases (never using the name M19).
As to the shooting at the Congressional baseball practice, Doug Mataconis blogged about it when it happened. It was one dude and everyone, including Sanders himself, roundly condemned it:
Sen. Bernie Sanders (I-Vt.) said Wednesday he was "sickened" by the shooting of Rep. Steve Scalise (R-La.) and others at a congressional baseball practice, which appears to have been carried out by a former volunteer to his presidential campaign.

"I have just been informed that the alleged shooter at the Republican baseball practice is someone who apparently volunteered on my presidential campaign," Sanders said in a statement delivered on the Senate floor.

"I am sickened by this despicable act. Let me be as clear as I can be: Violence of any kind is unacceptable in our society and I condemn this action in the strongest possible terms," he added.

The Vermont senator said real change can only be achieved "through nonviolent action, and anything else runs against our most deeply held American values."
The fact of the matter is that, unlike all these examples, the January 6 riots were directly sparked by the President of the United States, who spent weeks before the election making baseless charges that Democrats were going to steal the election and doubling down on this afterward trying to overturn the results. And, rather than recoil in horror and denounce him, almost all of his party's leadership rallied around him. Further, pledging fealty to the Big Lie that the 2020 election was stolen is not some fringe position; it's a de facto requirement to win a Republican primary.
These things are not equivalent. It ain't the same ballpark. It ain't the same league. It ain't even the same sport.