Disparate Sentencing of Capitol Rioters
A pattern is emerging.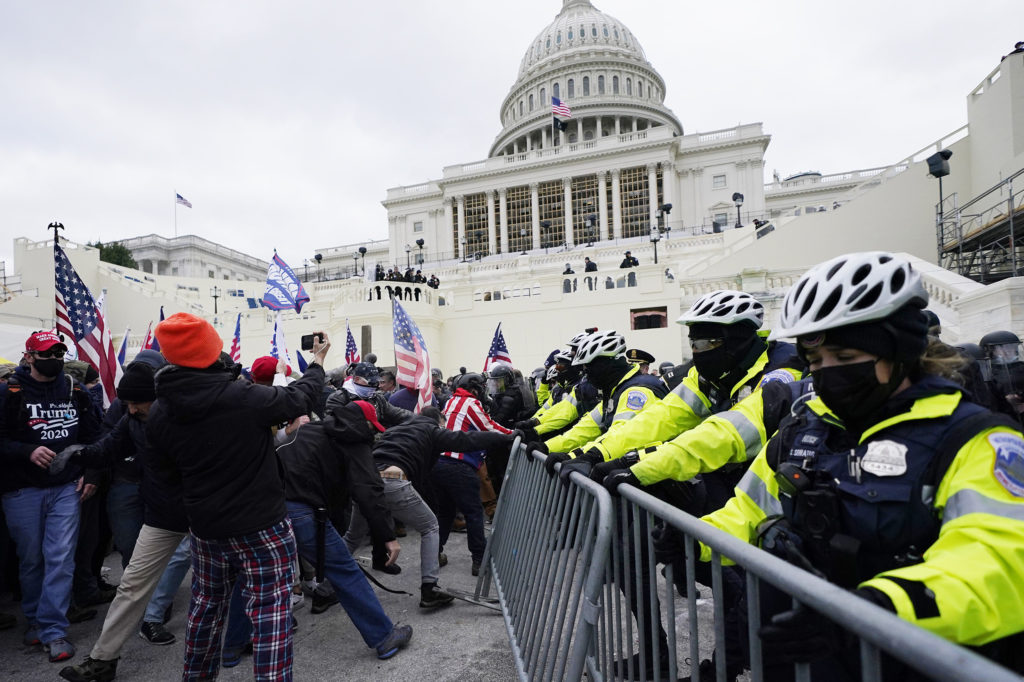 The headline drew me to CNN's report "Al Gore 'was a man' about his election loss, unlike Trump, federal judge says." A secondary story, though, led me down a bit of a rabbit hole.
A federal judge took aim at former President Donald Trump on Monday for lying about voter fraud during the 2020 presidential election, saying that former Vice President Al Gore had a better standing to challenge the 2000 election results but that he was "a man" and walked away.

"Al Gore had a better case to argue than Mr. Trump, but he was a man about what happened to him," Senior District Judge Reggie Walton said of Gore's decision to end his presidential bid following weeks of legal battles. "He accepted it and walked away."
Walton, incidentally an appointee of George W. Bush, was the judge at the Scooter Libby Trial. And he's got a point.
The comments from Walton came during a plea hearing for Capitol riot defendant Adam Johnson, who was photographed carrying House Speaker Nancy Pelosi's lectern through the Capitol building. He pleaded guilty on Monday to a low-level charge of entering and remaining in a restricted building or grounds.
You've almost certainly seen him before. This guy: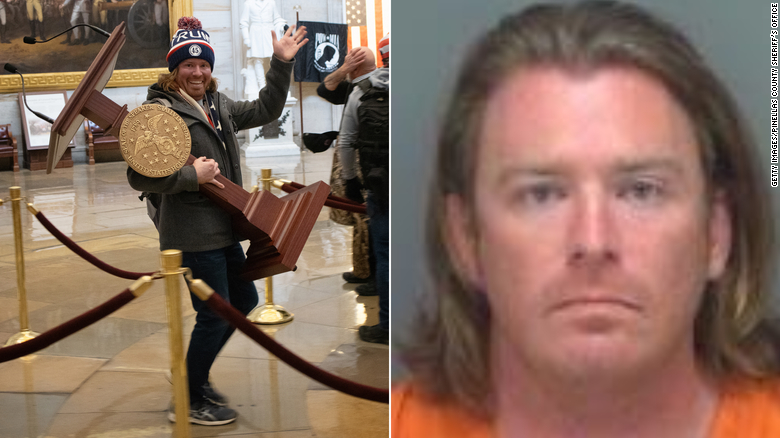 "What concerns me, sir, is that you were gullible enough to come to Washington, DC, from Florida based on a lie," Walton said, "and the person who inspired you to do what you do is still making those statements, and my concern is that you are gullible enough to do it again."

Walton, who was appointed by the man who defeated Gore, former President George W. Bush, is the most recent to add his voice to a chorus of judges criticizing Trump for lying to his supporters. Last week, a federal judge also suggested Trump had some responsibility for the attack on the Capitol and called the rioters "pawns" who were provoked into action.

Johnson, 36, told Walton that he accepted responsibility for getting "caught up in the moment," and said that a "hard couple of years" led him to spend a lot of time "listening to a lot of information and reading things" online.Investigators identified Johnson days after he was photographed smiling and waving as he carried the lectern through the Capitol building on January 6. According to prosecutors, Johnson started running to the Capitol building from the "Stop the Steal" rally at the Ellipse after someone in the crowd shouted "Pence didn't do it!" Johnson admitted that he brought a knife with him to Washington, but discarded it in the bushes on his way to the Capitol.

Once inside the building Johnson wandered around until he came across Pelosi's office suite. He jiggled a door handle, prosecutors say, but it was locked. He then grabbed the lectern and carried it to the Capitol rotunda, posing for several pictures along the way.After he had discarded of the lectern, Johnson joined a crowd attempting to breach the House chamber. At one point, according to the plea agreement, Johnson said that a nearby bust of George Washington would be a "great battering ram" to get through the doors to the chamber.

During the hearing, Johnson revealed that he may write a book about his involvement in the riot. He agreed that the government can seize any money he makes publicizing the event for the next five years as part of his plea deal.
Johnson was originally charged with three federal crimes including theft of government property, but those charges will be dropped as part of his plea deal. He could face a sentence of up to six months in prison, according to his agreement with prosecutors read at his plea hearing on Monday. He will also pay $500 in restitution for damage done to the Capitol during the riot.
Johnson, like a lot of these yahoos, comes across as a sad sack who's been duped by people who never themselves took these kinds of risks for the manufactured cause. But "up to six months in prison," a modest fine, and an agreement not to profit from his crimes for five years seems fair enough.
But here's where the rabbit hole emerges.
More than 130 defendants have pleaded guilty so far to charges connected to the Capitol riot, with most to date admitting to misdemeanor charges.
We've seen that the erstwhile QAnon Shaman, Jacob Chansley, get sentenced to 41 months, similar to what another man who actually assaulted a Capitol Police officer got. Perhaps disproportionate but, in the totality of circumstances, Chansley was a symbolic (if not actual) leader of the break-in.
But here's the next bit:
Frank Scavo, who told local news outlets and the FBI he organized several buses to bring people from eastern Pennsylvania to Washington for the January 6 rally, was sentenced to 60 days in jail on Monday and received the maximum fine of $5,000.

The sentence, handed down by Senior DC District Judge Royce Lamberth, was much heavier than the 14 days of incarceration that the Justice Department had asked for. Scavo pleaded guilty to illegally demonstrating in the Capitol, a misdemeanor offense, in September.

Before issuing the sentence, Lamberth told Scavo he gave him "credit for the fact that you did not put anyone at risk" or engaged in violence but said that "without you and other people" the attack on the Capitol "would not have happened."

Scavo told the judge he had a "deep sense of regret" for his actions on January 6, adding later that "it was a crime."

"From the point the jig was up, you've done everything you could," Lamberth told Scavo in a brief comment following the sentence. "Good luck to you."

According to the Justice Department, Scavo had captured assaults on Capitol Police officers while filming on his phone and bragged about "storm(ing)" the Capitol. On his Facebook page that day, Scavo posted that "PENCE IS OUT OF CAPITOL" and "No certification Today!!!"

"He had more or less a front-row seat" to the Capitol siege, Assistant US Attorney Seth Meinero said during the hearing, adding that Scavo saw the crowd push into the east front of the Capitol after the Trump rally.
So, this seems bizarre on its face. It's not illegal to organize buses for a rally, a Constitutionally-protected activity. He did in fact take part in the photo-op inside the Capitol, though. I wouldn't think filming it and posting about it on social media, even in a supportive manner, would be other than protected speech but, granted, not inclined to make the judge go easy on you.
In isolation, six months and $5000 doesn't seem incredibly steep for active participation in an attempt to overturn a democratic election. But he's getting a harsher sentence than Johnson, whose actual crimes are worse. And, while it's the job of judges to judge—it's right there in the name, after all—it strikes me as unusual to radically exceed the sentencing request of the prosecutor in light of a plea deal. Not only was that the basis of the deal but, in a situation where a whole lot of people are being charged for their part in a larger action, prosecutors are in a better position than the judge to assess the relative severity of the offenses. If anything, the judge should be the one saying, no, the prosecutor is asking for too much.
A BuzzFeed report ("A Judge Who Felt Burned After Giving A Capitol Rioter Probation Threw The Book At Another Defendant") that I came upon looking for more information on Scavo, though, sheds some light on it:
Lamberth was the first judge to hand down a sentence in the Capitol cases earlier this year, ordering Anna Morgan-Lloyd of Indiana to serve probation after she delivered a tearful statement to the court expressing regret for her role in the riot. The next day, Morgan-Lloyd appeared on Fox News and made comments that appeared to downplay the violence on Jan. 6; her lawyer has claimed her client got "played" by host Laura Ingraham.

Lamberth has made clear since then that he felt burned by what happened with Morgan-Lloyd, and that other defendants asking for mercy would be met with a skeptical eye. In a written opinion in September in the case of rioter Jacob Chansley, who at the time had pleaded guilty and was awaiting sentencing, Lamberth wrote that he hoped Chansley's "change of heart is sincere."

The judge added in a footnote: "The Court's hopes have been recently dashed when, a day after sentencing, another January 6 defendant made statements in an interview that directly conflicted with the contrite statements she made to the undersigned."
Granting that judges are human beings, it seems patently unfair to punish Scavo because Morgan-Lloyd played him. They're different people who committed different crimes. That may also have influenced the aforementioned sentencing of Chansley:
Lamberth last week sentenced Chansley to 41 months in prison, which was less than the 51 months incarceration that the government argued for, but far more than the period of time-served (roughly 10 months) that Chansley wanted; he'd pleaded guilty to one felony count for obstructing Congress. Earlier this month, Lamberth rebuffed another Capitol rioter's request for a lighter sentence, ordering Scott Fairlamb to spend 41 months in prison after the former mixed martial arts fighter from New Jersey pleaded guilty to punching a police officer in the head.
As I may or may not have posted before, there are other anomalies:
Lamberth isn't the first judge to hand down a stiffer sentence than what the government requested in a Jan. 6 prosecution. US District Judge Tanya Chutkan first did that in October, sentencing Matthew Mazzocco to 45 days in jail instead of the period of home detention recommended by the prosecutor.

"There have to be consequences for participating in an attempted violent overthrow of the government, beyond sitting at home," Chutkan said at the time.
So, again, judges are human begins who bring their life experiences, politics, and prejudices to the bench with them. And, while I agree with Chutkan that some of the sentences seem to be low in the greater context of the event, it's patently unfair to treat some defendants much more harshly than others for their parts in the same crime simply on the whim of judges.
And, sure, the usual caveats apply. Black, Brown, and poor defendants tend to get worse treatment than White, rich ones. There are all manner of injustices in our society and the disparate treatment of some low-grade insurrectionists and the useful idiots who have been radicalized by Fox News and Donald Trump are not at the top of the list of those deserving our sympathy. But high-profile cases sometimes draw our attention to injustices in a way that routine ones don't and we shouldn't dismiss them simply because other parts of the system are even more broken.