More on Florida's Higher Ed "Reform"
Pointless change that will increase costs and create confusion.
As James Joyner noted yesterday, Florida Governor Ron DeSantis has signed into law a series of new regulations for higher education in the state. The headline has been about tenure, but let me refer you to another, seemingly minor and boring provision:
Through the bill, Florida's public colleges and universities will be required to seek accreditation from different accreditors in consecutive accreditation cycles.
Anyone who works in higher education administration will tell you that this is an insane provision. It will create work and substantial costs for no benefit whatsoever.
Without boring everyone to death, let me note that all legitimate colleges and universities in the United States are accredited by one of several regional accrediting bodies. For the most part, where you are located dictates who accredits you. Regional accreditation is necessary for a variety of reasons, not the least of which being that for schools to be able to receive federal financial aid dollars, they have to be regionally accredited. Regional accreditation also provides a way for credit taken at one college or university to be transferred to another accredited school as well as to have different schools recognize the degrees conferred by other institutions.
Florida is in the southeast, and therefore its schools are accredited by SACSCOC: the Southern Association of College and Schools Commission on Colleges.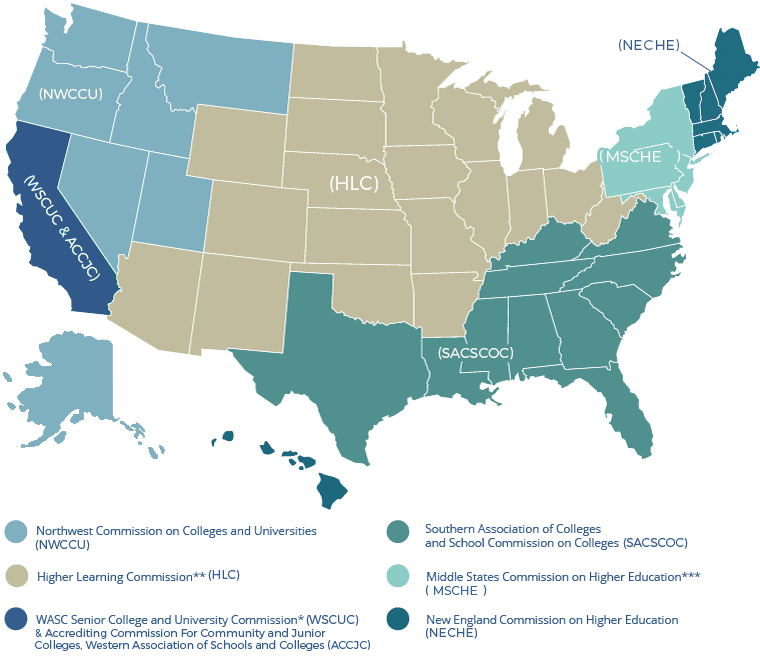 I think it is fair to say that most people are largely unaware of this process and its significance. Indeed, there are some students who attend non-accredited or nationally accredited (which sounds better, but isn't) schools only to find that their courses will not transfer to other schools, or that their undergraduate degrees will not be recognized by the graduate school they wish to attend. Indeed, most faculty are probably only generally aware of the work that goes into maintaining accreditation.
Like with tenure, there are plenty of valid conversations to be had about the pros and cons of the accreditation process, but I will say that it serves a legitimate function, albeit it can also be fraught with annoying tedium of Kafkaesque proportions.
Regardless, regional accreditation is a reality and a necessity under the current structure of the regulation of higher ed in the United States (and, even for K-12, but that is another discussion). Schools are accredited for ten-year periods, with five-year interim reports required with an ongoing process of compliance. This is not just something that happens once a decade. Rather, it is something that comes up on almost a weekly basis in one form or the other.
To change accreditors every ten years would mean an overlapping process of maintaining existing accreditation while simultaneously preparing to seek new accreditation with a new entity. It would have to be overlapping, and by a number of years, because a given school cannot risk losing regional accreditation even temporarily, lest it not be able to receive federal dollars for students who need them to pay for their educations. Indeed, as Inside Higher Ed reported last month: Education Department Warns Florida About Accreditation Bill.
"The Department urges you to consider the unintended consequences of this law," James Kvaal, under secretary for education, wrote in a letter to DeSantis. "The steps involved in preparing for accreditation and even changing accreditors may be tedious and costly, which could lead to increased institutional burden and costs that may be passed down to students and families."

Higher education institutions must be accredited in order for their students to access federal financial aid, including federal loans and Pell Grants. Colleges that lose accreditation often see their enrollments languish.

Advocates of the bill say institutions would benefit from a fresh perspective. But Kvaal warned in his letter that changing accreditors with each cycle could "compromise institutional accountability and quality because it would not allow for a full review of institutional practices and demonstrated continuous improvement brought forward in the prior accreditor review, which is one of the core purposes of accreditation."
I honestly do not see how having to switch accreditors would result in "fresh perspective[s]." Instead, it will mean trying to harmonize local rules, policies, and procedures to make sure they align with the accreditation standards of multiple bodies (that sounds like fun). It will almost certainly mean a need for more personnel and add the compliance costs since for part of the cycle a school would be paying two accreditors, not just one.
I honestly cannot think of a good or productive reason for this policy. My best guess is that it is revenge against SACSCOC for weighing in on DeSantis blocking some University of Florida professors from testifying regarding the elections as expert witnesses. As The Chronicle of Higher Education reported at the time: U. of Florida's Accreditor Will Investigate Denial of Professors' Voting-Rights Testimony.
Belle S. Wheelan, president of the Southern Association of Colleges and Schools' Commission on Colleges, told The Chronicle on Monday that the accreditor would follow its policy on investigating unsolicited information. Under those rules, accreditors can dig into campus happenings between review cycles if they learn of potential "significant issues of compliance." Accreditation is needed for colleges to receive federal student aid.

Wheelan said the accreditor would send a letter to Florida's president, W. Kent Fuchs, on Monday or early Tuesday "asking for information to verify or clarify the news media's account of what happened," she wrote in an email. "From there, we will decide if there are any noncompliance issues." She declined to comment further.

Many accreditors, including Florida's, demand that governing boards be independent and free from influence from external sources.
Indeed, The Daily Business Review reported the following just last month (Universities Board, Accreditor at Odds Over 'Undue Influence'):
During a meeting Tuesday, Alan Levine, chairman of the Board of Governors' Strategic Planning Committee, suggested that tensions with the current organization have been building for some time.

"I've held my tongue on this for a year now," Levine said, before listing examples that he said gave him "grave concern" about the Southern Association of Colleges and Schools Commission on Colleges, or SACSCOC.

Levine pointed to SACSCOC writing letters to higher-education officials on three issues at Florida State University, the University of Florida and the University of South Florida.

Last year, the agency raised questions about a potential conflict of interest involving state Education Commissioner Richard Corcoran when he was a candidate to become president of Florida State University. Corcoran is a member of the Board of Governors, which ultimately must sign off on the appointments of university presidents.

SACSCOC President Belle Wheelan wrote in a May letter to the Board of Governors that if Corcoran didn't vacate his position on the board while a candidate for Florida State president, SACSCOC would "find the institution out of compliance" with the accrediting body's rules.
So, what we have here is DeSantis and his allies using legislation as a weapon against SACSCOC. I am not sure there is really any other way around it. Changing accreditors does not, in any way, enhance post-secondary education in the state of Florida. Instead, it just creates confusion, costs, and unnecessary extra work. If I was involved in compliance at a Florida university, I would be seriously considering looking for a job in another state, because this change is going to be a nightmare.
One thing that is striking about the press release from the Governor's office is that it quotes DeSantis as saying "Florida's public college and university system is number one in the country" and Commissioner of Higher Education, Richard Corocan, noting "Florida's #1 ranked higher education system." Taking those rankings as accurate for the sake of conversation, let me say that I miss the old-school conservative notion that "if it ain't broke, don't fix it." If Florida's schools are ranked where they are, it must mean they are doing something correctly. And messing with things like tenure and accreditation (and hence making Florida schools less attractive to the employees needed to run these institutions) is not a great way to maintain success. This is especially true when the "reforms" in question are not actually aimed at fixing a problem but are instead a mix of revenge politics and red meat to feed the base.