More People See Eastwood As Highlight Of RNC Than Romney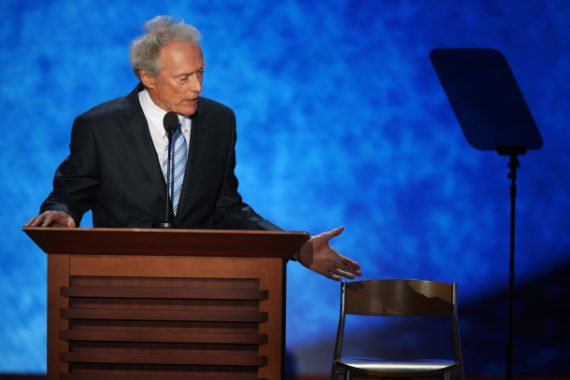 According to a new poll from the Pew Center For People And The Press, Clint Eastwood's odd, headline grabbing performance is considered more of a highlight of the Republican Convention than the nominee's speech, or that of his running mate:
The public paid far less attention to this year's Republican convention than it did to the GOP convention four years ago. Just 37% say they watched all or some of the Republican convention, down from 56% in 2008.

And while there has been a modest increase in the percentage saying they view Mitt Romney more favorably in the wake of the convention, his acceptance speech was not the highlight of the event: As many of those who watched at least a little convention coverage cited Clint Eastwood's speech as the convention highlight (20%) as named Romney's speech (17%). One-in-five say there was no convention highlight, about the same percentage as four years ago.

The latest national survey by the Pew Research Center for the People & the Press, conducted Aug. 31-Sept. 3 among 1,008 adults, finds that even among Republicans Romney's speech was not the standout event of the convention. A quarter of Republican convention-watchers (25%) said Romney's speech was the highlight, 19% named Eastwood's performance, 15% named Paul Ryan's speech and 13% cited Ann Romney's address.

More independents who watched convention coverage cited Eastwood's speech than Romney's speech as the convention highlight (26% vs. 17%)
Of course, this isn't the first time that a nominee's speech was overshadowed, it happened to the last Republican nominee:
Four years ago, GOP nominee John McCain's acceptance speech also was not the convention's signature event. Fully half (50%) named GOP vice-presidential candidate Sarah Palin's speech as the highlight of that convention, while 17% cited McCain's speech, which is identical to the percentage citing Romney's speech in the current survey.
As in other polls, we see an uptick in Romney's likability in this poll, which I suppose is good news for the Romney people. However, this poll gets back to what I was discussing on Friday. Having Clint Eastwood at the convention was probably guaranteed to overshadow Romney to some extent, but at least they could've ensured that what Eastwood was going to see would've be in line with the theme of the night, and what Romney would be touching on in his speech. Instead, they let him go out there and do a stream of consciousness improv thing that left many people scratching their heads even if they did find it entertaining.