Nobody On Team Romney Taking Credit, or Blame, For The Eastwood Fiasco
Not surprisingly, Romney campaigns staffers don't seem to want to take responsibility for Clint Eastwood's performance last night.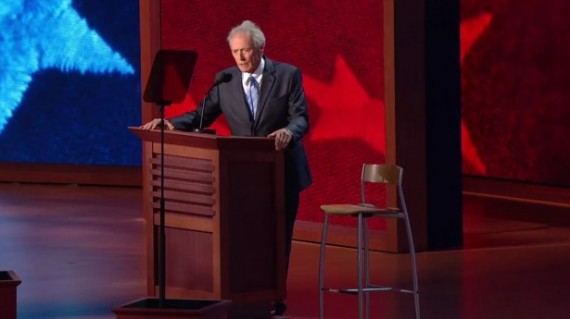 Apparently, even people inside the Romeny campaign are trying to figure out what the heck was going on last night with Clint Eastwood's bizarre performance at the Republican National Convention:
TAMPA, Fla. — Clint Eastwood's rambling and off-color endorsement of Mitt Romney on Thursday seemed to startle and unsettle even the candidate's own top aides, several of whom made a point of distancing themselves from the decision to put him onstage without a polished script.

"Not me," said an exasperated-looking senior adviser, when asked who was responsible for Mr. Eastwood's speech. In late-night interviews, aides variously called the speech "strange" and "weird." One described it as "theater of the absurd."

Finger-pointing quickly ensued, suggesting real displeasure and even confusion over the handling of Mr. Eastwood's performance, which was kept secret until the last minute and offered an off-key message on the night that Mr. Romney accepted the Republican presidential nomination.

A senior Republican involved in convention planning said that Mr. Eastwood's appearance was cleared by at least two of Mr. Romney's top advisers, Russ Schriefer and Stuart Stevens. This person said that there had been no rehearsal, to the surprise of the rest of the campaign team.

But another adviser said that several top aides had reviewed talking points given to Mr. Eastwood, which the campaign had discussed with the actor as recently as a few hours before his appearance. Mr. Eastwood, however, delivered those points in a theatrical, and at times crass, way that caught Romney aides off guard, this person said. Mr. Eastwood even ignored warnings that he had exceeded his time.

Mr. Stevens, in an interview, said he would not discuss internal decision making but described Mr. Eastwood's remarks as improvised.

"He spoke from the heart with a classic improv sketch which everyone at the convention loved," Mr. Stevens said.

He called it "an honor that a great American icon would come and talk about the failure of the current president and the promise of the future one."
This strikes me as simply bizarre. There was a time, during the primaries, when pundits marveled at the discipline and efficiency of the Romney campaign in getting its message across, and staying on message. If there was ever a time when a campaign needs to be disciplined, it is on the most important night of a political convention. As I noted this morning, for most of last night the campaign had done that very well. They featured a number of speakers that related stories of Romney's personal character and business acumen and, before that, brought people like Jeb Bush to the dais to give a particularly effective presentation about education reform. All of that fell apart the minute Clint Eastwood came on the stage, though Even Marco Rubio, who followed Eastwood and was there to introduce Romney, spent nearly as much time talking about himself in his speech as he did about the party's nominee. Viewers who tuned in when the broadcast network coverage started at 10pm Eastern had no idea what had come before, even though it had clearly all been intended to build up with Romney's speech as the climax of the evening.
Many pundits on the right seem to think that the Eastwood appearance was pure brilliance (see the posts by Peter Ingemi, Ed Morrissey, and Robert Stacey McCain for examples of that) but, the Washington Examiner's Byron York hits the nail on the head when he points out what was so wrong about what happened last night:
When CNN asked top Romney adviser Eric Fehrnstrom to assess Clint Eastwood's performance on stage at the Republican convention Thursday night, Fehrnstrom answered simply, "It's improv."

It's an open question why such a carefully run campaign chose to feature improv at the beginning of the 10 p.m. Eastern time hour — peak viewing time as millions of people waited for Mitt Romney's acceptance speech.  But that's what happened, and the hour Romney had been anticipating for many years began in a decidedly offbeat way.
Offbeat doesn't even begin to describe it. Tune in to any cable news program this morning, this afternoon, and most likely tonight, and you'll find that the primary topic of discussion isn't Mitt Romney's speech or the convention itself overall, but Clint Eastwood. The same is likely to be true of the major broadcast network news broadcasts tonight. That's free air time that should have been spent talking about Mitt Romney, not the eccentric performance of an octogenarian actor and director. The Romney campaign let their own supporter step all over their message.
As I said this morning, I'm not certain that this incident is going to matter all that much in the end but, it does display a certain amount of either recklessness or incompetence on the part of Romney campaign staffers. They never should have let Eastwood go out there without a script, and they never should have let him go seven minutes over his allotted time. That's seven minutes they could've used to play that campaign video I mentioned earlier, or seven minutes that could've gone to the candidate's speech. Of course, I'm not sure anyone is really going to tell Clint Eastwood what to do.
What this really demonstrates, though, is the dangers that are involved when political campaigns use celebrities. Blake Zeff, who was a campaign aide to Hillary Clinton during her Presidential campaign, tells a story at Buzzfeed about the time he tried to "handle" Billy Crystal:
It was October 26, 2007, and I was a campaign spokesman for Clinton, responsible for making sure a fundraising extravaganza in New York honoring the candidate's birthday received favorable coverage.

I received a frenzied call from campaign headquarters minutes before show-time, frantically informing me of a rumor that: 1) As part of his act that night as emcee, comedian Billy Crystal was planning to lampoon our rival Rudy Giuliani; and 2) Said joke apparently would have some sort of Jewish-related hook.

Knowing that a joke criticizing another candidate too harshly (with ethnic undertones, no less) would garner far more attention than any policy discussion the campaign might engage in that week, it was decided there was only one option: I would need to barge into the green room, immediately track down American's favorite nebbish, and prevent a PR crisis.

(…)

"Um, Billy, would you mind telling us the Rudy joke, just to make sure it doesn't cause any problems?" I asked lightly, trying my best to keep it calm and cool.

After staring at me in silent disbelief for what seemed like the duration of Forget Paris, the comic legend finally responded, reciting the joke's punch-line with a deliberate, peeved monotone: "This is the craziest thing that's happened since Ann Coulter started keeping kosher."

That didn't seem so bad, I thought. "What's the set-up?"

"What's the set-up?" he barked back at me. "What? This conversation isn't happening!"

"No, we just…"

"You're asking me to run the set-up of my joke by you?"

At this point, he was seething.

As if to underscore the absurdity of the situation, Crystal repeated the question again, summoning equal parts rage and incredulity: "You are asking me what my set-up is?!"

Understandably annoyed that some shmuck from the campaign was asking him to run jokes by him minutes before a free performance, the perennial back-up Oscars host was now in my face, staring me down. "You want to get me angry right before I start the show?" (At that moment, I began to sympathize with the title character in Throw Momma From the Train.)

(…)

The point? Stars have minds of their own and can be difficult to control. If getting a 5'6″ comic to modify his remarks before an event was this tough, imagine trying to tell stubborn, old Dirty Harry to stick to the Teleprompter
That's a fair point. Even at 82 years old, I sure as heck wouldn't want to mess with Clint Eastwood.
The fact that Clint Eastwood is likely hard to "handle" doesn't really relieve the Romney people for any responsibility for what happened here. They didn't have to invite Eastwood to the Convention and allow him to speak extemporaneously for a longer period of time than had been allotted to him. The very idea of having a "mystery guest" at the Convention to begin with was clearly a gimmick designed to increase attention for and interest in the Convention itself, and especially the events of the all-important last night when Romney would be making his speech. Speaking abstractly, it's not necessarily a bad a idea, but it's one that has to be executed carefully, otherwise the campaign could end up looking foolish. Additionally, Eastwood himself wasn't a bad choice per se for this "mystery guest," he's an iconic American actor who has in recent years expanded his talents to become an Academy Award winning Director. He's been openly Republican for years, which in and of itself is something of a rarity. And, well, he's Clint F****ing Eastwood. It's really kind of cool, but it still needs to be done correctly.
When I first started hearing rumors that the "mystery guest" would be Eastwood (at first I suspected it was going to be Nancy Reagan), I assumed that he'd be doing something similar to this:
That's the commercial that Eastwood did for Chrysler and which aired at halftime during the Super Bowl in February. While many on the right at the time criticized Eastwood because they thought, incorrectly, that it was some kind of subtle endorsement of President Obama, it's the kind of message that, properly modified for the convention, would have worked very well with the rest of the themes that the party was trying to establish last night. Instead, they fumbled the football and now nobody wants to take responsibility for it.