Clint Eastwood Explains His Bizarre RNC Appearance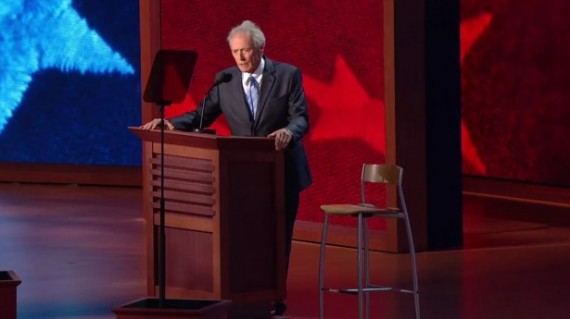 Clint Eastwood apparently considers his stunt at the Republican National Convention to be a success: 
Clint Eastwood revealed that what he termed a "very unorthodox" speech involving an empty chair at the Republican National Convention was a last-minute, impromptu decision.

Eastwood told his hometown newspaper, The Carmel Pine Cone, on Tuesday in an interview that was published Friday that he arrived at the convention site "just 15 or 20 minutes" before he was scheduled to go on stage.

"There was a stool there, and some fella kept asking me if I wanted to sit down," Eastwood explained to the newspaper that covers the town he once served as mayor. "When I saw the stool sitting there, it gave me the idea. I'll just put the stool out there, and I'll talk to Mr. Obama and ask him why he didn't keep all of the promises he made to everybody."

When it was his turn to go give his remarks, Eastwood asked a stagehand to put the chair right next to the lectern. The address, he says, was made without any notes — leading to some stumbles.

"That's what happens when you don't have a written-out speech," Eastwood told the newspaper, but he added that the crowd "really seemed to be enjoying themselves."

Eastwood was criticized afterward for taking too long and pushing Mitt Romney's speech into the 11 p.m. hour, but the actor-director said the applause made his address longer.

"When people are applauding so much, it takes you 10 minutes to say five minutes' worth," he said.
Eastwood also said that he resisted any effort by Romney's people to have a look at what he would be saying:
"They vet most of the people, but I told them, 'You can't do that with me, because I don't know what I'm going to say,'" Eastwood recalled. "It was supposed to be a contrast with all the scripted speeches, because I'm Joe Citizen. … I'm a movie maker, but I have the same feelings as the average guy out there."
Quite honestly, at that point the campaign should've pulled the plug on Eastwood's appearance. You simply do not let someone walk out onto a convention stage without knowing what they are going to say, especially when they tell you that they don't even know what they're going to say. I don't care if the person in question is a schoolteacher from Podunk, Iowa or Clint Eastwood. That convention was Mitt Romney's campaign launching pad, not a venue for some actor from Hollywood to riff on the President.
As for what he was trying to accomplish with the skit, Eastwood says this:
"President Obama is the greatest hoax ever perpetrated on the American people," Eastwood told The Pine Cone this week. "Romney and Ryan would do a much better job running the country, and that's what everybody needs to know. I may have irritated a lot of the lefties, but I was aiming for people in the middle."
Eastwood seems quite pleased with himself, and why shouldn't he? None of this is going to harm him in any way, after all. Republicans, meanwhile, seem to have dug in even more on the idea that the Eastwood thing was a masterful performance that actually accomplished something. They, no doubt, are pleased to hear Eastwood say in the interview that the President is "the greatest hoax ever perpetrated on the American people," because it reinforces their own beliefs. Whether it actually impresses that "middle" that Eastwood says he was aiming for is another question entirely.